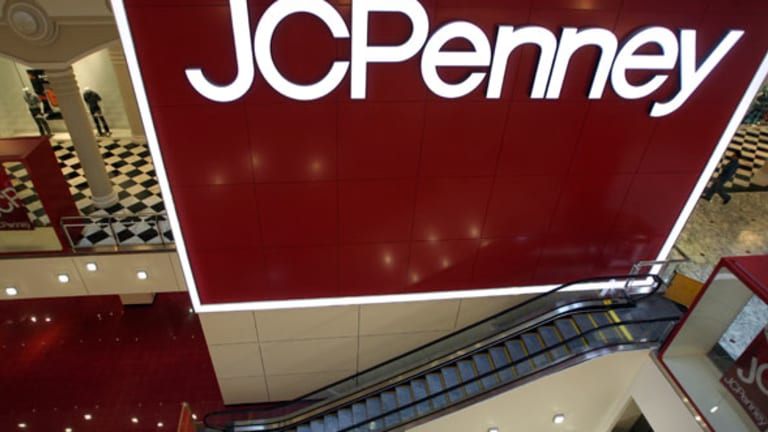 J.C. Penney: Still Retail's Most Pathetic Loser
JCP and Best Buy investors have to wonder: Isn't there any other executive talent out there?
NEW YORK (TheStreet) -- Looking back, Ron Johnson made a bigger fool of himself in January 2012 than he did at any other time as J.C. Penney (JCP) - Get J. C. Penney Company, Inc. Report CEO. He spoke at the company's analyst day.
Here's my summary of that event from this past August when I urged investors to sell JCP stock now:
Johnson . . . outlined his trajectory as a high-powered executive. He noted that Steve Jobs essentially questioned his sanity not only for leaving Apple (AAPL) - Get Apple Inc. Report , but leaving Apple for J.C. Penney.
Johnson told the crowd . . . that everybody thought he was nuts when he left Target (TGT) - Get Target Corporation Report for Apple. But, as history proves, he left a strong company to help lead -- or so he thinks -- Apple's transformation.
Johnson sees himself leaving Apple at the top of its game like he claims he did Target. He went so far as to compare today's J.C. Penney to the Apple he joined in 2000. But, he made an important distinction -- by several measures JCP is better off today than Apple was at the beginning of the century.
Also see: J.C. Penney CEO Johnson Ousted, Ullman Returns >>
In November, I followed up with 2012's Most Delusional CEO: Sell His Stock Now:
You're being nice if you label his presentation narcissistic and egomaniacal. You spare the man's feelings if you called him deranged while watching. And you're not being critical enough if you give his performance the benefit of the doubt.
Johnson allowed his experience at Apple to give him a false impression of himself.
Finally, the rest of the world catches on: Steve Jobs made the magic at Apple. Not Tim Cook ... And certainly not Ron Johnson.
Or did they? I cover that insanity in If Apple Hires Ron Johnson, I'll Buy a PC.
The culture of obviousness continues to rape and pillage physical retail, most notably at Best Buy (BBY) - Get Best Buy Co., Inc. Report and, of course, JCP.
Also see: Best Buy May Be the Next Home Depot >>
Just a few days ago, Best Buy made the absolutely absurd announcement that it was granting Board seats to the very people who presided over the company's unraveling at the hands of Amazon.com (AMZN) - Get Amazon.com, Inc. Report . Now, after making an obvious move, albeit a little too late, J.C. Penney, shockingly, reintroduces the man -- Mike Ullman -- who helped lead the company into irrelevancy through most of the 2000s.
Just horrible.
When will physical retailers catch a clue? Stores within stores, reinvigorated customer service and bringing back retread executives does not equal innovation.
Much of the space requires a complete transformation. We're talking take everything you thought you knew, put it in a pile, burn it, go on a retreat, come back and create a retail sector unrecognizable to itself.
If that's asking too much, for goodness sake, just don't bring back proven failures.
You mean to tell me there's nobody else to put on the BBY Board or install as JCP CEO other than architects of an embarrassing sector-wide implosion? There's no young, visionary talent to go after capable of redefining the retail experience like Apple redefined mobile phones, Pandora (P) transformed Internet radio and Facebook (FB) - Get Meta Platforms Inc. Class A Report and Twitter changed how we communicate and share information with one another?
It's intellectual laziness at play here. No vision. No guts. Zero confidence. And, no matter how many dead cat bounces we see in names like BBY and JCP (or how big they are), these stocks represent little more than swing trades because the companies floating the shares remain in incompetent wallows.
--Written by Rocco Pendola in Santa Monica, Calif.
Rocco Pendola is
TheStreet's
Director of Social Media. Pendola's daily contributions to
TheStreet
frequently appear on
CNBC
and at various top online properties, such as
Forbes
.