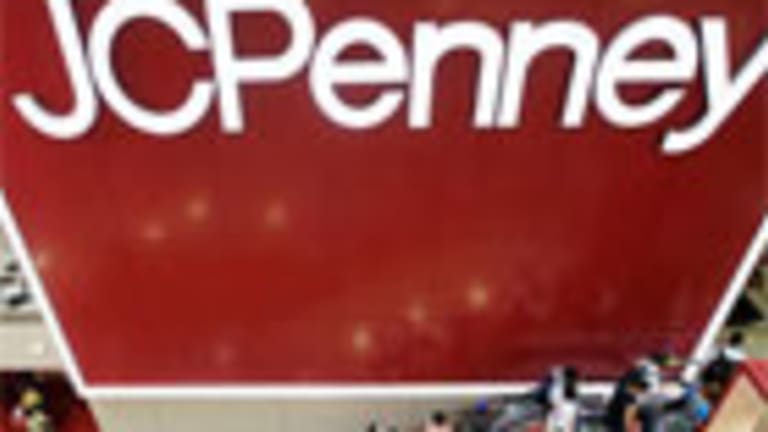 J.C. Penney Shares Are Worth Risk Despite Fiscal 4Q Earnings Miss
The fiscal fourth-quarter loss alone isn't enough to justify this sell off.
NEW YORK (TheStreet) -- Although struggling retailer J.C. Penney (JCP) disappointed analysts Thursday when it reported a fiscal fourth-quarter loss, of $59 million signs of improvement are encouraging, and after the stock's 10% decline, the shares offer less risk for investors looking for a quick bounce.
Ahead of Thursday's report, J.C. Penney shares were up more than 40% year to date, far outrunning the broader averages. Even more impressive is that the stock, despite its consensus sell rating, has surged 17% and 19% in the past three months and one month, respectively.
Take a look at the chart:
All told, with gains of 53% in the trailing 12 months, J.C. Penney shares have dominated the entire
SPDR S&P Retail ETF
(up 16.44%), which is home to prominent retailers such as
Amazon
(AMZN)
and
Kroger
(KR)
.
In other words, after being left for dead, analysts have been wrong about the Plano, Texas-based retailer for more than a year. And with expectations still low about the pace of J.C. Penney's recovery, investors can expect some decent gains with lowered risk, especially because the shares -- due to its earnings miss -- are now 10% cheaper.
But as noted, despite the loss for the fiscal fourth quarter ended Jan. 31, investors should be encouraged by the 4.4% year-over-year jump in same-store sales, the metric that tracks performances of stores opened at least one year. And J.C. Penney is showing that its marketing efforts are working and customers are coming into the stores, given that its merchandising inventory declining almost 10% year over year to $2.65 billion.
What's more, the year-over-year 540 basis-point jump in gross margin, reaching 33.8% implies efficiency improvements, which will yield higher future profits as J.C. Penney is figuring out ways to eliminate waste.
Perhaps more impressive, the company's online progress is more clear as online revenue surged 12.5% year over year, reaching $428 million. Although that is a small percentage of its overall revenue of almost $4 billion, any improvements that the company makes online will help it lower future operating costs since online sales takes up less overhead.
In terms of its business outlook for this year, the company expects comparable-store sales to climb in the range of 3% to 5% year over year, with a 50-to-100 basis-point improvement in gross margin.
All told, the fiscal fourth-quarter loss, while disappointing, isn't enough to justify this sell off. And as J.C. Penney continues to improve, the market will have no choice but to correct this mistake, meaning that investors should get ahead of the stock and buy it.
This article is commentary by an independent contributor. At the time of publication, the author held no positions in the stocks mentioned.