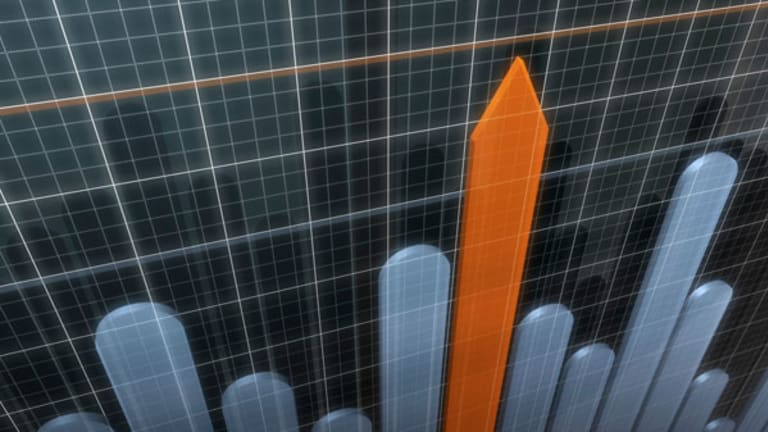 J.C. Penney: 'Less Bad' Ain't Good Enough
When you dissect the results it's still a long way back for the struggling retailer, no matter what some investors are seeing.
NEW YORK (TheStreet) -- Are investors looking at J.C. Penney (JCP) - Get Free Report through rose-colored glasses?
They must be because shares were up strongly in post-market trading Wednesday after the retailer's fourth-quarter earnings announcement, and they are rallying Thursday, up nearly 20%. The market liked what it saw in the company's lower-than-expected loss for the quarter and does not seem concerned revenue was slightly worse than expected. (The bottom-line figure includes a $270 million income tax benefit, which in my view should not be included.)
It is true that gross margins improved to 28.4%, 460 basis points better than the 23.8% reported for the same quarter last year. Same-store sales were up 2%, while online sales grew 26.3%. The company also generated positive free-cash for the quarter, to the tune of $246 million, by my calculation.
Investors looking for something, anything, in terms of signs of life from the company were happy. Could it have been worse? Certainly. However, the bar has been set so low for J.C. Penney that just finding a pulse is considered a step in the right direction.
The fourth quarter is make or break for retailers, when the bulk of revenue -- and in many cases profits -- are generated during the fiscal year. For J.C. Penney, it was much closer to break-even this year than last year.
A small sign of hope? Yes, but nothing to get overly excited about. Turn a profit, not one that is subsidized via a tax benefit, and then perhaps we can start talking about J.C. Penney's turnaround.
In terms of same store-sales, they dropped 32% for last year's fourth quarter, a horrific figure, and one that set the bar exceedingly low for this year. Same-store sales growth of 2%, coming off a -32% year, again, is nothing to be excited about.
It shows things are "less bad" for the retailer, but that's not good enough at this point.

In terms of improving gross margins, better up than down. But there is still a long way to go. When Penney's was marginally profitable between 2007 and 2011, gross margins averaged 38.8%; for the latest fiscal year that figure was 29.4%.

JCP data by YCharts
Finally, the uptick in online sales -- solid, perhaps better than many expected -- still represents just 10% of the company's total revenue. J.C. Penney is still a brick and mortar, mall-based business, and that represents one of its challenges.
I like a turnaround story as much as the next value investor, and would like to see J.C. Penney make a go of it. It's just difficult to get too excited at this point. We've had several other little pockets of enthusiasm for the stock over the past year, and each has ended in the next piece of disappointing news.
I expect the company will continue to trade like an option in terms of volatility, representing a bet on the company's viability.
But J.C. Penney is still not good enough at this point for this deep-value dumpster diver.
At the time of publication the author had no position in any of the stocks mentioned.
This article represents the opinion of a contributor and not necessarily that of TheStreet or its editorial staff.