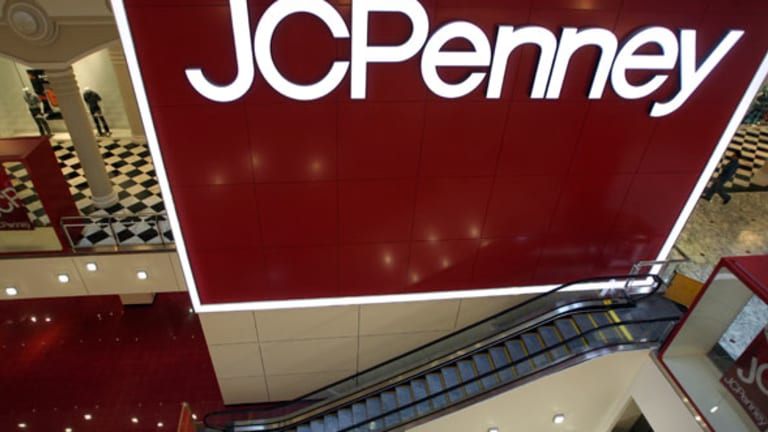 J.C. Penney Is Serving Diluted Kool-Aid
Issuing more shares is a red flag.
NEW YORK (TheStreet) -- On Thursday, J.C. Penney (JCP) announced a 38% share dilution that reminds me of a childhood summer spent at my grandparents home.
My grandmother, having gone through the great depression, diluted everything. If a pack of Kool-Aid called for two quarts of water, you could bet she was making it with three. For
Campbell's
(CPB)
chicken noodle soup and just about everything requiring water, it was the same -- diluted. Now, 35 years later, I still remember how much I hated drinking watered-down Kool-Aid. There's simply no debate that dilution obliterates the taste.
My grandparents passed with plenty of money, and so they didn't need to water down everything. My grandmother knew she had a choice, but when you live in fear of "you never know," it changes your behavior.
The difference between J.C. Penney and my grandmother is the company is running out of options, and investors will enjoy diluted shares less than drinking watered down Kool-Aid. Raising capital shouldn't come as a shock considering the company is bleeding cash rapidly and reported last month a loss of $2.20 a share for its fiscal second quarter.
Read: J.C. Penney Investors Suffer Whiplash
It was the sixth quarter in a row of losses and the worst quarter in years. After shares fell another 20%, investors rightfully started to question the company's business.
In response, the company issued a
dated Sept. 26, which states:
The Company continues to be encouraged by improvements in purchase conversion both in store and on jcp.com, primarily due to being back in stock in key items and sizes the customer expects to find at JCPenney. Overall sales on jcp.com continue to trend double digits ahead of last year.The Company still anticipates it will experience positive comparable store sales trends coming out of the third quarter and throughout the fourth quarter of 2013.
On the very next day, J.C. Penny and
Goldman Sachs
(GS)
announced a 38% share dilution. Apparently, J.C. Penney is hoping investors will drink its watered-down Kool-Aid. Interestingly, Goldman Sachs downgraded J.C. Penney and
Macy's
(M)
, and Goldman is suggesting J.C. Penney's bondholders buy five-year credit-default swaps.
Read: Is J.C. Penney Raising Enough Capital?
A CDS is similar to options or insurance. A CDS pays when a bond defaults. Keep in mind bonds don't normally default unless shareholders are wiped out.
Even if J.C. Penney doesn't need money right now, investors should consider the peril implied from the company's "just in case" strategy. It's a strategy of raising money now just in case conditions get worse to a point that the company can't raise money after it reports its third- and fourth-quarter results.
Investors should ask what the shares will be worth if the company fails to cease its cash burn.
Kohl's
(KSS)
,
Target
(TGT)
, and
Wal-Mart
(WMT)
will continue to apply price pressure squeezing revenue and margins.
J.C. Penney does have a few bullets left, including assets like its real estate it can sell; however, it's a long road to paradise. Don't expect a fast turnaround, and if you're buying the new lows, be sure to sell covered calls as a hedge.
At the time of publication, the author had no position in any of the stocks mentioned.
This article was written by an independent contributor, separate from TheStreet's regular news coverage.
Robert Weinstein is an active trader focusing on the psychological importance of risk mitigation, emotion and financial behavior of market participants. Robert co-founded the investing blog
, where he writes a journal about his trading activity and experiences.
In addition to
TheStreet
, Robert also contributes to
Real Money Pro
, providing real-time trading ideas for stocks, options and futures.