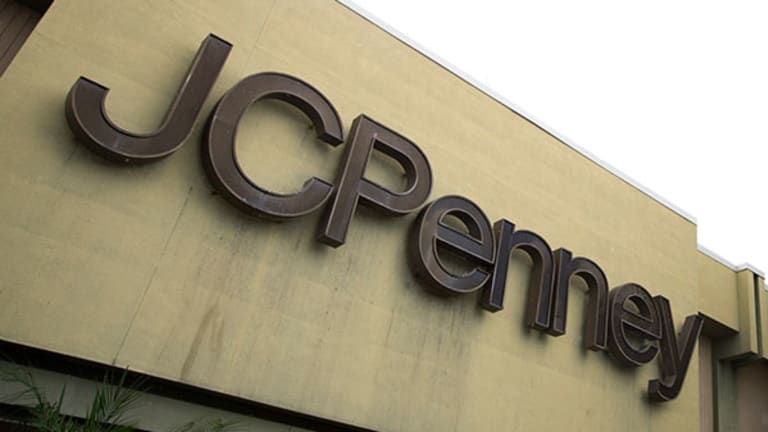 J.C. Penney Fails to Tap HSN's Grossman as CEO and Here's Why
The retailer reportedly is having difficulty securing a permanent CEO.
NEW YORK (TheStreet) -- Despite having a pulse this year after a disastrous 2013, J.C. Penney (JCP) - Get Free Report can't secure a permanent CEO to take the reins from current leader Mike Ullman. 
According to a Wall Street Journalreport, Mindy Grossman, the CEO of Home Shopping Network (HSNI) , who is a highly regarded retail industry executive, turned down the chance to become J.C. Penney's next chief some two months ago. That means Grossman turned down the gig around the time of J.C. Penney's May 15 first-quarter earnings report, in which it delivered both top- and bottom-line results that were ahead of Wall Street expectations.
The stock, which my firm, Belus Capital Advisors, upgraded on April 10 to hold from sell citing an attractive near-term risk reward, popped 16% from May 15 to May 16. It has shed 10% since.
Understanding why J.C. Penney approached Grossman is fairly obvious -- her track record in retail is strong. In her nine years at PoloRalph Lauren (RL) - Get Free Report, Grossman spearheaded the launch of the value-oriented Chaps and Polo jeans collections. While spending six years at Nike (NKE) - Get Free Report, she built up the women's apparel business.
Since joining HSN in 2006, Grossman has focused on new ways to reach the type of customers who might shop at J.C. Penney. That shopper is a female head of household whose family pulls in $35,000 to $75,000 annually and demands affordability for discretionary merchandise. Grossman has sought to target that customer's disposable income by infusing celebrity-inspired apparel and accessories collections into the mix at a great value, as well as adding higher-quality offerings from lesser known designers.
Video Interview Exclusive: Dig Inn Leads the Next Generation of Fast Casual Restaurants
CFO Interview Exclusive: UPS Sees its Shipping Future in Healthcare, Retail and Green Tech
COO Interview Exclusive: 4 Surprising Things About to Go Down at Chobani
Here is why Grossman may not have wanted to be the next CEO of the struggling retailer.
The new J.C. Penney already has been rebuffed by the U.S. consumer: In a recent interview with Inc., Grossman said, " I believe that if you don't disrupt yourself, you will be disrupted by someone else." J.C. Penney won't be disrupting the stodgy department store sector anytime soon, a painful lesson that was learned by its former CEO Ron Johnson. J.C. Penney's low- to middle-income shopper, first and foremost, wants discounts on merchandise season after season, not a new shopping experience that may bring with it higher ticket prices.
Additionally, with J.C. Penney's weakened financial state, Grossman would have limited ability to test new in-store and online initiatives.
The end result is that Macy's (M) - Get Free Report, which has been leading the department store channel in terms of same-store sales growth and in-store reinvention, with, for example, new Finish Line  (FINL)  sneaker and Levi's denim shops, continues to capture the growing number of deal-seeking shoppers.
The role of bad guy: As of May 3, J.C. Penney had shuttered 31 stores as part of a plan announced in January to close 33 underperforming locations. In April, a source at J.C. Penney told me the company has "made no decision' on future store closures. However, amid elevated interest payments borne from efforts to raise liquidity, and the structural shift in how people are shopping, J.C. Penney could unveil additional store closures in 2015.
Grossman would essentially be setting herself up to deliver bad news to J.C. Penney's employees and investors just as she was working to stabilize the business.
The competition for top talent: Unfortunately for J.C. Penney, there are a number of high-profile retail CEO positions that are or could become available. One is Target (TGT) - Get Free Report, which counter to J.C. Penney, has opportunities to open new stores in the U.S. and Canada, and opportunities in the fashion apparel, accessories, and home goods components that fit with Grossman's resume. Further, Target's cash flow generation is such that Grossman could join the company and lay out the Target store of the future, similar to what Hubert Joly at Best Buy (BBY) - Get Free Report has done.
Abercrombie & Fitch (ANF) - Get Free Report is another. CEO Mike Jeffries' latest employment contract expires on Feb. 1, 2015. Jeffries, should he depart following the expiration of his contract, will exit Abercrombie & Fitch with a new division president structure and a streamlined domestic store base. That, in addition to the brand's international appeal in high-traffic tourist destinations and square footage potential overseas, could be attractive to Grossman.
Gap (GPS) - Get Free Report CEO Glenn Murphy has been at the helm of the retailer since July 30, 2007, an abnormally long stretch for a retail executive. There have been rumblings that Murphy, who cut his teeth for two decades in Canadian retailing and has accomplished about all he can at Gap, is interested in the Target position given the opportunity turn around the company's struggling Canadian business. Gap also would be a nice fit for Grossman as the brand lends itself to creative celebrity fashion partnerships, and is already ahead of competitors online by offering reserve in-store and ship-from-store capabilities.
J.C. Penney declined a request to comment on its broader CEO search.
-- By Brian Sozzi CEO of Belus Capital Advisors, analyst to TheStreet. This article represents the opinion of a contributor and not necessarily that of TheStreet or its editorial staff. At the time of this publication, Belus Capital Advisors rated JC Penney a hold. Brian Sozzi is the CEO and Chief Equities Strategist of
. He is responsible for developing and managing an equities portfolio of mid- and large-cap positions, in addition to leading the firm's digital content initiatives. He is also a personal finance columnist for
Men's Health
magazine.