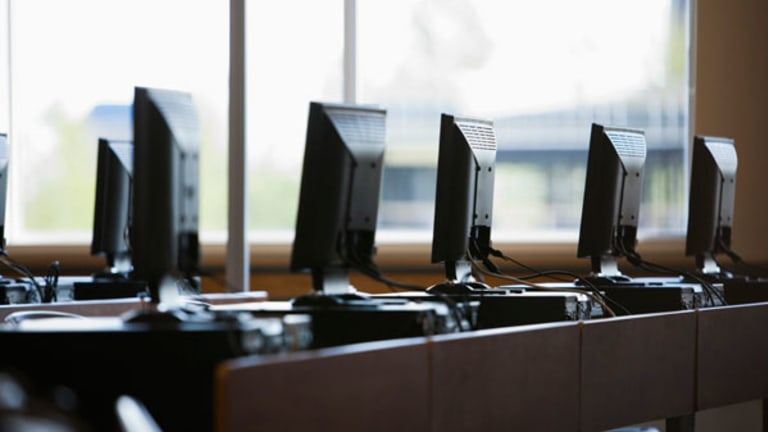 Jargon Cannot Obscure Xilinx and Altera
Xilinx's network orders shook up investors who may have forgotten what a promising company it is.
NEW YORK (TheStreet) -- A company like Xilinx (XLNX) - Get Xilinx, Inc. (XLNX) Report can be an enigma to investors. It isn't an easy study, but neither is its chief rival Altera (ALTR) - Get Altair Engineering Inc. Class A Report.
Both companies' shares have been under pressure lately, and both are selling at almost identical PE ratios. From a market cap perspective Xilinx is larger at $11.8 billion versus Altera at $10.4 billion. The two compete in similar ways, but the leader is also challenging to determine.
No doubt Xilinx is the world's leading provider of All Programmable FPGAs, SoCs and 3D ICs. These industry-leading devices are coupled with a next-generation design environment and IP to serve a broad range of customer needs, from programmable logic to programmable systems integration. It helps to be tech savvy to understand what this all means, but when it's set against the backdrop of the expanding mobile device market internationally then it begins to shine brighter.
Let's take the company at its word that, "Only Xilinx has the portfolio to enable design teams to develop All Programmable electronic systems." This apparently expands their system value advantages, addresses the industry's "programmable imperative" by reducing exploding design costs, and dramatically increases flexibility and lowers risk in a rapidly changing market environment.


To better understand why Xilinx claims to be "a generation ahead" in its technology, one would be well-served to visit the web page that covers this topic. The explanations lack definitions for us technically-challenged lay folks, but the illustrations and the gist of its advantageous products seems impressive to me.
Jim Cramer and Stephanie Link wrote in an Action Alerts PLUS story on Nov. 22, Xilinx "remained optimistic about the opportunity in China Mobile's LTE rollout, and it expects a gradual acceleration throughout 2014. Xilinx has two-thirds market share in Chinese LTE and 80% share in the 28 nm process. This is important, as many of Xilinx's customers are skipping over the 40 nm and going right to 28 nm. This should benefit the company and also lead to further market-share wins against its largest rival, Altera."
So let's turn to Altera. The company's describes itself as "the pioneer of programmable logic solutions, enabling system and semiconductor companies to rapidly and cost effectively innovate, differentiate, and win in their markets."
Altera offers a group of what I call "widgets" with embedded processor systems in combination with software tools, intellectual property, embedded processors and customer support to over 16,000 customers worldwide. The company was founded in 1983 and had annual revenues in 2012 of $1.8 billion.
Altera had its own press release last Monday that's a must-read if you are considering owning shares of the stock. The latest release of Altera's widget that supports IBM (IBM) - Get International Business Machines (IBM) Report Power System servers as an OpenCL system host. Customers are now being told they're able to develop OpenCL code that targets IBM Power Systems CPUs and accelerator boards with Altera FPGAs as a high-performance compute solution.
Other than its connection to Altera, IBM hasn't gotten much favorable press lately. In fact the Bloomberg reported that Stan Druckenmiller, who has had one of the best track records in the hedge-fund industry for over 30 years, is shorting IBM betting the company's business will be replaced by technology such as cloud computing.
From an investor's standpoint comparing the two is not an easy assignment. Xilinx trades at a lower future (1-year) PE ratio of just over 18 and offers a higher dividend yield of close to 2.3%. The payout ratio is 49% and the 5-year average dividend yield is more like 2.4%. Xilinx's trailing twelve month profit margin of 24% looks as impressive as its strong balance sheet.
Altera's forward PE ratio is almost at 21 and offers a lower dividend yield of around 1.86%. The payout ratio is also lower and was last reported to be around 31%. Its PEG ratio is much higher at 2.69 suggesting the share price is more overvalued. Altera's trailing twelve month profit margin was a robust 27% and its balance sheet looked better to this analysts' eyes than that of Xilinx.
Perhaps investors would want to own both companies, but only after careful due diligence. These are the kind of stocks where a thoughtfully chosen trailing stop loss would be in order, but I can't pound the table hard enough about the importance of using an exit strategy that will fly under the radar of the stock exchange's market makers. The best one I've found and personally use is called "TradeStops" which I recommend to all investors and traders.
It appears that both Xilinx and Altera are vital players of the most sophisticated aspect of the semiconductors, integrated circuits and programmable logic devices subsector. Both companies technologies are racing to be the best, most up-to-date and cutting edge. The upcoming quarter looks challenging for each, but with lowered guidance and reduced expectations there's plenty of opportunity for upside surprises in revenue and earnings.
At the time of the publication of this article the author was only long shares of XLNX, and is neither long nor short any other companies mentioned.
Follow @m8a2r1
Marc Courtenay is the founder and owner of Advanced Investor Technologies, LLC, as well as the publisher and editor of www.ChecktheMarkets.com.
Courtenay holds a Master's of Science degree in Psychology from California Polytechnic State University, and is a former senior vice-president of Investments for two major brokerage firms. He's been a fiercely independent investment "investigator" and a consulting contributor to the investment publishing world for over 30 years. In addition to his role as an investment publisher and analyst, he serves as a marketing consultant to the investment media industries.
In his role as a financial editor, he specializes in unique investment strategies, overlooked stock investments, energy and resource companies, precious metals, emerging growth companies, the prudent use of option strategies,real estate related opportunities,wealth preservation, money-saving offers, risk management, tax issues, as well as "the psychology of investing". Because of his training and background in Clinical Counseling and Psychology, he enjoys writing about investor behavior, the ¿herd mentality, how to turn investment mistakes into investment breakthroughs and the stock market's behavioral trends and patterns.