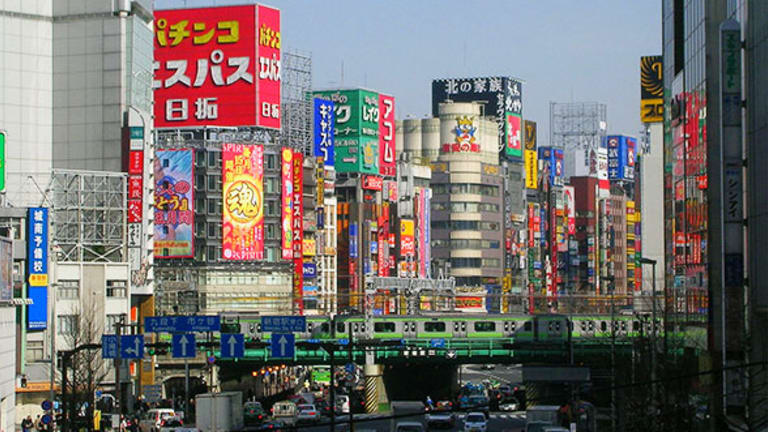 Japan's Nikkei Stock Index Will Move Lower Again, Technical Charts Show
Bulls may be optimistic following the recent bounce in Japanese equities, but caution is warranted, because the evidence points to another selloff.
Like most equity markets around the world, Japan's Nikkei 225 Index has stabilized recently. In the process, this benchmark index for Japanese stocks has recovered more than half of the losses experienced during the correction late this summer. Although it would appear that bulls are back in the driver's seat, ready to propel the Nikkei 225 to new highs again, bears may have other plans in mind, technical analysis shows. The index is approaching formidable resistance for this bounce. If the index can't clear this resistance, it likely will make another leg down in its correction and go below the September low.
In May, we issued a warning about the impending top approaching in the Nikkei, suggesting that if the Bank of Japan failed to increase stimulus during its May policy meeting, a 20% correction for the index was around the corner. Even though more than 19% of market valuation was shaved off the Nikkei from the May high into the September low, the downside doesn't appear to be finished yet. So far, the price is following the standard path of a bull market correction, which is two legs of selling separated by a counter-trend bounce. Price would currently be in the counter-trend bounce with the last leg down of the selloff yet to come.
If this prediction is correct, then the current bounce should meet resistance between 19,300-19,920 and turn back down to a new swing low targeting 16,025-14,915 next to complete the overall correction off the May high. This would then set up a rally to new highs again, eventually reaching 24,000-26,000 late next year or in early 2017. Click here to view a chart with the technical analysis detailing this path.
Despite the late-summer selloff in the Nikkei, the Bank of Japan remains optimistic with its growth and inflation projections for next year, revising them down only slightly, according to Reuters. The board believes "that it is still broadly on course to meet its inflation goal of 2 percent next year without needing to step up its massive asset purchase program," Reuters reported. This means that there is unlikely to be any policy changes in the near future that would help ease selling pressure in equities and stop this correction prematurely.
Overall, the evidence is strongly in favor of unfinished downside in the Nikkei 225. This would suggest that the current bounce off the September low is coming to an end soon, resulting in another leg down in this correction off the May high before the larger uptrend resumes.
This article is commentary by an independent contributor. At the time of publication, the author held no positions in the stocks mentioned.