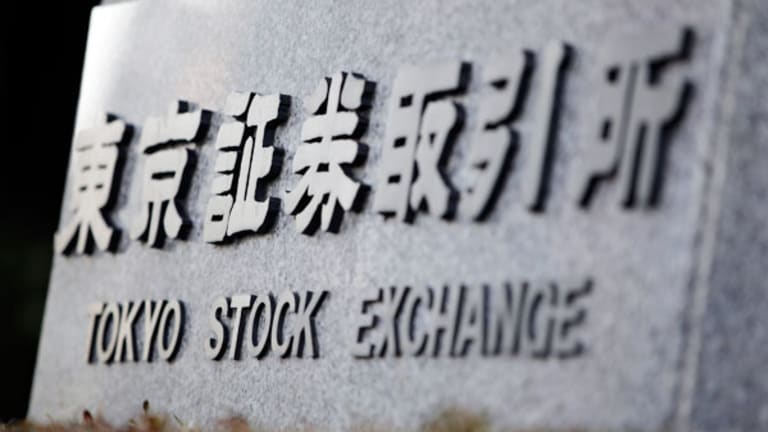 Publish date:
Japan Is in Big Trouble as the Yen Sinks and Growth Stagnates
The yen is all but guaranteed to sink lower, but that won't reignite growth or encourage new borrowing by Japanese companies.
The yen is all but guaranteed to sink lower, but that won't reignite growth or encourage new borrowing by Japanese companies.
NEW YORK (TheStreet) -- There is no such thing as a "risk-free trade." No matter how good an investment thesis looks on paper, there can always be a curve ball you never saw coming.
That said, the closest thing to a "risk-free trade" you're going to find for the remainder of 2014 is to short the Japanese yen. Barring another market scare that causes hedge funds to cover their yen shorts and close their carry trades, the yen is all but guaranteed to sink lower. This isn't particularly good for American exporters. But at least in the short term, it adds another major source of liquidity to drive stock prices higher.
Last week, central bank shenanigans were the biggest force behind the market's moves. The Fed finally tapered its "QE Infinity" bond-buying program to zero. That's been the plan for months, so it came as no real surprise. The Fed did, however, use slightly more optimistic language when describing the labor market, which Fed watchers took as a cue that short-term rates might be rising a few months earlier than previously thought.
Maybe -- or maybe not. I don't expect the Fed to raise rates much if at all for another nine to 12 months. But it doesn't really matter. The central bank news that sent the market flying on Friday came not from the Fed but from the Bank of Japan.
The BoJ announced it was taking quantitative easing to levels that would make Fed chair Janet Yellen blush. The BoJ will be increasing its balance sheet by 15% of Japanese GDP per year and will triple its purchases of ETFs and REITs. Topping it off, Japan's government pension fund will be upping its allocation to equities from 24% to 50%. Relative to the size of Japan's economy, this is the biggest quantitative easing boost in history.
This won't end well for Japan. 
Quantitative easing may stave off deflation for a time. But it won't reignite growth or encourage new borrowing by Japanese companies.
Japan is already sitting on overcapacity and has some of the poorest returns on investment in the developed world. Worse, and at the risk of sounding morbid, there are fewer Japanese consumers to sell to every year. Japan is the oldest country in the world with a quarter of its population already over the age of 65. Japan's population peaked seven years ago at 128 million and hasn't stopped shrinking since -- Japan has about a million fewer citizens every year. By 2060, the Japanese government estimates that Japan's population will have shrunk to 87 million people.
So, Japan's quantitative easing won't "fix" Japan. But it willlower the value of the yen as liquidity sloshes out of Japan and into higher-yielding assets abroad.
There are plenty of ways to trade Japan's quantitative easing bonanza.
The easiest is by buying shares of the ProShares Ultra Short Yen ETN (YCS) - Get Report . This is a leveraged fund, so be careful. The Ultra Short Yen fund rises about 2% for every 1% fall in the value of the yen relative to the dollar, and vice versa.
As I said, there is no such thing as a risk-free trade. But barring a massive intervention by the Fed or European Central Bank to prop up the yen, this is about as close as we're going to get.
At the time of publication, the author's Tactical ETF portfolio was long YCS.
This article is commentary by an independent contributor, separate from TheStreet's regular news coverage.