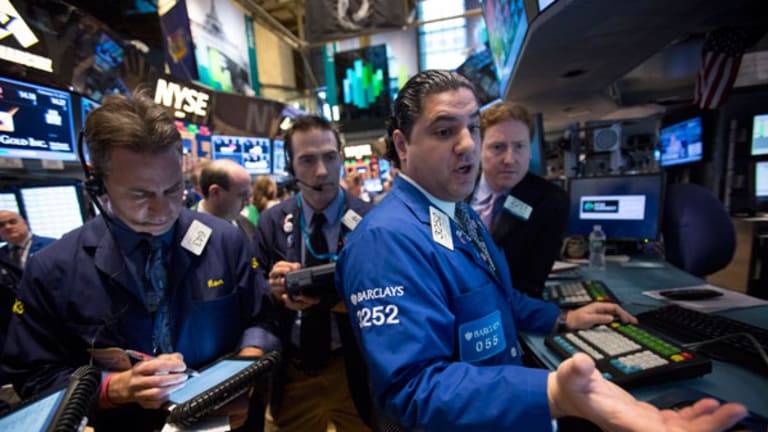 January Recap: Risk Off
January has brought very strong trend changes in areas of the market that signal a return of the 'risk- off mindset.
NEW YORK (FMD Capital Management) -- As a new component to my blog this year, I wanted to start a monthly series that recaps the recent market action for the preceding month and highlights interesting observations. My goal is to add a little insight into your investing endeavors by focusing on new correlations, trend changes, and technical setups that may lead to profitable trading opportunities.
As you probably already know, January has been characterized by widespread declines in most of the major indices. Depending on your index of choice, stocks are off anywhere between 3% to 5% on a total return basis. This will be the first negative start to the year since 2009 and highlights the first significant return of volatility we have seen since mid-2013.
It's interesting to note that we are seeing some very strong trend changes in areas of the market that signal a return of the "risk off" mindset. The correlation between the SPDR S&P 500 ETF (SPY) - Get SPDR S&P 500 ETF Trust Report and the iShares 20+ Treasury Bond ETF (TLT) - Get iShares 20+ Year Treasury Bond ETF Report has been steadily inching higher, which indicates Treasuries are significantly outperforming stocks in the last 30 days.
After shaking off one of its worst years in the last decade, TLT has rebounded over 6% in January to reclaim its notoriety as a flight to quality instrument. That is why I have been a big advocate of hanging on to your core fixed-income holdings as a tool to balance out your portfolio and reduce overall volatility. In addition, you are able to take advantage of some of the best yields on bonds that we have seen in several years.

We are also seeing a widespread accumulation in utilities stocks and distribution in the consumer discretionary sector. The miss in Amazon.com (AMZN) - Get Amazon.com, Inc. Report earnings this week highlights a crack in the bias towards consumer spending and high-beta stocks as we start the New Year. If you look at the correlation between the Utilities Select Sector SPDR (XLU) - Get Utilities Select Sector SPDR Fund Report and the Consumer Discretionary Select Sector SPDR (XLY) - Get Consumer Discretionary Select Sector SPDR Fund Report, you can see a similar trend developing as we are seeing in Treasuries.
Utility stocks are often driven higher as interest rates fall and investors grow cautious about economic growth prospects. They are often seen as an additional safety trade because of their low volatility and strong yields which make them attractive in a sell off.
Other areas of strength in January include REITs and preferred stocks which were heavily beaten down in 2013. The iShares U.S. Preferred Stock ETF (PFF) - Get iShares Preferred & Income Securities ETF Report and iShares U.S. Real Estate ETF (IYR) - Get iShares U.S. Real Estate ETF Report have both outperformed this month on the back of falling interest rates and investor demand for value income opportunities. I highlighted these areas at the beginning of the year as ETF income alternatives for a portion of your portfolio. I believe that these sectors offer a unique strategy for diversification and will continue to perform well if interest rates remain accommodative.
My initial reaction to this change in tenor for equities is to keep things in perspective. The majority of stocks are still well above their 200-day moving averages and the selling pressure has been orderly. We are not seeing any significant signs of distress in the markets other than the normal ebb and flow of equity prices. That should be viewed as a positive sign that the market is digesting earnings and other macro-economic data in a typical fashion.
I have been seeing widespread use of the term "stock correction" of late, which I think is a little premature. Remember that a true correction is defined as a drop of 10% or greater. A bear market is widely viewed as a drop of 20% or greater. Therefore it is still early to call this pullback a correction when we are approximately 5% from the highs.
How you react to this data is largely a function of where you sit. If you have a large cash position and want to get more exposure to stocks, this represents an excellent opportunity to start adding to core holdings or select areas that you feel will outperform. Conversely, if you are overexposed to high beta areas of the market, you may want to look at rebalancing your portfolio to cash or fixed-income.
I am using this pullback to add to select tactical opportunities for clients in low volatility ETFs and making sure that I am balancing risk with reward. My outlook for stocks will likely change to cautious if we get closer to the 200-day moving average. That is a key risk management metric for our portfolios as we manage our way through a new wave of price data. Remember to stay balanced and nimble this year as new opportunities and risks develop.
At the time of publication the author had a position in PFF and IYR.
This article represents the opinion of a contributor and not necessarily that of TheStreet or its editorial staff.