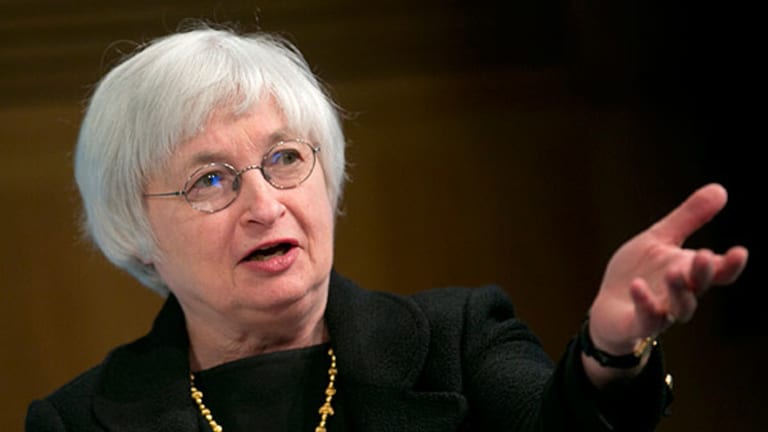 Janet Yellen Speaks and Up Goes the S&P 500: Mission Accomplished
This overheated, bubble like stock market continues to go higher on the heels of the Federal Reserve Chair, Janet Yellen, giving the green light to buy stocks.
NEW YORK (TheStreet) -- Federal Reserve Chair Janet Yellen speaks and the S&P 500 hits an all-time high. It is mission accomplished.
The S&P 500 closed up 14.99 points at 1956.98 on Wednesday, a new all-time closing high, while the DJIA closed up 98.13 at 16906.62. The Nasdaq finished higher by 25.60 at 4362.83 and the Russell 2000 was up 6.51 to close at 1183.13.
This is all courtesy of the Federal Reserve and its continued dovish stance on the economy. This is allowing the stock market to continue moving higher as the bubble continues to grow with 0% interest rates and the all clear signal to buy equities.
Do not be concerned that inflation is all around. The Bureau of Labor Statistics (BLS) seasonally adjusted price index for meats, poultry, fish and eggs hit an all-time high in May.
The leading sector to the upside in 2014 continues to be the Select Sector Utilities ETF (XLU) - Get Utilities Select Sector SPDR Fund Report. It was up 2.27% on Wednesday and up 15.2% for the year to date. The S&P Goldman Sachs Crude Oil TrustIndexETN (OIL) - Get iPath Pure Beta Crude Oil ETN Report continues to rip higher, up 11% YTD, and the SPDR Gold Trust (GLD) - Get SPDR Gold Shares Report is up 6% YTD.
The Barclays 7-10 Year Treasury Bond Fund (IEF) - Get iShares 7-10 Year Treasury Bond ETF Report is up 4% YTD. So if traders and investors want to forget or not notice what this stock market and economy is signaling, trade and invest at your own peril. There are serious issues out there that are being masked over by what the Federal Reserve is doing and their policies. Please take notice.
It appears that the Federal Reserve is attempting to move all savers into the stock market with their zero interest rate environment and no timetable for raising rates in the future. This will end very tragically and sooner than you think.
As this stock market continues to play out on the upside, I once again caution traders to have a risk management process that is repeatable and reliable.
I am finding absolutely no small-cap or large-cap stocks at the close of trading on Wednesday that are extraordinarily oversold according to my algorithm process. This is unprecedented. When the only stocks showing up on my scans are the extraordinarily overbought, I stand up and take notice and so should you. This is reckless buying at the present time.
The Fear/Greed Index data from CNN/Money are showing a Greed Index of 94. Folks, that is Extreme Greed and a contrary indicator. A selloff is close at hand. Be prepared.
With that said, On Wednesday I covered most of my short position in Broadcomundefined and Fairchild Semiconductorundefined. Both at nice gains. I also sold my Deutsche Bank (DB) - Get Deutsche Bank AG Report long from Tuesday at a nice profit.
This is opportunistic trading that can be found at www.strategicstocktrade.com. I also started a new short position in Diamondback Energy (FANG) - Get Diamondback Energy, Inc. Report with an extraordinarily overbought algorithm number of 100.
At the time of publication the author was short BRCM, FCS, and FANG.
This article represents the opinion of a contributor and not necessarily that of TheStreet or its editorial staff.
>>Caveat Emptor, Investors: The Regulators Are Trying to Protect You