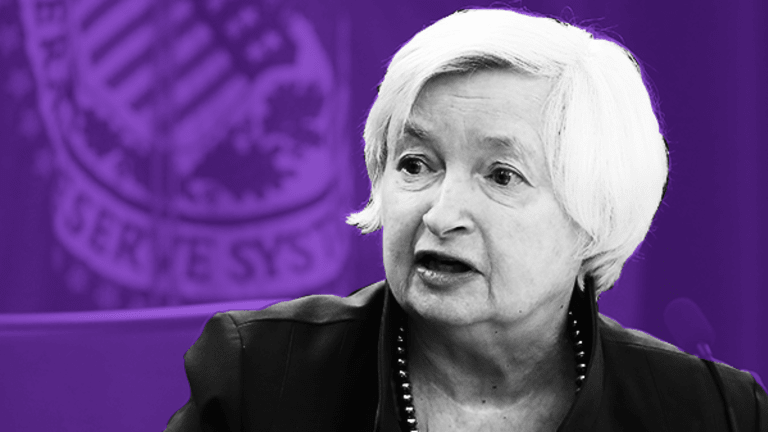 Janet Yellen Is the Most Powerful Woman in the World
Janet Yellen is much more than the person that gave a confident speech after this week's Federal Reserve meeting.
Despite standing at just 5'3" tall, Janet Yellen is one of the most powerful woman in the United States and perhaps the world. That much was on display when Yellen took questions from reporters after this week's Fed meeting. 
As the first woman to become Chair of the Board of Governors of the United States Federal Reserve System, she is a Wonder Woman of Wall Street and the epitome of Alpha Rising, TheStreet's special series covering ground-breaking women in business.
She was nominated by President Obama to succeed Ben Bernanke back in 2013 and has more spent more hours at the Fed than just about anyone. Because prior to getting the top spot, she was Vice Chairwoman from 2010 to 2014 and President and Chief Executive Officer of the Federal Reserve Bank of San Francisco before that.
Yellen has a mission to create jobs for all American's though women remain a key priority.
In a recent speech at Brown University, commemorating 125th anniversary of women being admitted to the school, she spoke about how "women continue to be underrepresented in certain industries and occupations; and too many women struggle to combine aspirations for work and family."
"Evidence suggests that many women remain unable to achieve their goals," she said in that May 2017 speech. "If these obstacles persist, we will squander the potential of many of our citizens and incur a substantial loss to the productive capacity of our economy at a time when the aging of the population and weak productivity growth are already weighing on economic growth."
And that is exactly why we launched Alpha Rising. Women are underrepresented in the C-suites and boardrooms. So we strongly support our Fed Chair in her mission. So does Christie Hefner. And Carly Fiorina. And, quite frankly, all of the women we have interviewed for AlphaRising.
And even though Yellen wasn't a household name before her Senate Confirmation on January 6, 2014, she has been a quiet role model and a gentle giant for women throughout the years.
Climbing the ranks in the male-dominated world of economics and being mentored by Nobel-Prize winning economist James Tobin at Yale, where she received her Ph.D. in 1971, Yellen now stands taller than all of them.
Her husband is Nobel Prize recipient George Akerlof, who she met when they were both working at the Federal Reserve in 1977. We would love to be a fly on the wall during dinner!
Like we said, most powerful woman in the world. 
And for more from Tracy Byrnes and Alpha Rising, watch:
Meet Ford's 23-Year-Old Prodigy Who Holds 15 Patents