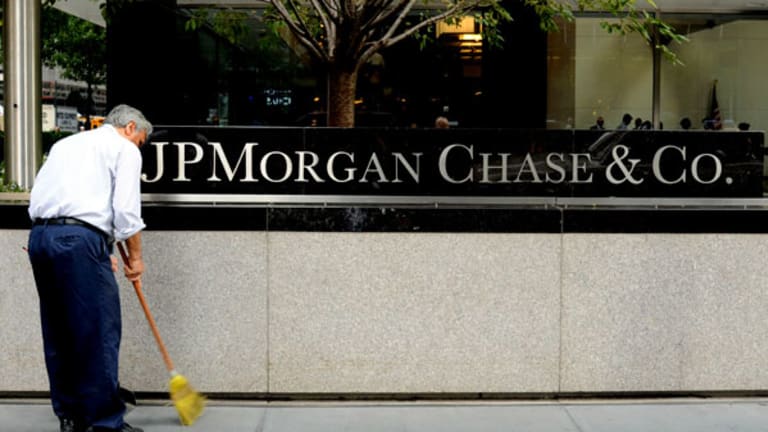 Jamie Dimon Still Hitting at the Mendoza Line
JPMorgan Chase's legal troubles have it trading near book value in the fifth year of an economic recovery.
NEW YORK (
) -- Baseball fans remember Mario Mendoza for the "Mendoza line," defined years ago by baseball Hall of Famer George Brett as a point of mediocrity. The slick-fielding shortstop had a decade-long career while hitting about .200. Thus, in baseball, .200 is the Mendoza line.
For bankers, book value is the Mendoza line. A bank is supposed to be worth at least its book value, and preferably a big premium to it.
Trouble is, most of the biggest banks haven't been hitting this well for years.
Bank of America
(BAC)
and
Citigroup
(C)
trade for significantly less than book, while
JPMorgan Chase
(JPM)
keeps flirting with it.
In June, for the first time in many months, the bank got to more than book value, and is now trading a penny or so more than that level. But can it keep up when the banking equivalent of steroid investigations are hovering around it like its nickname is A-Rod?
The "London Whale" won't be charged, but the cover-up is always worse than the crime, and two former lower-level employees might be charged with criminal wrongdoing in covering it up. Still to be settled is whether the bank will have to formally admit wrongdoing.
The bank is being charged in a civil case with violating securities laws in handling subprime mortgages ahead of the 2008 crash.
The Federal Energy Regulatory Commission (FERC) charged the bank with manipulating the market for electricity as many as eight times and handed its energy trading unit $410 million in fines.
The bank faces charges, along with Goldman Sachs (GS) , of manipulating aluminum prices, warehousing supplies to keep prices high. This is the case that was made part of a Daily Show sketch a few weeks ago.
Either there is long-overdue oversight going on, in other words, or it's Monday.
The bank is raising its estimates on future legal costs, and has spent an estimated $16 billion defending itself in court, or paying fines, since 2009. You can argue that's money well spent, since it's made $71 billion in profit since 2009, but you can also argue that JPMorgan Chase has done for the corporate defense bar what O.J. Simpson did for the criminal defense bar.
When the London Whale trade came to light, when the bank was called "out of control" by analyst Joshua Rosner in March, the bank's shares took a hit. But when the dust cleared, the bank shares moved ahead, on the strength of the economy, and on its gains in retail share from opening branches.
The Mendoza line represents resistance for JPMorgan Chase investors. The shares were heading down on Monday over the latest collection of revelations. You can call that a buying opportunity -- the shares are up almost 47% over the last year, and you get a 2.79% yield at current prices.
But we are now well into the fifth year of an economic recovery. Aren't banks supposed to be great investments when times are improving? Especially when the
Federal Reserve
is stuffing them full of new money?
The financial ball is juiced, and this bank is still hitting like Mario Mendoza. Tell me again how this makes Jamie Dimon a genius?
At the time of publication, the author owned shares of BAC.
This article is commentary by an independent contributor, separate from TheStreet's regular news coverage.
Dana Blankenhorn has been a business journalist since 1978, and a tech reporter since 1982. His specialty has been getting to the future ahead of the crowd, then leaving before success arrived. That meant covering the Internet in 1985, e-commerce in 1994, the Internet of Things in 2005, open source in 2005 and, since 2010, renewable energy. He has written for every medium from newspapers and magazines to Web sites, from books to blogs. He still seeks tomorrow from his Craftsman home in Atlanta.