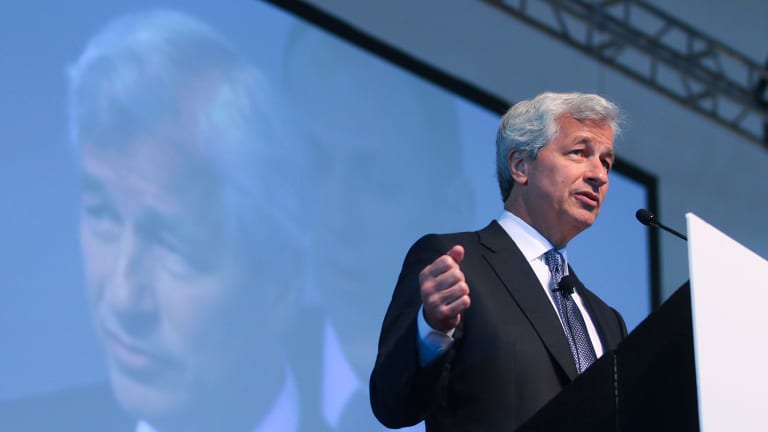 Jamie Dimon's Makeover: From Whiner to Would-Be Statesman
The JPMorgan CEO is famous for his attacks on regulators and complaints that his company is getting picked on. So what's with the measured new stance?
What on earth has gotten into Jamie Dimon?
The chairman and chief executive officer of JPMorgan Chase (JPM) - Get JPMorgan Chase & Co. (JPM) Report landed on the cover of the newly designed Bloomberg Markets magazine on Tuesday, expounding on everything from the markets in China to his bank's purported focus on customers.
If you were hoping to hear from the belligerent banker who mocked former Federal Reserve chairman Paul Volcker and railed that U.S. regulations might drive business overseas, the Q&A with Bloomberg's editor-in-chief may disappoint.
Here's Dimon talking to Bloomberg about regulation:
"I completely understand that society has a perfectly legitimate right to put in structures and regulations and rules that make it fairer, better, cleaner."
Sounds reasonable enough to me. But would it have sounded reasonable to the guy who said in January 2015 that beleaguered banks were "under assault" by regulators?
That guy would be a considerably more combative Dimon, who told reporters on a conference call that banks were coming under siege by as many as six regulators each time an "issue" arose.
He punctuated his point with a Dimon classic:
"You all should ask the question about how American that is. And how fair that is. And how complex that is for companies."
I'd guess that a bunch of regulators piling on is plenty complex for companies. I'd also guess that the prospect of six regulators breathing down your neck would be a compelling incentive to consider a business strategy of playing by the rules.
But I'm not always such a good guesser.
Joe Evangelisti, a JPMorgan spokesman, said his boss's comments in the Bloomberg story "were consistent with views he expressed in his past four or five shareholder letters." Those letters "provide a lot more context than some of the soundbites you may be referring to," he said.
Irrespective of his shareholder missives, the Dimon whom we've watched in exchanges with the media has moved from bellicose regulatory combatant to a more measured executive. For now, at least.
JPMorgan has paid $36 billion in settlements since the financial crisis, including fines in complex cases related to manipulating foreign currency rates and ignoring red flags in the accounts of a very special customer named Bernie Madoff.
Along with four other banks, JPMorgan pleaded guilty to the former. That one cost J.P. Morgan $550 million. In the Madoff case, the bank paid $2 billion to resolve criminal charges.
In the interview published Tuesday, the refashioned Dimon dodged a question about whether it was a negative that fewer people with financial and banking experience were finding their way into regulatory jobs.
(Some of us categorize these career moves from Wall Street to Washington -- and back -- as examples of the regulatory "revolving door" that puts finance stars in charge of regulating their cronies. Passionate criticism of the practice, post-financial crisis, has made it more uncomfortable for politicians to tap financiers for government positions).
"I'm not going to say that, because then I'll get in trouble," Dimon told his interviewer.
Now there's a new one. Dimon, afraid he'll get in trouble? Is this the same guy who once told Fox News that the Volcker Rule would put bankers in a position where they would "have to have a lawyer, a compliance officer, a doctor to see what their testosterone levels are, and a shrink"?
I don't want to pry, but could somebody check to see if everything is OK over there at 270 Park Avenue?
Old Jamie Dimon testified before the Senate Banking Committee in June 2012 on his fear that the Volcker Rule would drive business overseas: "I don't want to be sitting here in 20 years trying to figure out why it's elsewhere," he said.
New Jamie Dimon on March 1, told Bloomberg, "From my point of view, the American financial system -- including banks and investment banks -- is far safer because of capital and liquidity requirements. Despite all the turbulence so far this year, I don't think anyone's questioning our system."
Okay, so he's a big-shot CEO with a powerful company to protect. None of us should be shocked that he would tweak his public persona as it became clear that nobody was buying his nonsense that defenseless banks were being bullied by regulators.
But I must say that there's one thing in Dimon's 5,000-word interview that's tough to swallow no matter what the political climate. Customers come first, the CEO told Bloomberg. In fact, JPMorgan is so aligned with its customers' interest that sometimes "because we want to help them, we have to say no" when they're looking for a credit card or a loan, he said.
Before you get all choked up over the bank's noble intentions, consider some recent history.
On Dec. 18, JPMorgan agreed to pay $267 million and admit wrongdoing in a case where the Securities and Exchange Commission said it had failed to disclose conflicts of interest to its money management customers.
The SEC said the firm didn't tell clients that it was favoring expensive, firm-managed, mutual funds over cheaper alternatives. The firm said the oversights were not intentional.
Customers come first? Apparently not all the time. Whether you're hearing from Dimon the fighter or Dimon the statesman, it's worth keeping in mind that at least part of the message may be fiction.