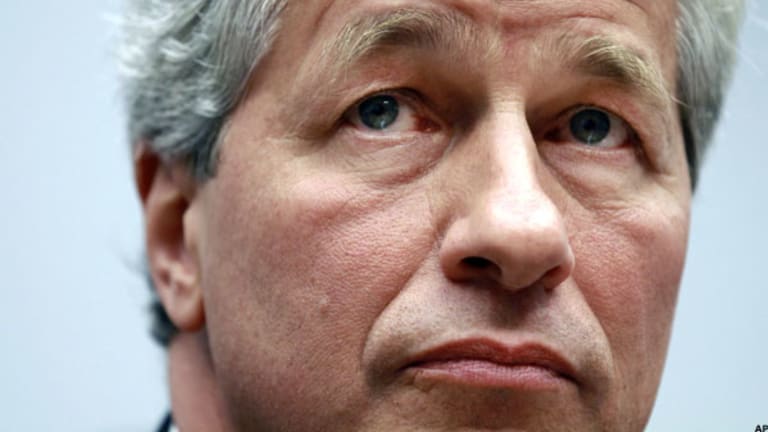 Jamie Dimon as the Steven Cohen of Banking
The SEC could be targeting someone in JPMorgan's management team.
NEW YORK (
) -- Could Jamie Dimon possibly find himself joining Steven A. Cohen among the government's favorite Wall Street targets?
Vanity Fair
recently wondered whether embattled hedge funder Cohen is the government's
, who eludes U.S. attorney Preet Bharara's monomaniacal pursuit of insider trading on Wall Street. Now, after
JPMorgan
(JPM) - Get JPMorgan Chase & Co. Report
, the largest bank in the U.S. by assets, agreed to
$920 million in regulatory fines
over actions surrounding its so-called "London Whale" trading loss of at least $6.2 billion, one wonders whether the firm's CEO Jamie Dimon could become ensnared in the government's Wall Street whale hunt.
On Thursday, the
Securities and Exchange Commission
got its biggest-ever failure to supervise admission after JPMorgan acknowledged it violated federal securities laws and its senior management failed to ensure that traders in the bank's now-disbanded Chief Investment Office (CIO) properly valued a portfolio of illiquid structured products that swelled to over $150 billion by early 2012.
In spirit, the SEC's action against JPMorgan is similar to a recently delayed administrative action against Cohen, which sought to bar the billionaire hedge fund manager from the securities industry for failing to supervise a handful of traders at his firm,
S.A.C Capital Advisors
, who have subsequently pleaded guilty to a litany of insider trading violations and face significant prison time.
For now, it appears JPMorgan's management and particularly the outspoken Dimon should be thankful the SEC is pinning blame on the bank and not executives at the firm. In contrast to the SEC's delayed action against Cohen, no top level executive at JPMorgan faces an industry ban.
Like the probe into SAC Capital, it also appears criminal action over JPMorgan's "London Whale" trades could be limited to relatively junior level employees. Two JPMorgan traders were recently indicted for their involvement in the CIO's trading loss and one has turned government informant.
JPMorgan's admission in the SEC settlement is the type of result the public has been asking that the SEC seek out, five years after the banking industry's near-collapse exposed systemic flaws in firms' business models, opaque financial reporting and the prospect of widespread fraud throughout all channels of the subprime mortgage market.
Still, headlines may overstate what the SEC has actually achieved. Meanwhile, the biggest revelation of Thursday's settlement may be that the regulator continues to investigate individuals involved with the trading loss.
"Although today's settlement resolves claims against JPMorgan relating to this matter, our investigation is continuing as to individuals," the SEC said.
In that sense, one wonders how different regulatory actions against JPMorgan are to those brought against SAC Capital.
Could the SEC find reason to recommend criminal charges or administrative against any of the senior managers who the regulator believes caused JPMorgan to violate federal securities laws? Is Jamie Dimon the Steven Cohen of the banking industry?
According to the SEC's own press release on Thursday, it seems clear that JPMorgan's violation of federal securities laws extends directly to top management.
Consider that JPMorgan has admitted its senior management failed to timely escalate deficiencies within the CIO unit to the firm's audit committee, according to the SEC. By late April 2012, JPMorgan senior management knew that the firm's Investment Banking unit used far more conservative prices when valuing the types of assets in its CIO portfolio, and that applying those valuations would have caused approximately $750 million in losses for the CIO in the first quarter of 2012.
Unnamed senior managers also personally rewrote the CIO's valuation policies before the firm filed with the SEC its first-quarter report for 2012, which showed minimal CIO losses. Internal reviews of the CIO unit also led some executives to express reservations about signing certifications for that quarter's earnings report.
"Senior management failed to adequately update the audit committee on these and other important facts concerning the CIO before the firm filed its first quarter report for 2012," the SEC said. "Deprived of access to these facts, the audit committee was hindered in its ability to discharge its obligations to oversee management on behalf of shareholders and to ensure the accuracy of the firm's financial statements," the regulator added.
"While grappling with how to fix its internal control breakdowns, JPMorgan's senior management broke a cardinal rule of corporate governance and deprived its board of critical information it needed to fully assess the company's problems and determine whether accurate and reliable information was being disclosed to investors and regulators," George S. Canellos, Co-Director of the SEC's Division of Enforcement, said in a statement.
Ultimately, JPMorgan
restated its first quarter 2012 earnings by $459 million
.
Currently, the Justice Department is poised to prosecute traders and risk managers within the CIO for its trading loss and an alleged concealment of those losses. According to the SEC's settlements on Thursday and JPMorgan's admissions, it seems clear that concealment extended beyond the CIO.
JPMorgan cooperated extensively with all of the regulatory inquiries, "and continues to cooperate with ongoing inquiries, including the prosecutions of the two former CIO employees," the bank said in a statement.
"We have accepted responsibility and acknowledged our mistakes from the start, and we have learned from them and worked to fix them," CEO Jamie Dimon said in the same statement.
"Our Company has learned from its mistakes, and our Board is confident that our management team is fully committed to ensuring they don't recur," Lee Raymond, lead director of JPMorgan's board of directors added.
--
Written by Antoine Gara in New York