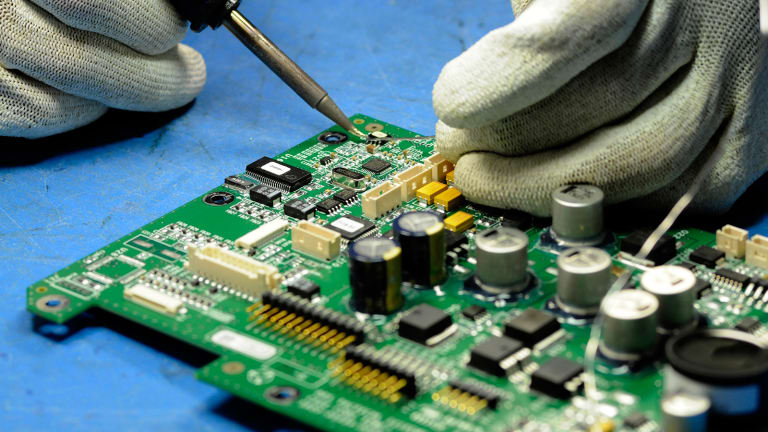 Apple Supplier Jabil Is Tumbling, But Its Sales Momentum Remains Strong
Like other Apple suppliers, Jabil's sales growth doesn't depend as much on iPhone unit volumes as it used to.
Like other Apple suppliers, Jabil's sales growth doesn't depend as much on iPhone unit volumes as it used to.
Though margin and profit concerns are weighing heavily on Jabil's (JBL) - Get Report shares today, its efforts to become less dependent on Apple (AAPL) - Get Report and certain other big clients are paying off.
The top-line figures within the contract manufacturer's latest earnings report drive this home. After the bell on Thursday, Jabil reported May quarter revenue of $5.44 billion (up 21% annually) and non-GAAP EPS of $0.46, topping consensus estimates of $4.9 billion and $0.45. It also guided for August quarter revenue of $5.2 billion to $5.6 billion (implies 8% growth at the midpoint) and EPS of $0.56 to $0.80. Revenue guidance is above a $5.19 billion consensus, but EPS guidance is slightly below a $0.69 consensus at a $0.68 midpoint.
After rising in after-hours trading following the report, shares are down over 8% on Friday thanks in large part to the EPS numbers, which were affected by margin pressures. On the earnings call, CEO Mark Mondello said "unanticipated factory costs caused by broad-based material and component constraints" weighed on Jabil's bottom line last quarter, as did "lingering cost overruns within our packaging business." He insists the issues are temporary.
Apple is a holding in Jim Cramer's Action Alerts PLUS member club. Want to be alerted before Jim Cramer buys or sells AAPL? Learn more now.
Mondello also indicated during the Q&A session that -- although Jabil passes some of these costs on to its customers -- higher memory and metal prices are impacting his company's margins some. "[W]e've got all kinds of different agreements with customers," he said when asked about how higher input costs are handled. "Our customers expect us to work the issue side-by-side with them."
Regardless, it's hard to complain about Jabil's top-line trends. In the May quarter, the company's Diversified Manufacturing Services (DMS) unit saw revenue rise 36% annually to $2.3 billion, easily beating consensus. This segment has benefited lately from the fact that the value of the Apple-related orders Jabil has received for 2017 iPhone launches is higher than what it saw for 2016 iPhone launches.
However, DMS is also getting a lift from higher health care, packaging and consumer goods sales. That's a big reason why Jabil expects its August quarter DMS revenue to be roughly flat, even though the year-ago iPhone 8 and X ramps make for tough comparisons and Apple's sales expectations for this year's iPhones are reportedly subdued.
Meanwhile, Jabil's Electronic Manufacturing Services (EMS) unit saw revenue rise 12% last quarter to $3.2 billion, and is expected to grow 13% in the August quarter. On the call, Mondello declared EMS is benefiting from "meaningful expansion with both existing and new customers in areas such as automotive, connected home, wireless infrastructure, semi cap equipment, cloud and energy."
He also signaled that programs with new customers will be a major growth driver for both EMS and DMS in fiscal 2019 (it ends in August 2019). In the case of DMS, two previously-disclosed programs with new clients -- one involves augmented reality hardware, and the other is said to be "in the area of non-mobility consumer goods" -- are forecast to ramp during the back half of fiscal 2019.
Like some other Apple suppliers, Jabil isn't as dependent on iPhone volumes to drive growth as it once was. And with its shares trading at fairly low multiples -- Jabil's enterprise value (market cap plus net debt) is only equal to 10 times its fiscal 2019 free cash flow consensus -- patient and value-oriented tech investors might want to take a look at its stock in the wake of its post-earnings swoon.