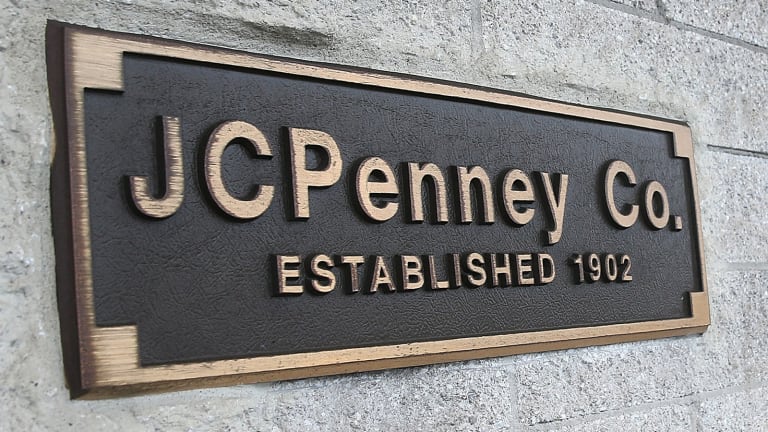 Publish date:
J.C. Penney May Be Off to a Good Start This Year But Is Still Deeply Troubled
This storied retailer's stock is on a tear so far this year, but the balance sheet is still a mess and its e-commerce strategy is sputtering.
This storied retailer's stock is on a tear so far this year, but the balance sheet is still a mess and its e-commerce strategy is sputtering.
J.C. Penney's (JCP) - Get Report 15.62% year-to-date (YTD) rise in share price is sweet, especially in light of the S&P 500's YTD decline of 5.23%. But it begs the question: Can the beleaguered retailer maintain its momentum over the long haul?
As we'll explain below, you should remain wary of this mid-range department store chain. The company is still trying to find its way out of the woods. In the meantime, you should consider "momentum stock" opportunities in other more promising sectors such as biotechnology.
JCP
data by
While we appreciate the company's efforts towards regeneration, we recommend that investors exercise caution before diving headlong into this stock. With J.C. Penney's earnings report scheduled for this week, let's take a closer look.
J.C. Penney's investors lost between approximately 30% and 50% every year from 2012 to 2014. 2015 saw the stock remain largely flat and 2016 was rippling with possibility -- built around the belief that the company (founded in 1902) would finally regain its lost glory.
J.C. Penney managed to gain some ground but it's too early to deem this a full-scale turnaround. This fiscal year (ending Jan. 2016) the company is expected to post yet another loss in earnings-per-share (EPS). This makes it the fifth straight year of losses for the company.
Sure, analysts are projecting a gradual narrowing of losses (at $1.20 vs. $2.67 last year), but it's far healthier to use sales growth to help ascertain the true veracity of this supposed turnaround. A 2.90% sales growth for the year (and a 2.4% uptick for the fourth quarter) is not a very enthusiastic signal for a full-blown recovery. There are better stocks for your money where you can still get projected gains in the double-digits, even in this volatile market.
We don't think that investors should look for assurance in the fact that the company is performing better than rival Kohl's Corp.'s tepid sales growth projections. Testing newer waters with the home appliances market (and other related ventures) can't really impact the company's earnings in a truly meaningful manner.
The company's e-commerce strategy is yet to come to fruition. In fact, a recent survey reflected how website visits have declined for J.C. Penney. Department store visits are today passé, and could easily exhibit falling numbers, but to see the company's web traffic slowing is indeed a matter for deep concern.
The January retail sales report for the industry as a whole has already expressed how department stores as a category are lagging. While current CEO Marvin Ellison appears to be strongly inclined toward extending web-driven services, J.C. Penney has much to do before it can emerge as a strong contender in the e-commerce sphere.
It's also important to note that comparisons with the ailing Sears are hardly appropriate. Investors should look at how adaptable companies are re-imagining themselves in sync with the zeitgeist. Wal-Mart Stores, for example, is adroitly playing the e-commerce card.
The death spiral looming over J.C. Penney is hardly at a close, with its high debt situation still a worry. With over $5 billion in debts and negative free cash flows, the company's debt-to-equity ratio at 3.3 is at almost three times the industry average.
While the company is considering a sale and leaseback transaction with its corporate headquarters that should help trim debt, investors must be wary of the impact a deal of this order could have on the mountain of loans J.C. Penney has racked up.
At an EV/EBITDA valuation of 11.21-times, the stock isn't incredibly cheap right now, if you look at the premium it commands over peers like Kohl's (5.10 times) and Target Group (7.61 times). It's difficult to imagine the stock is valued at 11 times, when Wal-Mart is trading at 7.60 times EV/EBITDA.
Department store chains are increasingly showing interest in striking real estate deals to eke out cash for debt reduction, like the case of Macy'spushing to form partnerships and alliances.
A real signal for investors to aggressively bite into J.C. Penney's shares is when its debt/equity gets closer to 2. Until that happens, you should shun the stock.
We've found a small-cap biotech "rocket stock" that's about to take off. UCLA researchers are stunned by a Nobel Prize-winning cancer breakthrough that's proven in clinical trials to eliminate lethal forms of cancer with a single dose. One small company owns the patent to this life-saving treatment. Now trading at about $5 a share, the stock of this innovative company is projected to surge 2,700% on an imminent FDA announcement. To download the full report, click here.
This article is commentary by an independent contributor. At the time of publication, the author held no positions in the stocks mentioned.