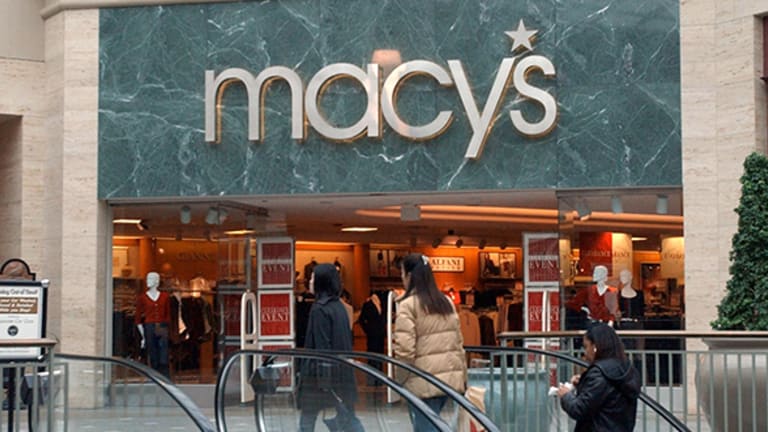 J.C. Penney, Macy's and Sears: Which Retail Stock Is the Best Buy Now?
A more confident and freer-spending consumer indicates that a 'Santa Rally' could be in the offing. We pinpoint the best retail stock now to leverage increased holiday sales.
As signs point to the likelihood of a "Santa Rally," three bellwether retailers -- J. C. Penney (JCP) - Get J. C. Penney Company, Inc. Report , Macy's (M) - Get Macy's Inc Report , and Sears  (SHLD) -- report earnings this week. Among the three, we pinpoint the strongest stock as we head into the holiday shopping season.
Our winning retail stock is among a group of undervalued growth opportunities right now that should rise in coming months.
Wall Street's consensus expectations on earnings are that J.C. Penney will report a narrower net loss than the same quarter a year ago, while Macy's will report a smaller profit than last year and Sears will post a big net loss. Let's first look at Sears, which is a dead stock walking.
1. Sears
Sears is a brand-name stock that seems to be in unstoppable decline. The company plans to report quarterly financial results on Thursday, and revenue and earnings are expected to disappoint yet again. Yet the storied stock still graces the retirement portfolios of many investors.
Sears owns Kmart and Sears stores, which are struggling with declining customer traffic and continue to lose market share to J.C. Penney, Walmart and Target. Sears has tried a slew of conventional and tired marketing tricks, such as free shipping, special discounts, in-store shopping consultants, and nothing has stemmed the company's decline.
When it comes to these tactics, especially special discounts and free expedited shipping, no one can beat e-commerce juggernaut Amazon.com, which in its most recent quarter posted a revenue jump of 23% to $25.3 billion. A bricks-and-mortar retail chain needs to provide a special ambiance that draws customers, and Sears simply doesn't have it.
Sears recently announced it would launch holiday savings events throughout this month, including a chance for customers to grab Black Friday deals early. Nothing will work. The stock is down 28% year to date and 38% over the past 12 months. If you haven't already, sell this stock.
JCP data by YCharts
2. J.C. Penney
Management is still trying to reverse the huge revenue and earnings declines of 2012 and 2013. Last quarter, J.C. Penney reported revenue of $2.88 billion, a year-over-year increase of 2.9%, narrowly beating Wall Street's estimates. The company's loss of 41 cents per share beat expectations by 7 cents and was up from a loss of 75 cents in the same quarter a year earlier. The retailer's stock is up 31% year to date and 18% over the past 12 months, but the chain's turnaround strategy remains tenuous.
The company seeks to boost sales by enhancing margins from its home sections, initiating new e-commerce offerings and revamping the appearance of such important store sections as jewelry, beauty products and accessories.
Penney's target is annual revenue of $14.5 billion by fiscal 2017, but that's still about $3 billion lower than the annual revenue it posted before the company went into a downward spiral under its former CEO Ron Johnson, a former Apple executive who was fired after only 17 months at the helm of J.C. Penney.
In an attempt to make the retail chain look more like Apple, Johnson got rid of promotions and redesigned stores into about 100 small boutiques with "town square" service centers. Penney is still trying to recover from this ill-advised plan, and it has a long way to go.
3. Macy's
With a globally recognized name that has retained widespread appeal even in a digital shopping era, Macy's has nonetheless reported disappointing earnings results so far in 2015, and they have pressured the stock lower. Shares are down 29% year to date and 21% over the past 12 months.
Management has blamed the company's weak second-quarter operating results on flagging consumer demand, but as we head into the holiday season, signs point to a consumer resurgence.
Macy's has retained its cachet as a brand by limiting steep discount ploys, while at the same time effectively expanding its e-commerce footprint. Macy's has adroitly adapted to the online world, whereas the online efforts of Sears and J.C. Penney are too little, too late. What's more, Macy's has implemented operational efficiencies that have boosted profit margins to a healthy 9.72%.
The stock's trailing 12-month price-to-earnings ratio now stands at 11.5, compared to 18.8 for its peers. Analysts currently estimate Macy's full-year EPS to come in at $4.61 in 2015 and $4.58 in 2016, up significantly from $3.86 in 2014.
That all makes the stock cheap ahead of its earnings report this week. If you're looking for a retail play ahead of earnings -- and ahead of Santa -- this stock is a gift.
If you're looking for other bargain stocks that are set to rise in coming months, click here for a free report.
John Persinos is editorial manager and investment analyst at Investing Daily. At the time of publication, the author held no positions in the stocks mentioned.