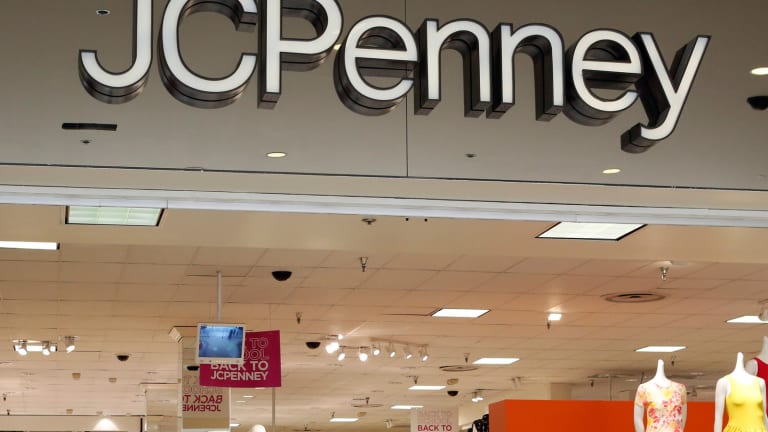 Publish date:
J.C. Penney Can't Keep Gains Going so Sell Now
The retailer reports earnings Friday.
The retailer reports earnings Friday.
Shares of retail giant J.C. Penney (JCP) - Get Report have fallen as much as 30% since Nov. 12. Why care about that date? Because it is when we raised doubts about J.C. Penney's growth prospects.
I warned then that despite its recent selloff there were still too many deficits impairing the retailer's growth. Penney stock, trading around $7.42, is up over 11% so far this year, which is not bad for a retail stock fighting the Amazons (AMZN) - Get Report of the world. By comparison, the S&P 500 is down 7.3% for the period and the SPDR S&P Retail ETF (XRT) - Get Report is down 3.8%.
But I don't think you should buy the stock ahead of earnings early Friday. If anything you should sell as soon as possible.
You could wait for the company is issue its business outlook for fiscal 2016. But beyond breathtaking results in the quarters ahead, which is highly unlikely, the shares will give up the current gains.
For the quarter that ended January, analysts, on average, expect J.C. Penney to earn 23 cents a share on revenue of $3.99 billion, compared to the year-ago quarter when the company reported no earnings on revenue of $3.89 billion. For the full year, J.C. Penney is expected to post a loss of $1.20 a share, narrowing from a loss of $2.67 a share in the year-ago quarter, while revenue of $12.62 billion would mark an increase of about 3% from the year-ago quarter.
With worst-than-expected results coming in from Walmart (WMT) - Get Report , sending its stock plummeting, J.C. Penney's guidance will determine the direction the stock takes. Revenue and same-store sales growth is what the market will focus on, especially given the company's perpetual state of recovery.
In the third quarter, owing to slumping sales, the company announced plans to lay off some 300 position at its Plano, Texas, headquarters. It's likely the anticipated higher profits from these job cuts that caused the stock to perform so well in 2016. But job cuts alone won't sustain the stock price. 
This article is commentary by an independent contributor. At the time of publication, the author held no positions in the stocks mentioned.