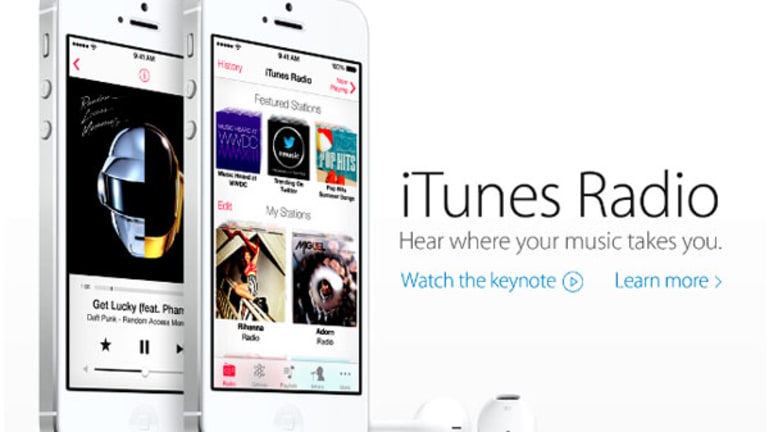 iTunes Is Dead: The Record Industry's Next Steps
Will the music industrial complex finally do what must be done and embrace streaming, tech and data?
NEW YORK (TheStreet) -- Two big announcements hit Friday that ultimately highlight the decrepit state of the music industrial complex:
Digital downloads are dead. As reported by Billboard, digital music sales decreased -- for the first time ever -- by 5.7% in 2013.
Before we dig into the aforementioned decrepitness, a few random, but related clarifications and housekeeping notes:
Despite the overall drop in digital sales, Apple's (AAPL) - Get Free ReportiTunes Store market share increased to 40.6% of domestic album sales in 2013. That said, this article's headline stands because, make no mistake, as I observed throughout 2013 (see, e.g., this article from August), Apple wins no matter what happens. The record industry cannot hang its hat on the still-breathing iTunes Store. That's a ticket to certain death. Put another way, iTunes will not be the sole long-term survivor, as digital sales go the way of the compact disc. That's why Timothy D. Cook hedged his bets with streaming service iTunes Radio.
Bold type here: Thank goodness for the creative souls who still exist within or in association with the lame factions of the music industrial complex. From megastars such as Beyonce and Taylor Swift to hard-working indies (wait!, Taylor Swift is indie!) to the great minds who work at the labels and fight against visionless pencil pushers, legal departments and high-level, cigar-smoking industry executives. These people, along with tech- and data-driven music startups and Internet radio pioneers help keep hope alive.
The Gracenote move is more of a salvo towards the folks who do excellent work at The Echo Nest than it is Pandora or Spotify. I'm getting to know The Echo Nest folks and early indications tell me they'll be just fine.
With that out of the way, on to the pathetic state of the music industry holdouts, who, sadly, hinder progress the above-mentioned "creative souls" make. This dynamic leads to inspiring stories of individual success (that others can work to replicate), but not the type of widespread organizational acceptance of a new paradigm for making and marketing music.

First, the obvious -- will the music industrial complex finally embrace streaming ... unconditionally?
It's not like there's zero collaboration between Internet radio, the major labels and groups such as ASCAP.
Labels work with Pandora on features such as Pandora Premieres and Pandora Presents. And, over the weekend, I was heartened to see evidence of ASCAP utilizing the power of Spotify:
But it needs to move 110 steps past this point. A love/hate relationship with Internet radio isn't good enough. Even more importantly, as I explain in Friday's The Music Industry's Culture of Learned Helplessness, the labels and their sympathiziers must commit to using all of the tech- and data-driven tools Internet radio's emergence has helped spawn.
In other words, the culture of the music industry needs to shift from one of learned helplessness and random DIYers to one where, from top to bottom, the entrepreneurial way rules. That means not lamenting the loss of the physical sale or denying the death of digital downloads and aggressively fostering new lines of revenue.
To this end, it baffles me that the major labels, these powerful entities who own and control massive amounts of content (music!), refuse to do a better job making things work for themselves in-house.
Why is Gracenote the one developing an API to stream music? Why does this fight over royalties even exist in its present form?
Do you mean to tell me that Sonyundefined or Unverisal or even a major indepedent label can't take it upon themselves to hire the tech talent, the savvy marketers and create platforms to stream (and more) the music their acts produce? Why is it left up to, for all intents and purposes, third parties via direct and compulsory licensing deals?
I'm talking about making a real effort here. Not some passive investment or throwing your support behind this startup or that company. I'm talking about a big content owner in the music business freeing itself from the very structures they criticize as unfair.
It's as much of a no-brainer as saying the big television media ought to start taking Hulu seriously and put Netflix (NFLX) - Get Free Report out of business once and for all.
Along this line of thought, there's very little difference between the music guys and TV guys as content owners. You own the stinking content. Now leverage it. Deliver it yourself. And find ways to monetize it beyond the traditional means (royatlies) you're most comfortable with.
Don't leave the multi-billion dollar live streaming concert opportunity to everyone from a handful of startups to Yahoo! (YHOO) . Create better farm systems for unsigned and emerging artists. Why leave that part of the process up to names such as Bandcamp and Songiest? And on and on and on.
Bottom line: It's high time -- with indelible ink writing on the wall -- for the backward ass segments of the music industry to move away from reliance on downloads via iTunes and take the digital, tech- and data-driven model in house, at least in part. And, in areas where they can't (or refuse to) do for themselves what they now leave to others, they need to go all-in on partnerships with everybody from innovative music startups to established Internet radio pioneers. But not merely for a royalty grab; it must be done with the intention of recognizing and harnessing the wide-ranging power of music.
Leave nothing -- not one bit of music's potential -- on the table.
--Written by Rocco Pendola in Santa Monica, Calif.
Rocco Pendola is a columnist for
TheStreet
. Pendola makes frequent appearances on national television networks such as
CNN
and
CNBC
as well as
TheStreet TV
. Whenever possible, Pendola uses hockey, Springsteen or Southern California references in his work. He lives in Santa Monica.