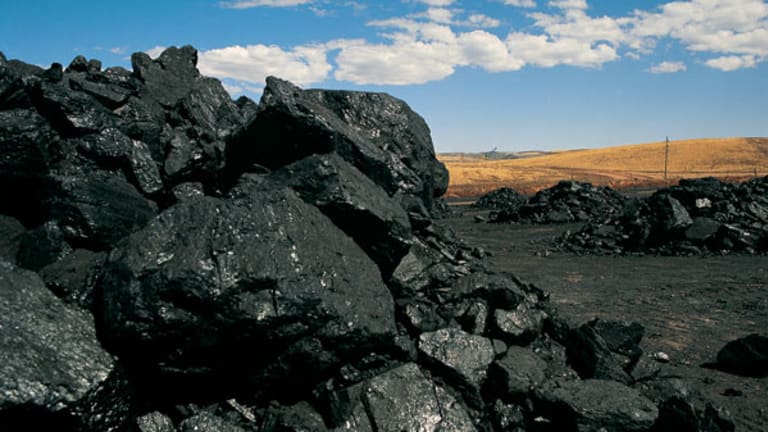 It's Time to Reconsider Natural Resources Stocks, and GUNR
When the natural resources sector rallies again, the FlexShares Morningstar Global Upstream Natural Resources Index Fund will be a good place to have your money.
NEW YORK (TheStreet) -- For much of the past decade, equities related to natural resources dramatically outperformed the broad indices.
This was largely due to increased demand from China, which has been modernizing its infrastructure and in the process creating a middle class.
All investment themes eventually stall, however, and stocks related to natural resources lagged the broad indices during the most recent leg of the bull market in 2012 and 2013.
Don't write off the theme, though. There are still many countries that lag China in building out infrastructure and developing a middle class. They will create similar demand trends, even if on a smaller scale and at a somewhat slower pace.
India and Africa would be obvious candidates, and they could eventually support natural resource-related stocks.
One relatively new exchange-traded fund that could benefit is FlexShares Morningstar Global Upstream Natural Resources Index Fund (GUNR) - Get FlexShares Morningstar Global Upstream Natural Resources Index Fund ReportGUNR. Even though GUNR started trading in 2011 it has already amassed $2.8 billion in assets, far ahead of older funds such as the iShares Global Materials ETF (MXI) - Get iShares Global Materials ETF ReportMXI, which has $406 million, and the SPDR S&P Global Natural Resources ETF (GNR) - Get SPDR S&P Global Natural Resources ETF ReportGNR, which has $486 million in assets.
All three funds have similar holdings and similar expense ratios (GUNR's is 0.48%.) and similar 2% trailing dividend yields. All three are relatively broad-based in the resources sector, in contrast to more specialized funds such as the Market Vectors Gold Miners ETF (GDX) - Get VanEck Vectors Gold Miners ETF ReportGDX.
As a global fund GUNR's largest country weighting is the U.S. at 37%, followed by the U.K. at 21%, Canada at 14% and Australia at 7%. Other countries have smaller weightings.
Metals companies make up 32% of the fund's holdings, followed energy and agriculture, which each have 28% weightings. It has smaller weightings for water and timber companies. GUNR is dominated by large-cap companies that will be familiar to most investors. They include BHP Billiton (BHP) - Get BHP Group Ltd Sponsored ADR ReportBHP, Exxon Mobil (XOM) - Get Exxon Mobil Corporation ReportXOM and Monsanto (MON) MON.
As mentioned, this segment has lagged the market badly of late. Since GUNR's inception in 2011 it is up 11%, while GNR is up 7% and MXI up 14%. The SPDR S&P 500 ETF (SPY) - Get SPDR S&P 500 ETF Trust ReportSPY gained 58% over that period.
For some context showing what this group can do when it's rallying, look at MXI. From its inception in 2006 to its May 2008 peak, it gained 84%, vs. just 8% for SPY.
These types of divergences from the broad market speaks to the potential volatility of this segment and also to its sensitivity to economic cycles. The stocks in these funds benefited from a massive spending boom and were then punished in the great recession; MXI endured a peak-to-trough decline of 62%.
GUNR and the other funds may also confront controversy as they all have a relatively large exposure to Monsanto, which of course is involved with genetically modified foods, the subject of much scorn.
Knowing the potential of the group to outperform combined with a huge multiyear lag could make for a good entry point into the space.
At the time of publication, Nusbaum held no positions in ETFs and stocks mentioned.
This article represents the opinion of a contributor and not necessarily that of TheStreet or its editorial staff.