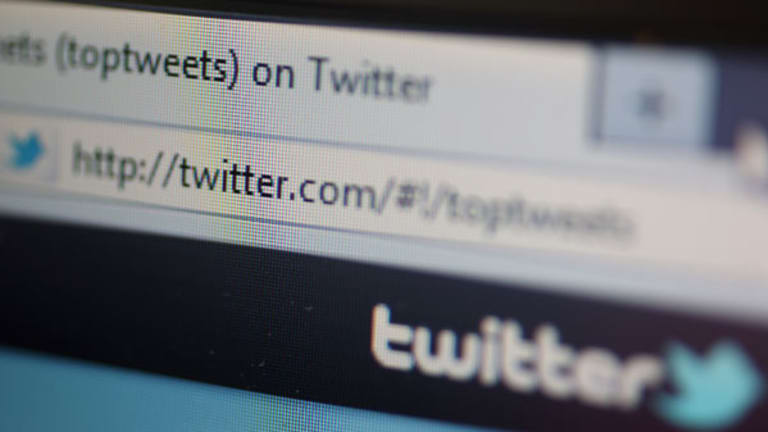 It's Time to Buy Twitter. Say What?!
Twitter hasn't been the hottest stock, but it will be once again.
NEW YORK (TheStreet) -- When Twitter (TWTR) - Get Report was trading around $40 back in December, I took to the very popular social media platform to declare that it was a good buying opportunity and that it would be chased higher, very shortly.
About a week later it began moving higher and in just a couple weeks was trading over $70. I didn't make that call based on fundamentals, but on technicals, psychology and momentum. The stock is up 22% over the last 52 weeks, but down 14% for the year to date. 
Shares in San Francisco-based Twitter were adding 1.5% to $54.66 in afternoon trading on Tuesday.
After Twitter released its first earnings, the stock sold off and went to a low of $49.99 the following day, Feb. 6. Since that time the stock has been rangebound and for the most part out of favor among investors and traders alike. During that time it has not breached $50 and for the most part has stayed above $53.
So why would you buy it now?
IPO Momentum: Weibo, the Twitter of China, owned by Sina (SINA) - Get Report is beginning to get buzz about its upcoming initial public offering. Often when a company with household name recognition is going to go public, stocks within a similar sphere will rally ahead of it. In this case Weibo is part of the social network realm and most closely related to Twitter. As Sina gets more attention, Twitter will likely ride on its coattails.
Interest Has Dried Up: When Twitter began running up from $40 it went from a hated stock with little interest to the hottest stock to buy and trade. For some people, once the chase was on it was too late and there wasn't much upside room left before the euphoric rush was over. Here we are again at a point where the stock isn't being heeded much attention and is quite hated, with 15.6% short interest (a 32% uptick from the previous short interest report).
Momentum and Psychology: Once Twitter gets above $59, which I think will happen sooner rather than later, momentum traders will quickly jump back in and the stock will be back over $70 in no time. There may be some stalling when it reaches the low $70s (its previous highs), but once it gets above there, the euphoria will kick in, shorts will cover and chasers will come back in, taking it even higher. But once again they will be too late and will only have a limited amount of upside before the stock rests or gets hit by earnings or the lock-up set to expire in May.

If you want to be a frontrunner and not be left holding the bag at the end, now is the time to buy Twitter. Short-term traders can set their stop at $52.50 and aim to exit most of their position at $70, leaving a little left for continuation. Investors can set their stop at $49.50 and enjoy the ride.
For more information about me and my trades, please visit www.sassyoptions.com.
At the time of publication, the author held no positions in any of the stocks mentioned.
This article represents the opinion of a contributor and not necessarily that of TheStreet or its editorial staff.