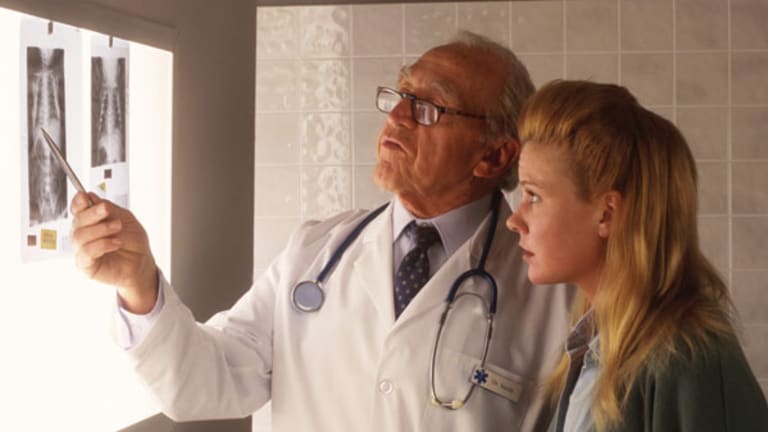 NEW YORK (TheStreet) -- We hear all the time that when (fill in the blank) speaks, people listen.
It is clear
TheStreet's
Jim Cramer fits into that category. After seeing the 33% surge in shares of
TearLab
>
(TEAR)
only a few days after Cramer discussed the company's prospects on national television, I realize I need to listen to him more intently.
While the
is
, for several reasons TearLab had fallen off my radar. But after Cramer's comments and the stock's immediate jump, the company's got my attention. Investors want to know if it's too late to profit.
Take a look at the chart below.
Courtesy of Yahoo! Finance
Over the past 12 months TEAR has been on a "tear," gaining as much as 345%. Given the company's strong fiscal first-quarter results (reported in May), there are no meaningful signs of slowing down. For those who are unfamiliar with this company; TEAR manufactures an industry-leading lab-on-a-stick system that helps in the diagnosis of dry-eye disease.
>>Also see: Apple Should Be Ashamed of Itself>>
In the U.S. alone, dry-eye disease affects roughly 40 million people, according to published reports. Unfortunately, of the many people that are diagnosed, less than 5% receive the necessary treatment because the test requires a tear sample that patients are unable to submit. With TearLab's system, doctors are able to make out the disease with a smaller quantity of tears needed.
As the chart above shows, investors have been crying tears of joy over TearLab's revolutionary system for the past twelve months. But it hasn't always been this easy. There was a point when TearLab's stock performance was the punch-line to many jokes as the company was teetering on the verge of bankruptcy.
The near-death experience makes this situation all the more interesting. Truth be told, this company is not that different from what it was a year ago. Yet, in the recent quarter revenue was up close 486% year-over year. This is an eye-popping performance, if you will pardon the pun. As stunning as this number is, it also makes me nervous, given the 345% run that the stock has already experienced.
As brittle as my confidence may be in buying stocks as such high levels, I don't see any alternatives on the market to compete with TearLab's system. And even if a product were to emerge today, it would be difficult to unseat the industry gains that TearLab has already won with doctors.
The fact that the company was able to secure almost 400 system orders in the first quarter, growing close to 70% year over year, speaks to the trust that TearLab has established. What this also means is that management now has a problem that every company "cries" for -- fulfillment/backlog challenges, or the ability to service overwhelming demand.
Along similar lines, given the company's ability to maintain/grow margins, while growing market share, I don't see what will stunt TearLab's growth or the stock's momentum. If there are any risks, it's with capital expenditure, which grew 63% in the recent quarter.
>>Also see: 7 Steps to Achieving Financial Independence>>
While it's not uncommon for small biotech companies to carry high costs, the magnitude in the year-over-year comparison was pretty significant, including 180% jump in sales and marketing expense. This is one of those cases where an investor has to shrug his/her shoulders and take the good with the bad and realize that you can't enjoy 486% revenue growth without spending for it.
I don't believe this changes the story significantly. But at some point, the cash is going to run out. It's worth asking what happens when TEAR is no longer able to spend to grow. The good news is that the TearLab's system serves large population of patients that benefit greatly from the technology.
Plus, the fact that doctors have been able to profit from the system means that TearLab also has plenty of support. Given this scenario, I believe that even with minimal spending, TearLab can still be effective. Besides, the order backlog should provide plenty of revenue to support near-terms cash-flow headwinds - should they arise.
In the meantime, given management's incredible level of execution, I can still see plenty of value in stock despite its already strong year-to-date gains of close to 200%. It wouldn't surprise me to see shares approach the $15 to $20 level some time during the second half of the year.
Lastly, Cramer also said, every once in a while we have to "settle with buying high to selling higher." If it helps, he said this
while referencing TearLabs
. This time I'm listening.
At the time of publication, the author held no position in any of the stocks mentioned
.
Follow @saintssense
This article was written by an independent contributor, separate from TheStreet's regular news coverage.
Richard Saintvilus is a private investor with an information technology and engineering background and the founder and producer of the investor Web site
. He has been investing and trading for over 15 years. He employs conservative strategies in assessing equities and appraising value while minimizing downside risk. His decisions are based in part on management, growth prospects, return on equity and price-to-earnings as well as macroeconomic factors. He is an investor who seeks opportunities whether on the long or short side and believes in changing positions as information changes.