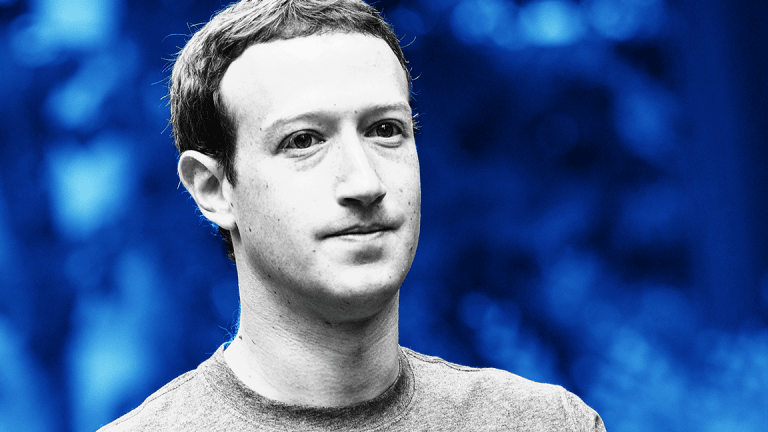 It's Dumb to Think Mark Zuckerberg Isn't Facebook's Biggest Risk Right Now
Wall Street has long hailed Zuck as a visionary leader of a company on track for world domination. But what now?
Wall Street has long hailed Zuck as a visionary leader of a company on track for world domination. But what now?
This week, silence was deafening.
Amid a scandal that rocked Facebook Inc. (FB) - Get Report to its core, chief executive and Silicon Valley staple Mark Zuckerberg was quiet. For many on Wall Street, his three-day absence from the narrative at the height of a crisis was taken as a sign of weakness at the highest level of the social media giant. 
The Cambridge Analytica story broke last Sunday. Zuckerberg didn't come out of hiding for a public comment until Wednesday. During the time in between, Facebook's once red-hot stock plummeted 8.5%.
"In such a case, you would expect the CEO of a company to react very swiftly to defuse the situation as well as possible, especially since Facebook's share price is sliding," said University of Kent Business School Professor Dr. Michael Koch in an email.
Zuckerberg's history of public apologies is spotty. 
In November 2016, Zuckerberg struck a defensive tone when facing criticism over "fake news" on Facebook, saying, "Personally, I think the idea that fake news on Facebook, of which it's a very small amount of the content, influenced the election in any way is a pretty crazy idea."
But then in February 2017, he said, "I often agree with those criticizing us," in a public mea culpa of sorts acknowledging, finally, that Facebook struggled to police the content on its site in the wake of the 2016 election outcry.
And in September, on the last day of Yom Kippur, Zuckerberg issued something of a blanket apology: "For those I hurt this year, I ask forgiveness and I will try to be better. For the ways my work was used to divide people rather than bring us together, I ask for forgiveness and I will work to do better."
But where was Zuckerberg's manifesto this week? Three days late via a post on, of course, Facebook. Then came a prime-time CNN interview where Zuck looked as if he couldn't wait to get out of the room because he had no real solutions to offer. 
To be sure, he uttered the phrases "I'm sorry," and "I feel bad" throughout the news circuit more than a handful of times this week. But it wasn't enough as Facebook shares finished the week down about 14%.
"I think it hurts trust to the core when the senior leader of the biggest social platform in the world -- that's under scrutiny -- has gone silent," branding expert Eric Schiffer says.
Zuckerberg said one striking thing in these interviews that suggest Facebook will likely remain in turmoil. He's not ready, even as the CEO of Facebook, to make content policy decisions. "I feel fundamentally uncomfortable sitting here in California at an office, making content policy decisions for people around the world," Zuckerberg said to Recode Wednesday.
What? Isn't that your job to lead from the top?
"This is all about credibility and trust right now," Schiffer says. "This is the biggest test they've had as a company." Until Zuck shows some leadership, he will be the new -- and biggest risk -- to Facebook's beat up stock in the near-term.  
Keep an eye out for the Dumbest Thing on Wall Street every weekend. Catch up here: