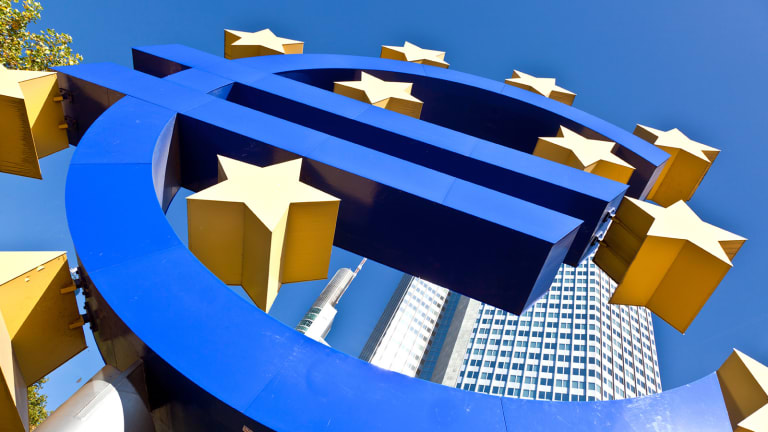 It's Time to Invest in The World's Second-Biggest Economy (No, It's Not China)
As extraordinary volatility wracks U.S. markets and China descends into further chaos, the Old World presents exciting, yet widely ignored opportunities.
As extraordinary volatility wracks U.S. markets and China descends into further chaos, the Old World presents exciting, yet widely ignored opportunities.
Editors' pick: Originally published Jan. 22.
Snap quiz: What's the world's second-biggest economy?
No, it's not China. It's the eurozone.
The eurozone is the economic and monetary union of 19 of the 28 European states that have adopted the euro as their common currency. Collectively, its gross domestic product was worth $13.4 trillion in 2014, making it the second-largest economy in the world if considered as a single country.
OK, I posed a trick question. But the overriding point remains: As U.S. markets subject investors to wild roller-coaster rides and China grapples with economic and financial crises, investors in search of growth alternatives shouldn't ignore Europe.
The Continent's appeal was further enhanced this week, when European Central Bank President Mario Draghi emphasized the determination of the central bank as well as Europe's leaders to lower interest rates to spur inflation and stimulate growth. At the same time, EU governments are abandoning unpopular austerity policies that had weighed on their respective economies. The eurozone is pulling out all the stops this year, and it will be tantamount to a shot of adrenaline for European business. The time to get in on the action is now, while the investment herd fixates on China and Wall Street.
European blue-chips overall are undervalued right now, their share prices dampened by investor fears over terrorism, the refugee crisis and stubbornly high unemployment. These are genuine problems. And yet, the EU is home to several of the world's biggest, best-known international corporations. They're superbly managed, have solid balance sheets and make renowned brand names that are beloved and trusted in the U.S. and around the world. If you're tired of getting battered by turbulence and you're in search of reliable growth stocks, don't be parochial. Look to Europe.
The eurozone's GDP annual growth rate went up to 1.6% in the third quarter of 2015. That's the fastest rate of growth in two years, with similar if not faster growth expected in 2016 as stimulus kicks in. That may seem modest, but when compared to the multiple crises afflicting China, the world's erstwhile global growth engine, it looks pretty good.
What's more, the corporate earnings of European-based companies are expected to far outpace those of their American counterparts.
According to Thomson Reuters I/B/E/S data released this month, companies in the STOXX Europe 600 index are on track to report year-over-year growth of more than 30% in the fourth quarter of 2015, which would be the best performance since the fourth quarter of 2011. By comparison, fourth-quarter earnings for S&P 500 companies are expected to fall about 4%.
We'll explore several ways to play play a European bounce in 2016.
1. Daimler  (DDAIF)
Germany-based Daimler, the luxury car maker, looks appealing. The stock is now trading at around $71, but the median 12-month price target of analysts is $98.96, suggesting the stock could gain about 38%. The stock's trailing 12-month price-to-earnings ratio of 8.97 is lower than the average P/E of 13 for the automotive industry.
2. Unilever (UL) - Get Report
Another enticing eurozone blue-chip is consumer goods giant Unilever. Based in the Netherlands. Unilever makes and sells scores of products that are household names in the personal care, foods, refreshment and home care segments. The stock's trailing P/E stands at 22, compared with 24 for its industry. With the stock now trading at $42, the analyst consensus calls for a one-year price target of $48, for a gain of 14%.
3. SPDR EURO STOXX 50 ETF (FEZ) - Get Report .
Easier plays on European recovery are exchange-traded funds that track the EURO STOXX 50 Index, which measures the performance of the top blue-chip stocks in the eurozone.
The most popular and safest euro ETF also is considered the benchmark: the SPDR EURO STOXX 50 ETF.With a low expense ratio of 0.29%, this ETF invests in the stocks of the largest companies across components of the 19 EURO STOXX "Supersector Indexes." Top holdings include Daimler, Bayer, Siemens, Banco Santander, Sanofi and SAP.
Year to date, the SPDR EURO STOXX 50 ETF is down 7.4%, compared with a loss of 7.1% for the S&P 500. But this ETF is poised to outperform, as policies geared toward fiscal and monetary expansion boost the corporate earnings of the fund's holdings.
As we've just explained, certain European stocks look appealing right now. If you're searching for even more opportunities in these treacherous times, we've found a small-cap tech stock that has the potential to surge 100% or more in the coming months. This is a growth story with major momentum, so it's important to learn the full details as soon as possible. The stock is trading at under $8 a share, and its long-term prospects have never been better, making it a great value. We expect this rocket could take off soon, so be sure click here now and learn more.
John Persinos is editorial manager and investment analyst at Investing Daily. At the time of publication, the author held no positions in the stocks mentioned.