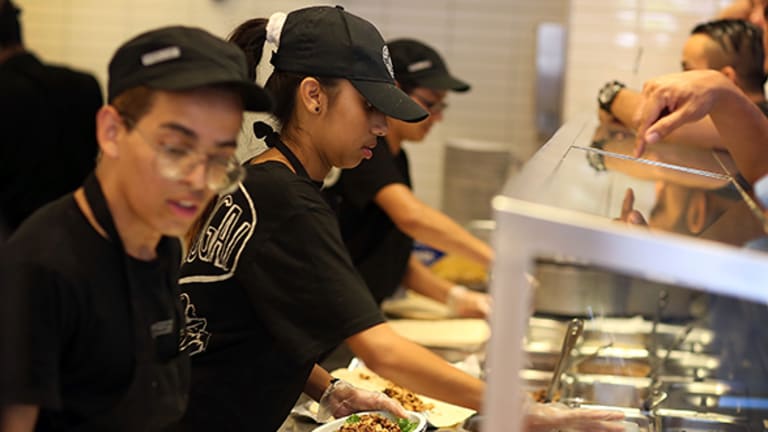 Chipotle's Nasty E. Coli Outbreak May Be Over, but Big Questions Remain Unanswered
Investors will want clear answers to four key questions when the fast-casual chain announces its fourth-quarter earnings on Tuesday.
Updated to include comments from Jim Cramer and new information on E.coli outbreak.
Investors are hungry for answers.
When embattled burrito joint Chipotle (CMG) - Get Report reports fourth-quarter results on Feb. 2, it will cap off an uncharacteristically bad year for the once red-hot chain. Chipotle has already said its same-store sales during the holiday quarter fell 14.6% as consumers fled the brand following multiple outbreaks of E. coli that first surfaced in October. Not helping Chipotle recover from the E. coli situation was a bout of norovirus at a restaurant in Brighton, Mass. on Dec. 7 that made 100 people ill.
Sales for December, said Chipotle, declined 30%.
Amid the flurry of unsavory headlines, Chipotle's stock is down about 36% in the past 12 months, compared to the S&P 500's decline of 5%. Investors will be searching for some answers from the company's executives when it reports its latest results.
Investors may already have an answer to the question of when Chipotle's E. coli outbreak would officially be through.  
According to The Wall Street Journal, the Centers for Disease Control and Prevention will declare the end of the outbreak as soon as today. Unfortunately, investigators have been unable to pinpoint the ingredient responsible for the contamination.
"I am still cautioning people -- let's see the [quarter's] numbers before we make an investment in Chipotle," said Jim Cramer, Portfolio Manager of the Action Alerts PLUS Charitable Trust Portfolio. "And yes, I've eaten there since then."
Exclusive Look Inside:
You see Jim Cramer on TV. Now, see where he invests his money and why.Learn more now.
TheStreet takes a look at four of the most important other things investors likely want answered.
1. Have sales in January improved?
Chipotle's last known case of E. coli was on Nov. 10, according to the latest from the CDC. The norovirus incident was from early December. With Chipotle beginning to extract itself from nightly news headlines and articulating measures it's taking to improve food safety procedures, sales declines may have moderated in January.
If that turns out to be correct, it would offer a glimmer of hope for Chipotle to regain some lost customers amid efforts in January to give away free food and as it begins to market aggressively in February.


A Chipotle employee tests lettuce temperatures at one New York City location.
2. What will the turnaround cost?
Chipotle historically hasn't issued earnings guidance of any kind. But it did so in the fourth quarter to help investors understand the impact to its business from recent events. Chipotle said it expected fourth-quarter earnings of $1.70 to $1.90 a share. A year ago, Chipotle delivered $3.84 a share to the bottom line.
Executives will likely have to continue the practice of issuing quarterly guidance. Importantly, Chipotle will likely have to offer a full-year earnings outlook, too, to provide clarity to investors on several fronts.
First, investors are likely keen to understand the longer-term financial impact of increased food safety measures, such as DNA-based tests on fresh produce before it is shipped to Chipotle locations.
Second, a hot topic on the minds of investors is how much it will cost this year for Chipotle regain its customers via free food giveaways and stepped-up marketing.
An earnings outlook would help investors better understand Chipotle's plans, and ultimately decide if a decent enough turnaround is possible sometime in 2016.

Investors are wondering how much it will cost for Chipotle to pack its restaurants once again.
3. Is Chipotle still eating up its stock? 

On Jan. 6, Chipotle announced a new $300 million share repurchase program. The program was on top of a $300 million repurchase authorization announced on Dec. 4, of which $116 million remained available as of Dec. 31. In total, Chipotle says it repurchased 609,000 shares of its stock at an average price of $556 per share during the fourth quarter.
The availability remaining on Chipotle's new stock buyback plan will be an important indicator for investors. After all, what better vote of confidence in the brand's future is there than Chipotle spending its money to buy stock at still-depressed levels?

Chipotle had been aggressively growing before the E. coli outbreaks.

4. Will Chipotle slow its expansion?
Chipotle planned to add 215 to 225 new restaurants in 2015, a massive number for a restaurant company. Chipotle's aggressive expansion through the years has brought it to over 1,900 restaurants since its founding in 1993. And that torrid growth has been instrumental in Chipotle winning the hearts of investors.
But Chipotle's food safety troubles might have signaled it grew too large, too fast. Investors will be interested in whether executives have the will to tame their appetite for new openings.
Tempering growth plans may actually be welcome news -- it would show investors that executives get that operating procedures need to be enhanced before the company recommits to supercharged growth.