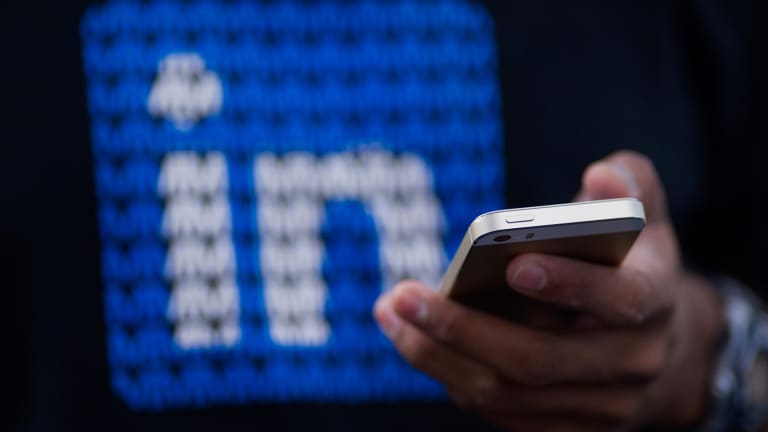 It May Be Time to Connect With LinkedIn Stock Again
The career-focused social networking company posted a 35% increase in revenue and significant growth in its user base in the first quarter of 2015.
Investors may want to connect again with LinkedIn (LNKD)  following Thursday's after-hours earnings announcement, in which the career-focused social networking company showed significant growth in its user base and a positive outlook for the rest of 2016.
The social networking website reported a net loss of $46 million on $861 million in net revenue in the first quarter, after reporting a $42 million loss on $638 million in revenue the same time last year. Revenue showed a year-over-year increase of 35%, while earnings per share for the first quarter came in at a $0.35 loss, as compared to a $0.34 loss last year.
LinkedIn's stock was up sharply on the news in after-hours trading on Thursday after the earnings announcement, and also early on Friday, but the gains had moderated to an increase of about 1.6% to $125.03 by mid-day.
"Remember LinkedIn during the first week of February pretty much destroyed the tech market," said Jim Cramer, TheStreet's founder and manager of the Action Alerts PLUS portfolio. "It basically said things have slowed down. They talked about global economic conditions in Europe and the Asia-Pacific being weak."
"All those were cured this quarter," Cramer continued. "When I spoke to [LinkedIn CEO] Jeff Weiner this morning on [CNBC's] 'Squawk on the Street,' he said there had been execution issues, that they were not [long-term] issues, and now LinkedIn is back. Now, is LinkedIn back? It's still a rich stock, but I do feel so much better about it after this quarter."
LinkedIn reported full-year earnings in February in its 2015 annual report, posting a net loss of $151 million on $3 billion in revenue after it posted a $36 million profit on $2 billion in revenue in 2014. The company noted in the report "global economic concerns continue to create uncertainty and unpredictability and add risk to our future outlook."
The social networking site gave a positive outlook for the next three months. LinkedIn said it expects in the second quarter to be a boon to the company. It projected revenue of between $885 million and $890 million, an increase from $712 million during the second quarter 2015.
LinkedIn's user base also showed strong growth for the three months ending March 31, Weiner said in prepared remarks about the earnings.
"In the quarter, cumulative members grew 19% to 433 million, our strongest net-add quarter since the beginning of 2014," the CEO said. "Our core operating metrics saw accelerated growth -- unique visiting members grew 9% to an average of 106 million members a month and member page views grew 34%. Page views per unique visiting member hit an all-time high in [the first quarter], with 23% year-over-year growth."