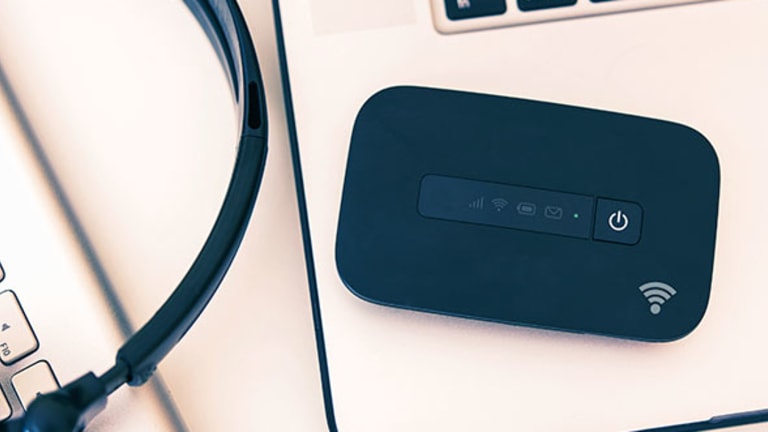 Is Your Hotel Blocking Your Personal WiFi Hotspot?
The problem is epidemic - and it is "unlawful," says the FCC. Here's how to fight back.
NEW YORK (MainStreet) — Don't assume it is just a bad cellular signal when you are in a hotel or a convention center and you cannot create a personal hotspot on your phone. Something a lot more sinister may be at work. That is highlighted in a recent Federal Communications Commission fine levied against a hotel and convention center WiFi provider for blocking guest access to their BYO WiFi in order to force them to pay high rates for the property's WiFi.
That is the takeaway of the FCC's recent $750,000 consent decree with Smart City Holdings. Per the FCC, "Smart City, an Internet and telecommunications provider for conventions, meeting centers, and hotels, had been blocking personal mobile 'hotspots' that were being used by convention visitors and exhibitors who used their own data plans rather than paying Smart City substantial fees to use the company's Wi-Fi service."
Smart City, per the FCC, nicked "exhibitors and visitors" $80 a day for WiFi access.
That blocking of BYO hostpots is flatly wrong - and against the law. "All companies who seek to use technologies that block FCC-approved Wi-Fi connections are on notice that such practices are patently unlawful," said Travis LeBlanc, chief of the FCC's Enforcement Bureau. 
Note: it is a matter of a few clicks to set up a personal hotspot that allows the user to connect any WiFi device - such as an iPad or a laptop - to a signal and get full Internet access. (On iPhone 6 look under SETTINGS. There's a "Personal Hotspot" tab. Click it.) A plus is that this WiFi is vastly more secure than public WiFi such as the kind found at a hotel, coffee shop or convention center. It is free (usually part of a data plan), and it is often as fast or faster than frequently overworked hotel networks. There is every reason to want to use it.
What's not to like? For facility operators, what they do not like is loss of easy money.

Know this. Industry experts think hotspot blocking is an epidemic in the hotels and meetings business. "I believe it is quite common," said Jim Butler, a Los Angeles lawyer who represents hotel owners. He added that there is no data on this - no tangible numbers to prove blocking is commonplace - but suggest that it is a serious problem. He ominously added - for the ears of hotel operators and technology providers -- that "criminal enforcement is next."
"The FCC is plain: this is illegal," he said.
"You don't want to be the next guy who gets hit, who will get hit harder," agreed Andy Abramson, CEO of Comunicano, a Del Mar, Calif communications company.
Abramson added that he personally has experienced hotspot blocking, starting with a number of cases at Las Vegas meetings in the early 2000s. But the problem persists, he said.
For the record: Smart City is not the FCC's first splashy takedown. That was Marriott a year ago, when the FCC fined it $600,000 for jamming guest personal WiFi at its Opryland Hotel and Convention Center in Nashville.
At least one law firm, Morgan & Morgan, is exploring filing a class action suit on behalf of hotel and conference center guests who believe their WiFI has been blocked.
As for Smart City, it declined MainStreet's request for an interview. It instead provided a statement in which it denied wrongdoing.
That is not how the FCC described matters. In its statement, the FCC noted: "The Enforcement Bureau's investigation revealed that Smart City automatically blocked consumers from using their own 'rogue' Wi-Fi networks at several convention centers the company serves, including the convention centers in Cincinnati, Ohio; Columbus, Ohio; Indianapolis, Indiana; Orlando, Florida; and Phoenix, Arizona."
What should you do if you believe your hotspot is blocked at a hotel or meeting venue? Experts urged consumers to file a complaint with the FCC - 1-888-225-5322. The belief - unverified - is that the FCC fingered Marriott and then Smart City because of the volume of complaints involving them.

Ask others at the place if they can create a hotspot. If they can and you can't it may be on you. If nobody can, it may be on the property.
Directly ask the property - are you blocking personal hotspots? Some will admit it, saying it's necessary to protect the network. The FCC is not persuaded, and in the Smart City documents, it specifically noted that "no evidence exists that the Wi-Fi blocking occurred in response to a specific security threat to Smart City's network or the users of its network." That is: that excuse is not going to fly.
Bottomline: don't assume an inability to create a hotspot is just bad luck. And be prepared to fight for your right - given to you by the FCC - to put up a hotspot at your call.
This article is commentary by an independent contributor. At the time of publication, the author held TK positions in the stocks mentioned.