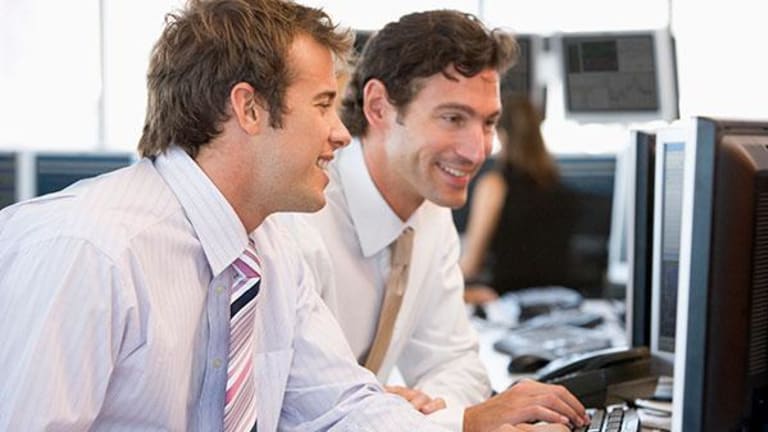 Is Your Broker a Trusted Adviser or Just Another Salesperson? Finance Industry Wants It Both Ways
A new report raises questions.
Editors' pick: Originally published Jan. 27.
Want to drive your brokerage or insurance firm nuts? Send a letter telling them to put the stuff they say in their marketing and advertising in writing to you -- or risk losing your business.
The financial industry reaches deep into its brimming piggybank to send you a message suggesting that the people who sell you stocks, bonds, mutual funds and insurance products are all fiduciaries -- people who put your interests ahead of their own.
But the truth is that a lot of the people who portray themselves as trusted advisers to the public have no legal duty to put investors first. The public is confused if not clueless about the distinction, which is exactly the way the industry likes it.
Two consumer groups, the Consumer Federation of America and Americans for Financial Reform, published a report on Jan. 18, titled "Financial Advisor or Investment Salesperson? Broker and Insurers Want to Have it Both Ways," which contrasts the yawning gap between what the brokerage and insurance industries say in legal filings with the way they portray themselves to the public.
"Are they financial advisers or are they just salespeople?," asked Barbara Roper, director of investor protection at the Consumer Federation of America and co-author of the report. "Put another way, are they lying to the court, or are they lying to their customers?"
To review: stockbrokers, who never call themselves "stockbrokers," don't have to put your interests first. But they typically label themselves as "advisers" and leave you with the impression that they're held to the higher standard of investment advisors who are registered with the Securities and Exchange Commission.
And regulators let them get away with it.
Consider the consumer pitch of the National Association of Insurance and Financial Advisors, or Naifa, which suggests on its website advisorsyoucantrust.org that you can "Trust Your Future With a Naifa Advisor."
Naifa says its members work with clients through every stage of their lives and educate them about retirement options "that will lead to a secure future," citing statistics that suggest investors will enjoy higher returns with a Naifa adviser. This advice for "those who need it the most" comes from people who adhere to a code of ethics "that's about honesty and integrity," according to the site.
I'm guessing the Naifa folks have been so busy making money for the investing public that they didn't have time to check the regulatory records of the two members they featured on their online tout sheet.
One had a customer complaint alleging he'd misrepresented the terms of a variable life insurance policy. The complaint was denied by his firm.
The other had two complaints. In one, the broker paid $30,000 in a settlement to a customer who said he got bad advice about filling out a 401(k) form. In another complaint that's queued up for Finra arbitration, the broker was named as a respondent in a case where the customer claims to have lost $2.16 million in a real estate investment, DBSI, that collapsed in 2008.
Seven percent of brokers have at least one black mark on their records. You'd think they could have come up with a couple people from the 93 percent that don't.
In today's report, the consumer groups argue that Naifa and other groups that have lobbied to stop a strict new Department of Labor fiduciary standard for retirement accounts show one face in their lobbying efforts and another in their marketing work.
In a lawsuit against the Department of Labor in June, Naifa and the American Council of Life Insurers repeatedly referred to their would-be advisers as "salespersons" and emphasized that they were anything but fiduciaries. Indeed, the document included 101 mentions of "sales" in describing the kind of work their members did. Interactions with customers were "sales conversations'' -- not the trusted, ethical advice portrayed in Naifa's marketing fluff.
The DOL rule "would impose regulatory burdens that would make it very difficult and costly for us to serve many of our middle-market clients," Naifa president Paul Dougherty said in a statement. He also said that Naifa members already look out for clients' best interests -- which is true to the extent that some of its members are investment advisers registered with the SEC.
Jack Dolan, a spokesman for the life insurers' group, said "ACLI supports a best-interest standard of care for financial professionals who are engaged in the sale of financial products. At the same time, we support consumer choice so that retirement savers maintain access to the retirement products and services they want and need."
Others who have sued the DOL over its impending fiduciary rule include the Securities Industry and Financial Markets Association, the U.S. Chamber of Commerce, the Financial Services Institute, the Financial Services Roundtable and the Insured Retirement Institute.
Sifma president Kenneth E. Bentsen, Jr. said in a statement that his group supports the idea of a best-interest standard established by the Securities and Exchange Commission, not the DOL.
Chris Paulitz, senior vice president for membership and marketing at the Financial Services Institute, said in a statement that his group supports the idea of a "uniform fiduciary standard of care" that would apply to all brokers and advisors. He said that today's report by the consumer groups "fails to acknowledge the fact that the overwhelming majority of our members have been dually registered for decades," meaning that they are registered as investment advisers held to a fiduciary standard and as stockbrokers.
But the public is mostly in the dark as to which of the many people who hawk their "advisory"services are held to a fiduciary standard, and which are not. In a survey by ORC/Infogroup in 2010, three out of five investors mistakenly thought that insurance agents all had a fiduciary duty to their clients. And 76% thought that stockbrokers who called themselves "financial advisers" were fiduciaries.