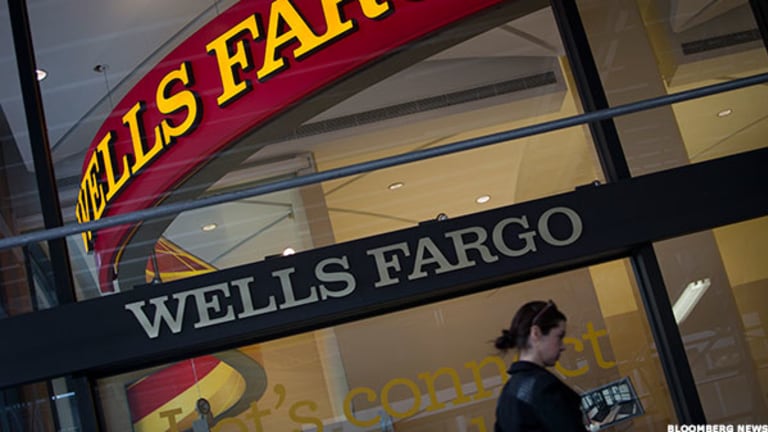 Is Wells Fargo Getting a Bum Rap From Investors?
This well-managed financial services company, which has a strong balance sheet and a diversified loan portfolio, seems to be paying for the sins of its peers.
When it comes to Wells Fargo, there's more to the story.
When confronted with negative press about a company, sophisticated investors are able to dig deeper and read between the lines. However, most people aren't shrewd consumers of news, and they tend to take media pronouncements at face value. And that is when buying opportunities are born.
The latest contrarian opportunity occurred Thursday, when renewed recession fears rattled investors. A steep decline in the financial services sector dragged down the S&P 500, snapping a five-week winning streak for the broader markets.
Federal Reserve official James Bullard publicly intimated that further interest rate hikes might be in the offing. His remarks coincided with a Commerce Department report indicating that orders to U.S. factories for durable consumer goods fell 2.8% last month.
Investors came to the conclusion that maybe the United States is heading back into an economic slump.
Among the S&P 500's 10 sectors, financial services got clobbered the worst, falling 0.65%. The hardest hit was Wells Fargo (WFC) , which plummeted 1.7%, largely on concerns that energy loans on its books would sour as energy prices head south again.
But here is our takeaway: Wells Fargo is among a group of well-priced growth stocks that are poised to take off this year.
To be sure, Wells Fargo has considerable exposure to the energy sector, with loans to oil and gas companies representing 1.9% of its loan portfolio. But this exposure still pales by comparison with the energy loan ratios carried by peers Bank of America (2.4%) and Citigroup (3.3%).
More importantly, Wells Fargo has one of the best overall balance sheets in the financial services sector.
Wells Fargo was never a major player in the derivatives market, which helped it escape the damage from the 2008 financial crisis that some banks, notably BofA, are still trying to clean up.
Nonetheless, UBS on Thursday initiated coverage on Wells Fargo and issued a "sell" rating," citing its energy loans among the major reasons. That is a bum rap.
Wells Fargo enjoys several competitive advantages over its peers, including the wherewithal to fund its assets at a much lower cost than the others, its strength at cross-selling products and services to customers, and consistently superior financial performance, including return on assets, return on equity and low loan write-offs.
UBS' pessimism aside, the Wall Street consensus still places Wells Fargo on a double-digit growth trajectory for the next 12 months.
Investors should expect perhaps slower economic growth but not a recession. Despite hand-wringing over the strength of the U.S. recovery, employment and consumer spending numbers have given no indication of a deteriorating economy.
With Americans enjoying a greater "wealth effect" from rising home prices and robust job creation, Wells Fargo should get a boost from increased lending. The bank should also profit from a wider spread between short-term and long-term rates as market interest rates rise.
Wells Fargo is getting punished on amorphous fears, even as it continues to rack up earnings and revenue growth. The bank reported fourth-quarter earnings of $1.03 a share, surpassing the consensus estimate by a penny, helped by higher revenue and lower non-interest expenses.
For full-year 2015, Well Fargo earned $4.15 a share, up 1% from a year earlier, on revenue of $86.1 billion, for a year-over-year increase of 2%.
With a trailing 12-month price-to-earnings ratio of 11.87 and a TTM price-to-sales ratio of 3.02, Wells Fargo's valuation is right in line with the industry's figures of 11.18 and 3.01, respectively.
The stock trades at about $48.90, with analysts' one-year price target on the high end at $64, which would represent a gain of 30.8%. The stock's dividend yield of 3.07% is icing on the cake.
It is time to pick up shares of this inherently strong but unfairly maligned bank, before the rest of the herd catches on to their mistake.
You see Jim Cramer on TV. Now, see where he invests his money and why Wells Fargo stock is a core holding of his multimillion-dollar portfolio. Want to be alerted before Jim Cramer buys or sells WFC? Learn more now.
Don't buy Apple; buy this technology stock instead.There is a battle raging in the fast-moving world of Silicon Valley. Just as VHS tapes snuffed out Betamax and CDs killed cassettes, the winner of a new "gold standard" for data is about to be crowned. I have discovered a tiny company that figured out a way to corner this new $10 billion market, no matter who comes out the winner. Click here to learn more.
John Persinos is editorial manager and investment analyst at Investing Daily. At the time of publication, the author held no positions in the stocks mentioned.