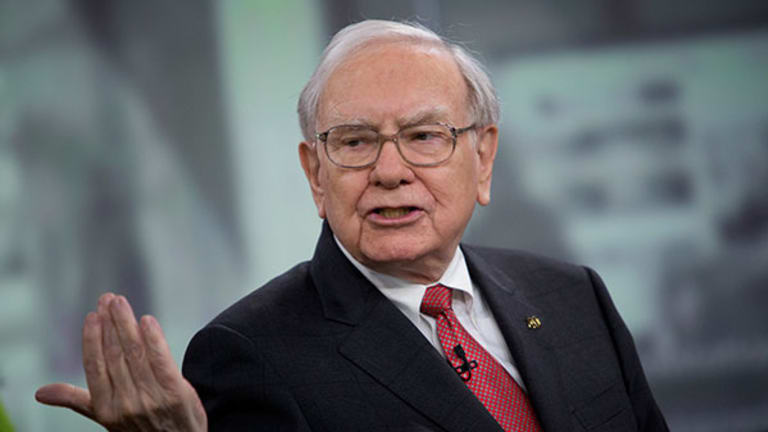 Is Warren Buffett Predicting a Bottom for Oil?
The price of oil has fallen through the $30-a-barrel threshold. How low can it go? Do the Oracle of Omaha's latest actions provide compelling clues?
The price of oil has fallen through the $30-a-barrel threshold. How low can it go? Do the Oracle of Omaha's latest actions provide compelling clues?
So far, 2016 has been a tough ride for the markets. In just the first two weeks of trading, the Dow Jones Industrial Average has fallen 4.8%, and the S&P 500 has fallen 8%. For stocks, this has been the worst start to a year on record.
But crude oil has been hit even harder. So far this year, the price of oil has dropped by more than 20%, to less than $30 per barrel. It was the worst two-week decline since the financial crisis of 2008. And crude oil hasn't been this cheap in 12 years. It's looking like black mold instead of black gold.
Warren Buffett'sBerkshire Hathaway (BRK.A) - Get Report (BRK.B) - Get Report is quickly adding to its holdings of one oil company, Phillips 66 (PSX) - Get Report . So do the Oracle of Omaha's purchases indicate oil has reached -- or is close to reaching -- a bottom?
The answer: not quite.
Phillips 66, headquartered in Houston, was spun off from energy behemoth ConocoPhillips (COP) - Get Report in 2012. Buffett, who already held shares of the parent company, was handed Phillips 66 stock at that time. He quickly added to his position, grabbing 27.2 million shares shortly after the spinoff. In 2014, Buffett bailed on ConocoPhillips, selling his remaining shares, along with a huge portion of Berkshire's Exxon Mobil holdings.
Not only did Buffett stay invested in Phillips 66, but he has added to his position over time. In September he purchased more shares after revealing that Berkshire owned more than a $4.5 billion stake in the company in August.
But this week, Berkshire spent more than $450 million on the company, adding another 5.1 million shares to its portfolio, according to filings with the Securities and Exchange Commission. After seven straight days of trading, Buffett now owns 13% of outstanding Phillips 66 shares, valued at nearly $5.3 billion.
Shares of Phillips 66 surged on the news. The stock closed last week at $78.47, following a jump to $79.28 on Thursday.
This isn't necessarily an aberration: Phillips 66 has been outperforming most other oil companies despite record lows for the price of crude. Third-quarter 2015 earnings were $1.56 million, compared with $1.01 million for the previous quarter.
That's because, within the company's portfolio of mid- and downstream oil and national gas operations, Phillips 66 owns 15 refineries in the U.S., U.K., Ireland, Malaysia and Germany. Together, these refineries have a net crude oil capacity of 2.2 million barrels per day. And this is key to Phillips 66's survival despite an abysmal oil market.
Although low crude prices signal a decline for upstream producers, they actually benefit refiners. They're able to take the cheaper crude and turn it into refined products, including gasoline. In turn, lower prices at the pump -- and an improved economy -- have resulted in increased demand. In addition, increasing global energy use gives an extra push.
"Cheaper feedstock costs will support refining margins," according to BMI Research's oil and gas analyst Peter Lee. "Regional demand for oil products at the higher end of the barrel, notably gasoline and naphtha, remains strong, providing opportunities for refiners to capitalize on higher margin products."
So while Buffett's purchase might indicate he believes Phillips 66 is at a low, that doesn't necessarily mean he believes oil won't fall any further. In fact, it could indicate the opposite.
Oil prices are not expected to recover anytime soon. In fact, analysts at Germany's Commerzbank are forecasting the possibility of $25 per barrel. Despite this continuing downturn, follow Buffett's lead and look for energy companies with strong refinery businesses, such as Phillips 66, to profit.
One investor in a hundred may know the strategy Warren Buffett used to build his first million. Even fewer know the system can be followed by anyone. This strategy should (I'm quoting the great man himself here) earn you "50% a year in the stock market." There's no faster way to make your million; click here to learn more.
You see Jim Cramer on TV. Now, see where he invests his money and why ConocoPhillips stock is a core holding of his multimillion-dollar portfolio. Want to be alerted before Jim Cramer buys or sells COP? Learn more now.
This article is commentary by an independent contributor. At the time of publication, the author held no positions in the stocks mentioned.