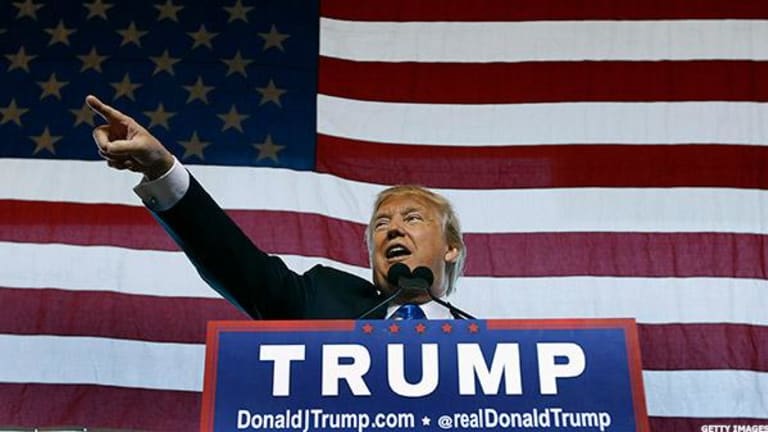 Trump's War With CNN Is Failing, New Ratings Say
Does the old adage 'all publicity is good publicity' ring true for the Time Warner network?
Despite a high level of vitriol, President Trump's efforts to undermine CNN have failed so far, if the ratings are any indication.
The Turner Broadcasting news network reported its most-watched second quarter on June 27. Notably, Time Warner Inc.'s (TWX) CNN saw a 39% year-over-year spike in the important 25-54 demographic, pulling in 264,000 total day viewers -- second among the Big Three news channels that also include Fox News and MSNBC. In fact, the quarter represented CNN's best for adults aged 25-54 since the 2008 election cycle nearly a decade ago.
Many of the network's key programs, including "The Lead with Jake Tapper" and "Anderson Cooper 360," were up more than 50% compared with the same frame last year. Interestingly, the numbers show that CNN's viewership skews slightly younger than that of Fox News and MSNBC, as shown by the ratio of adults 25-54 watching versus total viewership. The median age for CNN in total-day viewing is 60, while it is 65 for the other Big Three news channels. With the median age of viewers the youngest since 2008, CNN could be looking at even more robust growth down the line as a new generation of cable viewers takes over.
Given the blitz of negative buzz surrounding CNN recently, its ratings success may strike some as surprising. About a week ago, the network was forced to retract a story connecting a Trump ally to a Russian bank, leading to the resignation of three high-ranking journalists. And just on Sunday, the president tweeted a video in which he wrestles and punches a stand-in for CNN, with the caption #FraudNewsCNN.
#FraudNewsCNN#FNNpic.twitter.com/WYUnHjjUjg
CNN has long been a target of Trump's campaign against "fake news," and the network released a statement on Sunday condemning the president for "encourag[ing] violence against reporters." Mind-bogglingly, the video comes less than two weeks after the White House issued a statement alleging "President Trump has condemned violence in all forms" after actor Johnny Depp made a joke about assassinating the president.
"The president has had trouble with the notion that he is not above criticism just because he is in the White House," said Jane Kirtley, a professor of media and ethics at the University of Minnesota Law School. "It's clear to me that the media has to hold Donald Trump accountable, because his cabinet and aides are not doing so."
Americans on both sides of the political spectrum have been devouring news since the election, sending ratings for cable news channels up across the board, and many Americans share Kirtley's sentiment. As Trump's activity becomes more and more outlandish, it's likely that viewership will continue to increase -- which means that, if Trump really wants to bury CNN, he should probably keep his mouth shut.
Visit here for the latest business headlines.