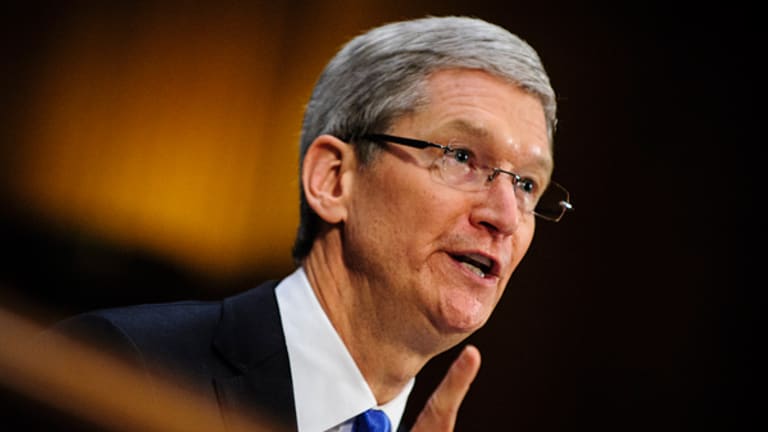 Is Tim Cook Certifiably Inane?
Apple has been reduced to its CEO taking advice from a bully over dinner.
NEW YORK (TheStreet) -- Somebody please make some sense out of this for me.
Carl Icahn Tweets again:
In total and complete seriousness, what kind of crap is that? On several levels.
First, is this what Tim Cook has reduced
Apple
(AAPL) - Get Apple Inc. Report
to?
A company run by fund managers? First David Einhorn and now Carl Icahn. All Apple can do is satisfy fat cats with dividends and buybacks. Why would Tim Cook even give these people the time of day? Has it come to the point where he needs them, their perceived power, their support and their cash more than they and the rest of the world needs Apple?
I have more questions than answers. And you should as well, especially if you're an AAPL shareholder still underwater after having bought in or purchased more at $700 with irresponsible $1,111 Wall Street price targets dancing in your head.
Because Carl Icahn is who he is, he gets to have dinner with Tim Cook and discuss the "magnitude" of Apple's stock buyback. To be perfectly clear here, what follows is not an allegation. It's a series of questions we should all be asking as we ponder lingering questions regarding
Apple's ability to remain great
.
Shouldn't the SEC pay attention to this stuff? Not simply Icahn's ability to move the stock with a Tweet, but the notion that he will meet with Cook in September and, presumably, quite possibly, really maybe (going on exactly what he said in his Tweet), receive information that you -- or any other member of the rank and file -- will not receive. Carl Icahn will, so it seems based on his words in his Tweet, have a better handle on the "magnitude" of Apple's buyback plans after dining with Cook.
Will he then buy more? Will he not sell all or part of his position as quickly? Will he tell his clients to load up?
I'm not certain of the rules that govern billionaires, their meetings with CEOs and their mega, market-moving positions in key stocks.
Again, just asking questions here, but something just doesn't seem right to me --both with Apple and with the regulatory apparatus on Wall Street.
And, from an Apple standpoint, I'm not the only one. A
report from Nicholas Carlson went under the radar on Thursday. I'm not sure why. Maybe because it put forth the notion that some Apple employees are looking to jump ship because Tim Cook is, for all intents and purposes, desecrating Steve Jobs's legacy.
Lots of people don't like to hear this line of thinking, simply because it might not be true. Or, worse yet,
because it just might be
. But, it's worth exploring. And it's worth asking why Carl Icahn plays by a different set of rules than the rest of us do. If he was shorting the snot out of Apple and crowing about it on Twitter, you know the AAPL bulls would be all up in a lather.
--
Written by Rocco Pendola in Santa Monica, Calif.
Rocco Pendola is a columnist and
TheStreet's
Director of Social Media. Pendola makes frequent appearances on national television networks such as
CNN
and
CNBC
as well as
TheStreet TV
. Whenever possible, Pendola uses hockey, Springsteen or Southern California references in his work. He lives in Santa Monica.