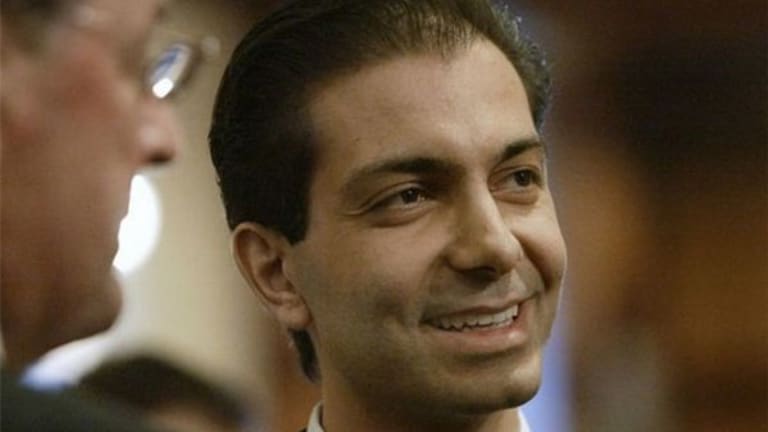 Is This Man Another Warren Buffett?
A shareholder meeting shows why the comparison between Sardar Biglari and Buffett is made and also why it is not quite apt.
NEW YORK (TheStreet) --Biglari Holdings' (BH) - Get Free Report annual meeting, held yesterday, may be one of the few shareholder meetings worth attending.
It's a several hour no-holds-barred question-and-answer free-for-all. It's one of the few meetings I never miss.
It's also one of the reasons that CEO Sardar Biglari draws comparisons with Warren Buffett. The meeting's length is similar to the marathon sessions Buffett and Charlie Munger are famous for at Berkshire Hathaway's (BRK.A) - Get Free Report  annual meeting. In Biglari Holdings' case, Phil Cooley, the dry-witted vice chairman, takes on the role of Munger, Berkshire's vice chairman.
Biglari Holdings -- which owns the Steak 'n Shake restaurant chain, a 20% interest in Cracker Barrel (CBRL) - Get Free Report and other assets including recent purchases Maxim magazine and First Guard Insurance -- has not been without its share of controversy.
For instance, there are still questions about Sardar Biglari's compensation package. Given a structure change at the company last summer, he theoretically is paid twice, by both Biglari Holdings, and Biglari Capital Corp., which the company sold to him last year, while retaining an ownership interest.
Last year, he was paid $10.9 million by Biglari Holdings alone, and that compensation is determined by formula based on growth in the company's book value.
In terms of pay packages, this is a foreign and confusing concept to most investors, and is similar to the way hedge fund managers are paid. Sharp-tongued Biglari, never at a loss for words, is unapologetic for the way he is paid and is quick to tell shareholders that if they don't like it, they can sell their shares.
That's just one reason that the comparisons to Buffett are unfounded: Biglari lacks Buffett's demeanor and folksy charm and displays a good deal of arrogance at times. Another is that Biglari's track record, while good, is far too limited to compare with Buffett's. 
As shareholders, we hope that Biglari is a good a capital allocator as we think he may be. That's why many of us have stuck with him since he turned around Steak 'n Shake, a once-failing restaurant chain that is now thriving. But the jury is still out.

One interesting discussion at yesterday's meeting centered on the February purchase of Maxim, the announcement of which left me scratching my head.
As explained yesterday, Biglari saw that a previous deal for Maxim had fallen through, and so he obtained a copy of the company's financial statements. The same day, he drove to the local Barnes and Noble, and obtained a copy of the magazine, which he claimed he'd never before read. He made the offer to acquire Maxim the next day.
That is one reason that Biglari Holdings is not for everyone: The company does not employ your typical corporate decision-making process; it sometimes appears to fly by the seat of its pants
Biglari is the first to admit that Maxim will take time and money to fix, but believes it will one day be a cash cow as a brand.
Meanwhile, Biglari is not giving up his fight to gain board seats and propose changes at Cracker Barrel, even though he has been rebuffed four times so far by Cracker Barrel shareholders -- the latest earlier this week at a special meeting. In classic form, he referred to Cracker Barrel's board and executive management team as "chihuahas."
You can't make this stuff up.
Some shareholder meetings are well worth attending.
At the time of publication, Heller was long Biglari.
This article represents the opinion of a contributor and not necessarily that of TheStreet or its editorial staff.