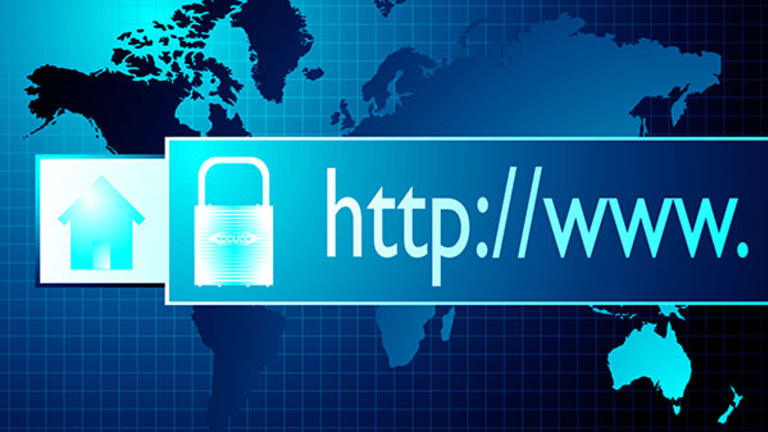 Albert Einstein once said: "Technological progress is like an axe in the hands of a pathological criminal."
Consider the boombox, the Betamax camcorder, cassette music tapes, the VHS player, public pay phones -- they're all in the dustbin of tech history. Today, a sleek smartphone that fits in your pocket packs more computing power than a Cray supercomputer of the 1980s.
Rapid technological change is all around us. That's why one of the surest ways to reap profits over the long haul is to invest in relatively young innovative companies that possess proprietary technology that's disrupting the status quo. In other words, one of the surest paths to wealth is to find "the next Apple."
Below, we highlight a company that's in the forefront of the hottest, most disruptive technology trend around: the cloud. But it's a midcap stock competing against sector giants, which affords it greater growth potential.
Investors right now are seeking growth stocks with sufficient staying power to withstand the turbulence we'll inevitably encounter throughout the year. Market watchers are fretting over a host of potential dangers that could undermine markets, including another energy price free fall, slowing growth in China, terrorist attacks, an overextended global banking system, stubbornly high unemployment and deflation in the eurozone, and terrorism.
But through all of this year's woes, the tech sector has displayed resilience. The Technology Select Sector Index (XLK) - Get Technology Select Sector SPDR Fund Report is up 0.9% year to date, compared with a year-to-date decline of roughly 1.4% for the S&P 500.
However, there's more to the tech sector than the familiar brand names of tech behemoths such as Apple, Microsoft, Intel, Cisco and Google parent Alphabet. Mid-cap tech companies can better tap unstoppable trends for outsized growth.
A company that fits the bill is ServiceNow (NOW) - Get ServiceNow, Inc. Report . With a market cap of $9.9 billion and a sole focus on cloud computing, ServiceNow has more room for market expansion and capital appreciation than the diversified megacaps that offer cloud services such as Oracle, which has a market cap of $169.46 billion.
The transition to "the cloud" is the most sweeping tech trend today. By using data storage and IT capabilities that are centralized and located offsite, companies are able to significantly cut their processing costs via efficient outsourcing.
Although a relatively new entrant to the field (the company was founded in 2003), ServiceNow has been stealing market share from IT legacy system companies such as IBM, a trend that IBM has been unable to stem. In other words, ServiceNow seems to be in the same situation as Apple was in the 1980s.
The most attractive strength of tech upstart ServiceNow is its business model: The company derives revenue from subscriptions, which ensures a steady stream of future revenue at low cost.
ServiceNow's Platform-as-a-Service (PaaS) subscription model is an IT delivery method in which software and related data are centrally hosted on the cloud and accessed by a Web browser. PaaS has become highly popular for many widely used business apps. ServiceNow has launched HR Service Automation, an application that automates human resources data. In 2013, ServiceNow bought Mirror42, a cloud-based performance analytics company.
In its most recently reported quarter, ServiceNow had adjusted earnings per share of 19 cents, smashing the average analyst estimate for 8 cents, and up significantly from 3 cents in the same quarter a year earlier. For fiscal 2016, the analyst consensus is for adjusted EPS of 63 cents, up from 40 cents in 2015.
Over the past month, as energy and stock prices have subjected investors to crazy intraday swings, ServiceNow shares have risen 19%, but there's plenty of juice left for further appreciation. 
ServiceNow shares now trade at about $61.81, but the median 12-month price target from analysts covering the stock is $78, which suggests it can gain about 26%. The highest price target from analysts is $110, which implies a gain of 78%. In the context of a troubled broader market that most analysts say will only provide tepid returns (at best), potential gains of this magnitude should spark your keen interest.
We've just explained why ServiceNow is a great buy now. We've found another "tech disrupter" that could be poised for even bigger gains. There's a battle raging in the fast-moving world of Silicon Valley. Just as VHS tapes snuffed out Betamax and CDs killed cassettes, the winner of a new "gold standard" for data is about to be crowned. We've found a small company that figured out a way to corner this new $10 billion market, no matter who comes out the winner. To learn more about this small-cap rocket stock, click here.
John Persinos is editorial manager and investment analyst at Investing Daily. At the time of publication, the author held no positions in the stocks mentioned.