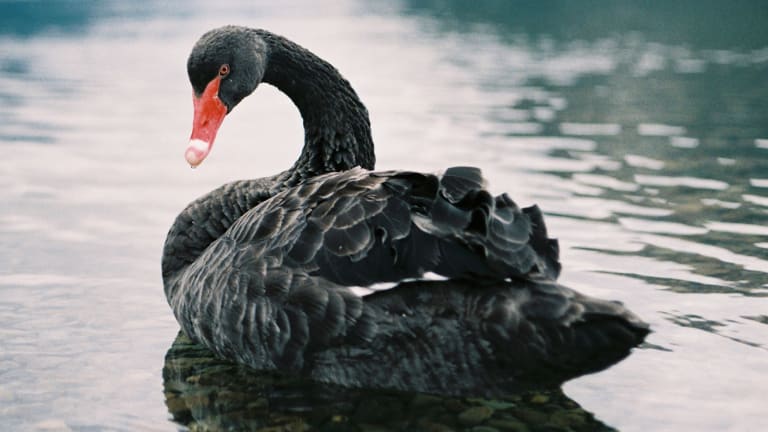 Is This 'Black Monday' a Black Swan Event?
It's too early to tell, but bulls should be ready for the bear market.
NEW YORK (TheStreet) -- Since the middle of August, the crowds "seeking alpha" battle cry of the past five years has been hushed, and became a panicked call of "seeking delta" (change, that is).
Today, the battle cries in the markets were mostly screams of pain, as the Dow opened down about 1,000 points and closed down nearly 600 after a few attempts at rally.
The inflection from bull to bear has likely taken place, and fear is the new complacency. For those who don't remember the last one, bear markets are fueled by emotions, causing price changes outside the rational expectations of most humans, who use linear extrapolation as a primary forecasting tool.  
Linear extrapolation can be summarized by using a small amount of recent data to project the future, based upon that limited data becoming the rule of future behavior. Bull markets don't move linearly very often, and bear market never do. They move exponentially, with rates of change accelerating as emotions kick in. 
The muscle flexing of the opening hour bounce, from Dow -1100 to only -200, should become a muscle cramp, as the young bear market develops. We expect another try Tuesday to spark a rally, as the parade of bullish pundits appear on financial TV this week with valuation models, earnings estimates, etc. But that will not likely change the herd's new direction, which our decision support engine forecasts to be sharply down, still, for the next several weeks and months, before the first (of many) bounce points arrives, in a series of lower lows and lower highs that should characterize the stock market in the next 12-to-24 months.
Bottom Line: This is the latter part of Elliott's third wave down of the initial decline. After a bounce, lower lows than today should conclude this initial decline, allowing a multi week bounce of larger degree, but that is unlikely to rise above the Fibonacci 78% resistance of the entire first decline's range. Numbers will be given in these pages in the coming days as more pattern development allows the decision support engine to refine its forecast. Until then, Dow 16,500, S&P 1950, and Nasdaq 4600 should remain strong overhead resistance for closing prices. 
For more of this kind of analysis, join our reservation list for the launch of our new real-time, live-market analysis chat room. Launching September: decision support engine analysis from bell-to-bell, addressing indexes and stocks, as well as member questions throughout the day.
This article is commentary by an independent contributor. At the time of publication, the author held no positions in the stocks mentioned.