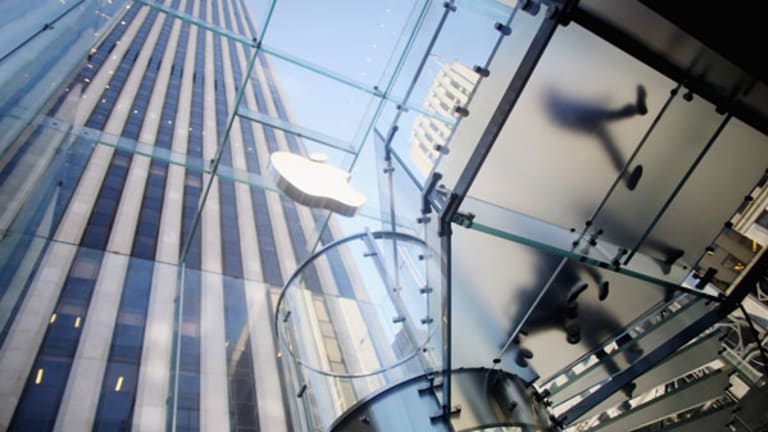 Is There a Media Conspiracy Against Apple?
If the media is guilty of anything, it's that it has a difficult time keeping an even keel on AAPL.
NEW YORK (TheStreet) -- I can barely keep track of the number of people who email asking if I think there's a media conspiracy against Apple (AAPL) - Get Free Report.
Countless readers think Melissa Lee at
CNBC
, for instance, "hates Apple." Their words, not mine. I don't know Melissa, but I can tell you with confidence: There's no conspiracy against Apple at
CNBC
. The thought ... it's just plain dumb.
Let's be honest --
CNBC
, like the rest of us, pounds the hot story. A majority of people consume their information and entertainment in spurts throughout the day. When a reader or viewer checks in, they expect to see the big stories. It's CNBC's job -- as well as
TheStreet's
-- to deliver. To us 24/7, eat, drink and sleep tech and finance types, it sometimes seems like overkill.
Play the hits. And right now,
. And rightfully so.
Simple as that.
If it's "guilty" of anything, the media --
CNBC
and others -- have a difficult time keeping an even keel.
When AAPL was printing $700, practically everyone was passing out party hats. You could not find a bearish chord on
CNBC
or elsewhere. Now, we're just operating in the opposite direction. There's no injustice taking place.
Me, I tend not to go with the crowd. There's half a chance I'm an idiot, half a chance I'm six months ahead of everybody else. I don't know. But, I know this, "everybody" hates Apple now. No doubt. I agree with the media conspiracy theorists on that much, but it ends there.
When the tide turns against a company and a stock like it has Apple, most people -- except ultra loyal supporters -- tune out almost anything positive. We saw the same thing with
Facebook
(FB) - Get Free Report
. It comes down to psychological dysfunction in the stock market as well as the media that covers it.
That's what explains this absurd notion that Apple can no longer innovate. What happened to even make this something that resembles a valid observation? Nothing. Apple did nothing to deserve such treatment. And the competition sure as hell didn't do anything to warrant this ill will.
We're just watching a classic case of psychological filtering play itself out. Apple is bad, therefore we filter information to the contrary. Not only do we filter it out, we ignore its existence. That's not conspiracy. That's psychology.
How else can you explain work
TheStreet
contributor Richard Saintvilus did back in June of last year falling on deaf ears?
Saintvilus, June 13, 2012:
Sirius XM's Greatest Fear: Apple in the Driver's Seat
.
And now,
TheStreet
, January 28, 2013:
Apple Gives Us the Siri We've Been Waiting For
.
And then,
Forbes
, January 31, 2013:
Apple's Siri (Finally) Hits The Road
.
The "finally" snark notwithstanding, that
Forbes'
article, the piece from
TheStreet
and Saintvilus's stuff from seven freaking months ago is the noise we shouldn't ignore. It's innovation at Apple. Yes. Innovation.
Just because it didn't (seemingly) come together in a few months from the mind of a genius doesn't make it any less innovative. This stuff takes time. It's all going down -- in a roundabout way -- as Saintvilus predicted. Siri not-so-slowly becoming a more important part of Apple's ecosystem.
Now you can order movie tickets with Siri. Apple is quietly getting it integrated in automobiles. No pomp. No circumstance. If there's not a press release or a media event with free snacks, most media hacks refuse to do any work that might buck the status quo. Or, at the very least, challenge it.
Siri. Apple was smart to release her in 'Beta.' She's already a household name across considerable swaths of iOS-dominated urban and high-tone suburban America. She's quietly coming to your car. And don't be surprised if Apple catches everybody off guard and makes her an integral part of your living room.
Now back to the rampant negativity until somebody at
The Wall Street Journal
or somewhere flips the switch back to positive.
--
Written by Rocco Pendola in Santa Monica, Calif.
Rocco Pendola is
TheStreet's
Director of Social Media. Pendola's daily contributions to
TheStreet
frequently appear on
CNBC
and at various top online properties, such as
Forbes
.