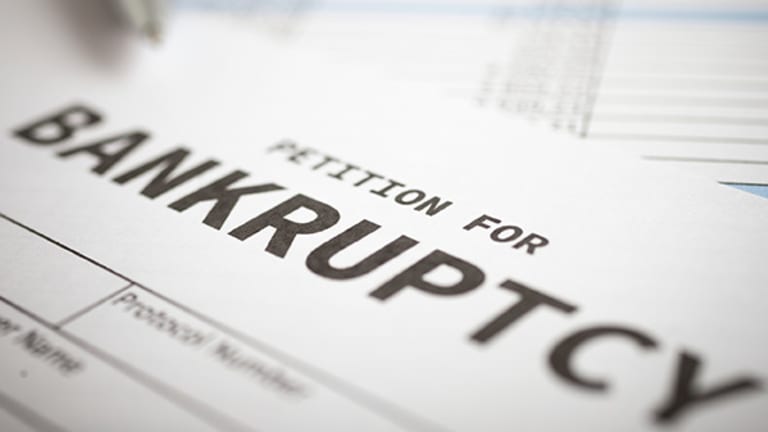 Is the U.S. Economy About to Go Bankrupt? Here's How to Avoid Disaster
Corporate and economic debt levels are becoming disastrous, as investors face a ticking debt bomb. Here's how to protect your portfolio from the coming calamity.
These are difficult times for investors, the market and the larger global economic climate.
Famous economist Albert Edwards and celebrated hedge fund titan Stanley Druckenmiller have in the recent past rung a number of alarm bells, confident that corporate and U.S. economic debt levels are way past the safe-zone and could easily set in another recession.
With over $19.2 trillion and counting, the U.S. economy's debt pile is one of the largest in the world.
Corporate America has been tanking up on debt and sooner or later, this unhealthy and precarious reservoir is destined to collapse into smithereens, taking the weakest stocks with it. What could be even worse is a prolonged and staggered domino effect, much like the 2008 financial crisis when housing market troubles spilled over to other non-toxic sectors. Stocks with massive debt include Verizon, Goldman Sachs, Morgan Stanley, and American Express.
Data from Fitch Ratings suggests that almost 6% of U.S. corporate bonds were downgraded through the third quarter, the largest proportion since 2009. Further, speculative-grade companies experienced downgrades totaling $94 billion compared to upgrades of $89 billion in the first nine months of 2015. Clearly, the downgrades are way outweighing the upgrade numbers.
Druckenmiller, who led George Soros's bold bet against the British pound in 1992, is bracing for a bear market, which according to him, began in May of 2015. Edwards, who is an economist at SocGen, has already warned about his "failsafe recession indicator" turning to red, certain that the newly released "U.S. whole economy profits data" points to a sharp plummet in stock prices.
And when profits decline, you have little money in the coffers to pay debts, make investments, etc.
So, with the U.S. economy in the throes of an imminent recession, you could ask, what prompted the accumulation of all that debt? The idea was to keep a veneer of superficial calm and prosperity going, to bankroll share repurchases and dole out hefty dividends. The cost of raising and servicing capital is or will quickly outweigh the returns these companies can possibly expect. 
Indeed, the writing on the wall is clear: There's a price to pay for this binge and equity investors will have to carry that giant burden. It's why so many stocks now look shaky and on the verge of decline.
If this appalling prediction really plays out, avoid sectors with high debt-to-equity ratios. The worst sectors right now are financials, services, utilities and consumer discretionary.
From an interest coverage ratio point of view, the worst performing ones include conglomerates, consumer non-cyclical, basic materials and retail.
Stocks with a substantial debt-pile are sure to face investor ire. Verizon alone is staring at $110 billion in loans. Goldman Sachs has amassed nearly $380 billion in debt. Its peer Morgan Stanley has $270 billion, which is more than the external debt of Indonesia. Companies like United Parcel Service Inc. and American Express have also tanked up on mountains of debt.
What's more, the debt for U.S. oil and gas companies' exceeds $200 billion and a large share of that figure could turn into defaults, if oil prices fail to recover.
What then are safe havens amid this gloom?
Relatively debt-free companies could offer a dab of panacea to tired and fear-stricken investors; these include LSI Industries (LYTS) - Get LSI Industries Inc. Report , Intuitive Surgical (ISRG) - Get Intuitive Surgical, Inc. (ISRG) Report , F5 Networks (FFIV) - Get F5 Networks, Inc. Report , T. Rowe Price Group (TROW) - Get T. Rowe Price Group Report and Paychex (PAYX) - Get Paychex, Inc. Report .
In fact, some of these have been debt free for over a decade now.
Tough times, adversity everywhere: it's apparent there's a lot that's wrong with our financial picture at this time. It's imperative that companies re-think their approach and recalibrate the yawning gap between perception and reality.
The debt time bomb is ticking.
Do we face a repeat of a 2008-style debacle? You need to prepare now, by weeding out the fundamentally flawed stocks that could ruin your portfolio. We've done the homework for you, by putting together a report on the world's most dangerous stocks. These equities are poised to collapse; don't get left holding the bag. To download your free copy, click here.
This article is commentary by an independent contributor. At the time of publication, the author held no positions in the stocks mentioned.