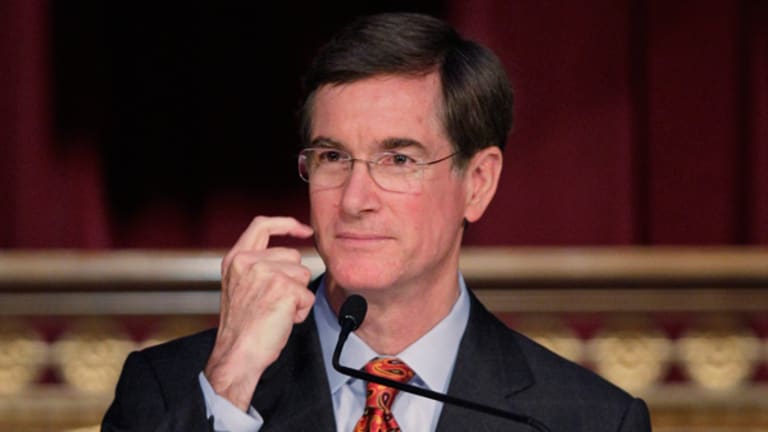 Publish date:
Is the Next Sam Walton Running Kroger?
Wal-Mart's growth is slowing while Kroger's isn't. Wall Street is taking notice.
Wal-Mart's growth is slowing while Kroger's isn't. Wall Street is taking notice.
NEW YORK (TheStreet) -- Wal-Mart (WMT) - Get Walmart Inc. Report had a disappointing quarter, missing analyst estimates on sales and revenue and suffering a fall in comparable-store sales.
The company's official release cited
"softer-than-expected sales"
, and some analysts were quick to blame slow global growth.
But at some point reasons turn into excuses. When sales and profits failed to meet forecast in the first quarter, analysts blamed the payroll tax hike and late tax refunds. The company also failed to meet analyst estimates in the fourth quarter of last year.
So far this year, Wal-Mart shares are up slightly less than 10%, against a 26% gain for the
Dow Jones Industrial Average
.
Costco
(COST) - Get Costco Wholesale Corporation Report
shares are up 13.5% and
Target
(TGT) - Get Target Corporation Report
is up 16.5%.
Kroger
(KR) - Get Kroger Co. (KR) Report
is up 47%.
At $96 billion in annual sales, Kroger is just 22% of Wal-Mart's size. But its sales are up 26% over the last three years, against 15% for Wal-Mart.
While Wal-Mart has famously been moving into fresh groceries over the last years Kroger, based in Cincinnati, has been increasing its sales of department store merchandise. It does this by copying the layout of its successful Fred Meyer stores in Oregon in other markets, like the Kroger Marketplace stores in Texas and Dillons Marketplace stores in Kansas.
The Dillon name is important here, because the CEO of Kroger, since 2003, has been David Dillon, part of the grocery family acquired by Kroger in 1983. Dillon has a law degree from Southern Methodist, but more important may be his Univerity of Kansas degrees in accounting and business administration. And there's his family heritage.
David Dillon, you see, is a fourth-generation grocer. A family history,
printed in the home town Hutchinson News recently
, describes a dynasty of men happy to copy other stores' innovations, from employee stock purchases to bakeries. Kroger made its first attempt to buy out the Dillons in 1957, and while they finally succeeded in 1983, it's more like the Dillons conquered Kroger.
While Wal-Mart builds supercenters to which people have to drive, Dillon's strategy has been to build smaller markets closer to customers. While Wal-Mart mainly operates under two brands -- the Wal-Mart department stores and Sam's Club warehouse stores -- Kroger operates under dozens.
In addition to 15 different grocery chains, like Ralph's in California and (now) Harris-Teeter in North Carolina, Kroger has a half-dozen convenience store chains, with names like Kwik Stop, Loaf 'n Jug, Tom Thumb, and Turkey Hill. It has low-price stores like Food 4 Less, and four different types of jewelry stores.
Many of Kroger's employees work under union contracts, and Dillon offers a great deal of local autonomy. While he lives a fairly quiet life in Cincinnati, he did draw 500 people to his latest annual meeting, where he talked about expanding into areas Kroger can serve with its present infrastructure, and enhancing "digital marketing," which in this case means computer-delivered coupons and loyalty cards.
While tech people are always looking for the "next Steve Jobs," retailers are always looking for the "next Sam Walton." Could it be he's been under our noses all along?
At the time of publication, the author owned a little over 100 shares of COST.
This article is commentary by an independent contributor, separate from TheStreet's regular news coverage.
Dana Blankenhorn has been a business journalist since 1978, and a tech reporter since 1982. His specialty has been getting to the future ahead of the crowd, then leaving before success arrived. That meant covering the Internet in 1985, e-commerce in 1994, the Internet of Things in 2005, open source in 2005 and, since 2010, renewable energy. He has written for every medium from newspapers and magazines to Web sites, from books to blogs. He still seeks tomorrow from his Craftsman home in Atlanta.