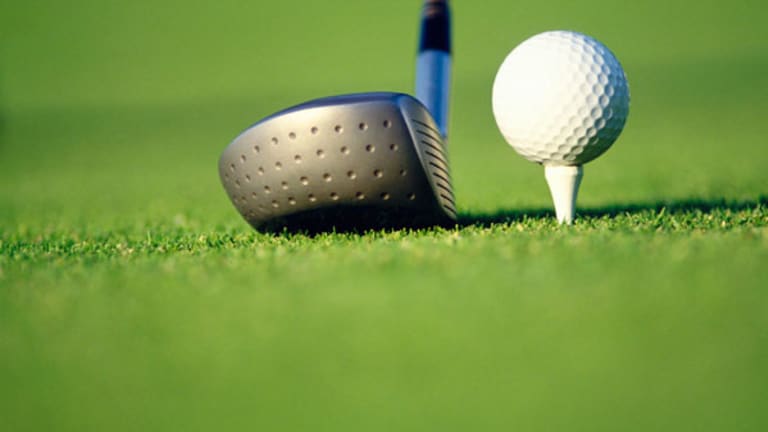 Is the Golf Industry a Birdie or Bogey Investment?
Companies believe high-producing stars sway duffers to buy their clubs and clothes. Can they sway investors, too?
NEW YORK (TheStreet) -- I closely track the various machinations of the golf world as per my daily duties, although it's more about leaderboards and scorecards than balance sheets.
Yes, it's a niche industry but also an advertising darling that attracts the desirable high-income demographic. (If you don't believe me, catch the various ads peppering a PGA Tour broadcast.)
This time of year, the various club manufacturers fall over themselves luring the sport's biggest names to wear and swing their gear.
Callaway
(ELY)
,
Nike
(NKE)
,
Adidas
(ADDYY)
(TaylorMade, Noodle, Ashworth & Adams) and
Aldila
(ALDA)
shafts reps work the player agents (and vice versa) securing the best players to their rosters. Companies firmly believe high-producing stars sway us golf lemmings to buy their clubs and threads.
The question is, does it make sense for investors? Maybe...
Gone are the halcyon days of big golf growth. In today's world, the time crunch of squeezing at least five hours in between jobs and hectic parental duties is a careful proposition. And that's if the weather cooperates.
In the last decade, golf-related gross sales (except golf rounds) was a near-perfect bell curve from 2002-2011, peaking around $2.9 billion in annual sales between 2004-07 before the latest recession ($2.2 billion).
Tiger Woods generated awareness waves of tsunami proportions for Nike, but one could argue he affected apparel sales far more than moving equipment off the shelves. On Monday, Nike announced signing the world's #1 ranked golfer, Rory McIlroy, to a rumored Tigeresque $25 million "head-to-toe" per year deal (all Nike clubs, balls, bag, shoes and clothing) to create a Dynamic Duo of golf.
The company will reap the benefits if both marquee players contend in golf's four major championships, thereby splashing Swoosh logos incessantly onto viewer HD screens. Last year, Woods delivered an estimated $18.9 million to his sponsors in media exposure (McIlroy's was $12.9 million). In addition, maybe Nike overpaid McIlroy to block any other competing golf firm to snatch him away.
However, equipment-wise, you rarely see the days when Jack Nicklaus' improbable 1986 Masters win caused golfers to rush to retail outlets and buy 30,000 ghastly MacGregor ZT 615 putters -- definitely a "putt for dough" scenario. Not even TaylorMade's leaders-leading R11 or PING's pink Bubba Watson drivers are have-to buys.
Know why? 'Cause most weekend warriors are learning it's the talented player who hits it 300-yards plus, not the club itself (which are also highly customized for Tour players' games).
Adams Golf (recently absorbed by Adidas) burst on the scene in the late 1990s by introducing the very playable Tight Lies hybrid club to help golfers struggling with long irons. It was an immediate hit for amateurs and pros alike and the company raked in millions. That is until the big competitors designed their own wonder clubs (its hardly difficult to mimic a club design) and supported it with comparatively bottomless marketing dollars to usurp Adams' revenue.
As stated, the problem with golf equipment is companies with a unique product enjoy a fairly short unique shelf life. Sales skyrocketed when Woods shocked the stodgy conservative golf apparel landscape donning the mock collar in 2003.
But like equipment, other manufacturers quickly caught onto the trendy fashion threads and now every company sells performance fabric wear -- including
Under Armor
(UA)
, which expanded its popular line into the golf segment and is big with the younger crowd.
Today's golfers realize it's far easier to look like their favorite star performers than play like them. Popular player Rickie Fowler put
Puma
(PMMAF)
on the map with his trendy outfits -- its akin to
Apple's
(AAPL)
early iPod attraction to kids -- even with only one tour victory. If he wins a major...watch out. Yet, Puma stock is flat while Adidas is trending up.
Privately held Danish shoe company
Ecco
struck marketing gold after popular golf star Fred Couples wore its casual golf shoe with the ubiquitous molded traction bar soles at the 2010 Masters. However, the lofty price is hard to justify as I have four pair of similar (and less expensive) competing models that also feel and look good on and off the links.
In addition, golfers aren't as apt to trade in their current sticks for the latest, greatest clubs these days, instead opting to use the savings to buy actual rounds of golf. But they'll still spend to look the part -- at least until they take that way-off-plane golf swing.
For investors, I recommend you chat up your golf buddies, ask what they've recently bought, check out the outfits on the course and check to see what Tiger and Rory are shooting that week, especially in the big events.
To wit, pure golf plays ALDA and ELY once traded in the $18s back in 2008. Now both are meandering in the $4.00-$6.40 range.
Maybe the best way to invest in golf is to track the sports retailers like
Dick's Sporting Goods
(DKS)
(which also owns Golf Galaxy) that aren't beholden to merely the golf biz. Think of it as a golf mutual fund where it rides the wave of general sporting good sales. There just might be a nice stock bump available if you're able to catch and ride the next hot golf trends surging on the horizon.
Just be sure to glance at the Tour money leaders on your way to the stock tickers.
At the time of publication the author had no position in any of the stocks mentioned.
This article was written by an independent contributor, separate from TheStreet's regular news coverage.