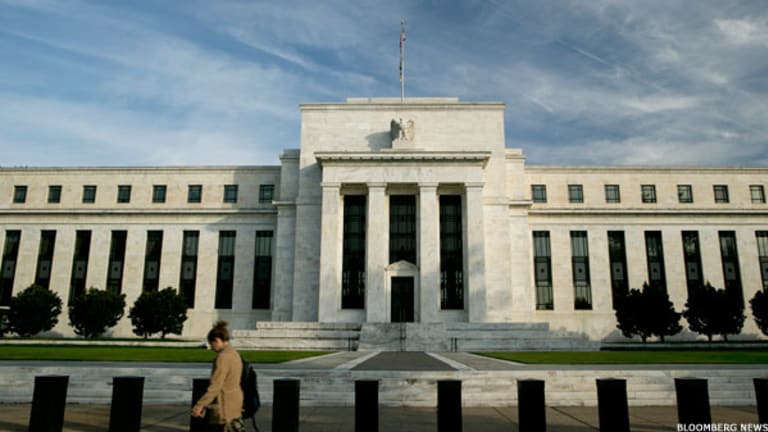 Is the Fed Using a 1937 Monetary Debacle to Keep Rates Low?
The Fed appears to be backing away from raising the benchmark federal funds rate for the first time in six years. And its reason may be suspect.
A recent Bloomberg story cited the Federal Reserve's concerns about prematurely tightening monetary policy too soon, because it could lead to a repeat of the 1937 flip-flop monetary debacle.
As you may recall, the economy was slowly emerging from the Great Depression in 1937, when the money supply began to shrink. The Fed then flip-flopped by trying to loosen its monetary policy and lowering the discount rate to 1% from 1.5% in 1937. Apparently, the Fed is now concerned a flip-flop would again be needed if it were to raise interest rates next year. But that concern is unjustified.
Today, the unemployment rate is at 5.8%. In 1937, it was never below 14%.
Today, the Fed funds rate has been set at zero for six years and the discount rate at which it lends money overnight to banks is at 0.75%. In 1937, the discount rate was at 1.5%.
And in 1937, the Fed actually eased policy in the face of rising unemployment and lowered the discount rate to 1%. Therefore, policy is easier today and the unemployment rate is much lower than it was in 1937.
I'm all for looking to history for guidance, but the history needs to be relevant. Comparing 1937 to today's environment is about as relevant as comparing monetary policy to the last time the Cubs won the World Series.
Today, if anything, is more like 2003. That's when regulators ignored financial sector risks and the Fed kept rates too low for too long, inflating the housing bubble. That eventually led to unemployment spiking at 10%.
But the Fed is preferring to use the 1937 monetary debacle as a reason to back away from raising rates as planned. Currently, the Fed is considering raising the federal funds rate to in 2015, up from its current level of zero. But, according to Bloomberg, a survey of nearly two dozen primary dealers who trade U.S. Treasuries with the Fed directly think there's a 20% chance the rate would have to be cut back to zero in two years or less. The Fed is using this survey as political cover to keep interest rates lower than needed.
New York Federal Reserve Bank President Bill Dudley spoke about his worries regarding 1937 at a Bloomberg conference in September. Dudley appears to be telling us a tall tale if he says he is worried that 2014 is anything like 1937.
Supposedly, Dudley talked tough to a group of Wall Street bankers about how they had better change compensation structures and corporate culture, or they would be broken up. Oh, please! Does Dudley, a former chief economist of the too-big-to-fail (TBTF) Goldman Sachs (GS) - Get Goldman Sachs Group, Inc. (GS) Report  really think we are so naïve to believe such empty rhetoric? This little speech came in the wake of the Carmen Segarra tapes showing that Dudley's New York Fed treated his old employer, Goldman Sachs, with kid gloves. Dudley is going to be a witness at an upcoming Senate hearing on the scandal. 
Dudley earned his Ph.D. from the University of California at Berkeley at the same time Federal Reserve Chairwoman Janet Yellen was a professor there. Many observers believe that he is a good proxy for Yellen's feelings, given the Fed chair is considered tight lipped.
In the background of today's monetary policy, think back to the early 2000 period. The Greenspan legacy was tarnished by dropping the Fed funds rate to 1 percent and slowly tightening it, inflating the housing finance bubble. Yet, the Greenspan Fed of early 2000 seems downright hawkish compared to the Berkeley School of Monetary Policy. I think efforts by Congress to encourage the Fed to follow some monetary rules is warranted, given we are likely to see the most dovish Fed in history.
At the time of publication, the author held no positions in any of the stocks mentioned, although positions may change at any time.
This article is commentary by an independent contributor, separate from TheStreet's regular news coverage.