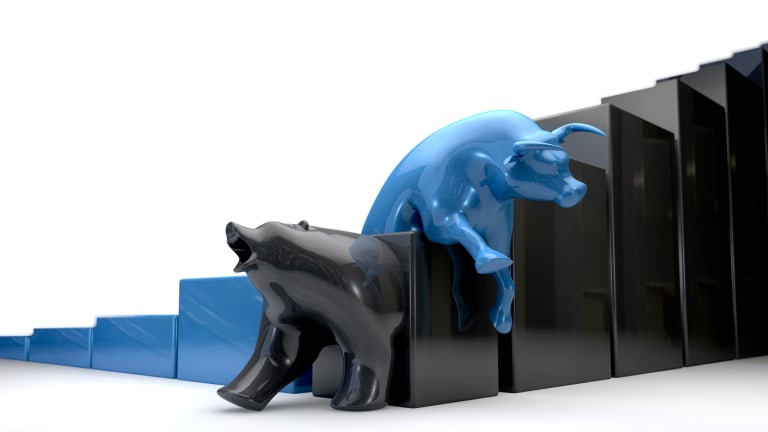 Is the Bull Market Coming to an End?
Yesterday's 1% selloff was the first real symptom of a possible 'sell in May and go away' attack. Could this be enough to topple the mighty bull market?
NEW YORK (TheStreet) -- Delayed happy May everyone!
Actually, happy May is somewhat of an oxymoron on Wall Street. "Sell in May and go away" is a hot button issue. Some swear by it, others file it away as bogus.
I've made it a personal rule never to take a side without looking at the evidence. The evidence for (or against) "sell in May and go away" is actually pretty straightforward. All it takes is one chart -- or two, if you want to be thorough.
Below is a simple S&P 500 (SPY) - Get Report seasonality chart.
What exactly is S&P 500 seasonality? The black line represents the average yearly trajectory based on daily S&P 500 closing price data from 1950 to 2014.
This is the path carved out by 54 years of price action. Visible patterns (like May weakness and fourth-quarter strength) are the result of annual recurring events.
May weakness is for real.
However, "sell in May" (on average) lasts only from May 9 to May 22, and that's already in the rear view mirror.
What about June?
June isn't the strongest of months, and part of the overall weak summer pocket. In recent years, June has even been weaker.
The second chart shows the S&P 500 seasonal pattern formed since 2009. June is highlighted in blue. 2009 marks the beginning of this bull market, and the chart shows patterns unique to the quantitative easing (and post QE) bull market.
The week after June triple witching (June 19) tends to be particularly treacherous. The Dow Jones Industrial Average (DIA) - Get Report ended this week -- which falls on June 22 to June 26 this year -- in the red 22 of the last 25 years.
Based on seasonality, May and June could harbor some nasty trading days. But is it enough to overthrow the mighty bull market?
The symmetry concealed in one long-term S&P 500 chart strongly suggests that right about now and right around when the S&P 500 hits 2,130 is the perfect window of opportunity for the bears to take control.
Will they? More details here: S&P 500 Chart: Most Persuasive Argument for Bull Market End Yet, But ...
This article is commentary by an independent contributor. At the time of publication, the author held no positions in the stocks mentioned.