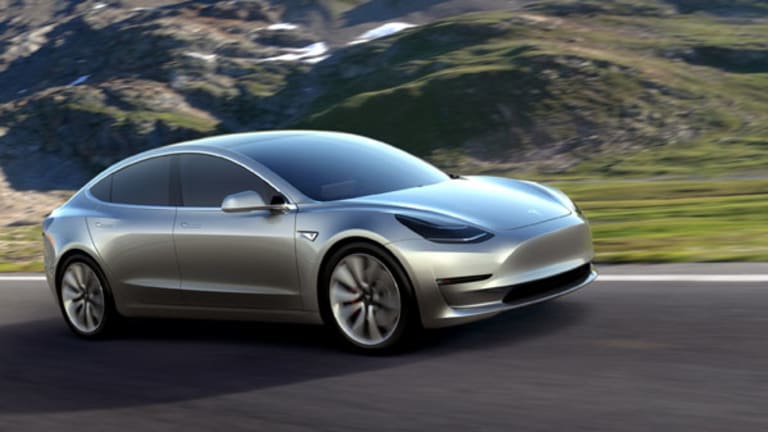 Here's How Tesla Is Building the Apple of the Future
Tesla is taking a multipronged, long-term view and that could benefit investors. Remember Apple in the early 2000s? What happened next could be the future for Tesla investors.
Tesla is taking a multipronged, long-term view and that could benefit investors. Remember Apple in the early 2000s? What happened next could be the future for Tesla investors.
So you thought Tesla (TSLA) - Get Report was an automaker. It was an innocent mistake and you wouldn't be alone.
Tesla builds cars and you could be forgiven for thinking it was just a car company. But while Tesla had you focusing on one hand that it was building electric cars, it was also creating a platform for delivering technology, just like one of the most celebrated companies: Apple (AAPL) - Get Report . The latter is perhaps more important for the company's long-term growth.
Tesla has been laying the groundwork for a massive empire that could change our future, like the iPhone and other Apple products have changed everything. It has made advances in manufacturing and technology that will serve other industries and help companies outside the automotive industry improve efficiency and increase productivity. Its soon-to-be opened Gigafactory could have a significant on home technology systems and consumer products. 
To be sure, CEO Elon Musk's recent promises to manufacture 500,000 cars a year by 2018 has created unrest among investors. The company isn't even close to one fifth that productivity, and there are concerns about Tesla's ability to secure enough of the materials it needs to produce its innovative lithium batteries. Those batteries will improve on the current ones powering Tesla cars.
But the company is taking a long, mult-faceted view. Now is as good a time as any to get on board.
Cars are just the Packaging
Remember when Applecame out with the iPod? It was a sleek, little device that was a quarter the size of the best walkman on the market, and it stored a thousand songs in your pocket. It was a revolution for the music industry. But do you know what they were really doing? Perfecting the process of engineering an entire computer into a case the size of a small wallet. That is what Tesla is up to with the advent of the Model 3. They have created a cost-effective base chassis that they are perfecting so they can place any kind of shell on it. That means a single manufacturing process for the majority of a car. This foundational chassis could then be sent to any number of different manufacturing lines to have various bodies attached to. Ford may have perfected the assembly line process to lower his cost of manufacturing, but Tesla just brought it to the modern age.
In addition, Tesla has been building world-class autonomous driving software, remote fleet upgrades and management, and an all-digital interface that has yet to be matched by any other auto manufacturer. These technologies could easily be adapted to other industries. Rental car agencies could upgrade the software or check on fleet maintenance status with the click of a button, ride-sharing operators or taxi companies could run an entire fleet of cars without the need for human drivers. While these ideas might be a little distant, it's not hard to see how Tesla would be the natural choice for leading the way into the future of these technologies or licensing these technologies to other companies.
Batteries for the World
This spring Tesla completed work on its Gigafactory, the world's largest lithium battery factory, which is set to open it's doors early next year. With some initial testing of its PowerWall product it has shown that it isn't just in the car game anymore. This diversification benefits Tesla from a cost/revenue standpoint. But it also shows the synergies between Tesla and Solar City that might lead to a Elon Musk led home revolution where power is generated through Solar City solar panels, and then stored in Tesla PowerWalls before being used in home systems powered by Tesla-derived technologies. This highlights that Tesla is a technology company rather than a pure-automaker.
Supplier Plays
Tesla's new Gigafactory is set to come online in 2017 and expected to double the world's manufacturing capacity for lithium-ion batteries. A current shortage of lithium could crimp Tesla's plans. But increased demand could create lots of opportunity for Tesla battery suppliers. These companies will be able to benefit from Tesla manufacturing orders while hedging the downside with additional product lines to address other types of customers. Among these companies are:
Johnson (JCI) - Get Report controls manufactures automotive systems and provides facility management services. In the auto industry specifically, Johnson supplies seating, interior systems, and lithium batteries. With an estimated 11.9% year over year growth Johnson is a solid investment for long-term growth to capitalize on Tesla's popularity while maintaining stable over the long term.
Modine Manufacturing (MOD) - Get Report provides diversified heating and cooling technologies in various automotive and facility-related capacities. Modine's battery chiller is used in Teslas and many other vehicles to cool the battery and prevent overheating. Recently Modine won a contract to supply battery chillers for 17,000 military vehicles over eight years beginning October 2016.
Panasonic (PCRFY)  is a Japanese electronics manufacturer which recently made a $1.6 billion investment in the Tesla Gigafactory as well as a $30 million investment in Tesla itself. Panasonic is positioning itself to be in the forefront of lithium ion battery production and associated technologies. With gross margins of 30.48%, it's hard to ignore that Panasonic could be a dinosaur stock that has a bigger, more global role in the near future.
This article is commentary by an independent contributor. At the time of publication, the author held positions in Tesla.