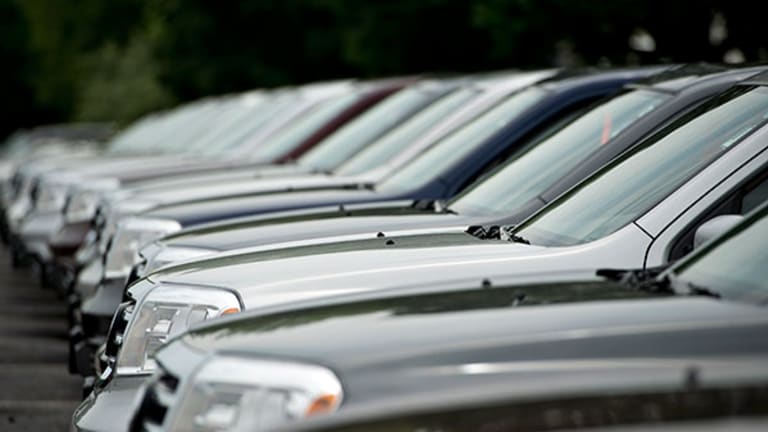 Is Tata Motors a Bargain?
The death of managing director Karl Slym has put Tata Motors stock under pressure.
(Corrects story originally published Jan 27. to say Tata shares have risen in value by about 600%.)
NEW YORK (TheStreet) -- If you're looking for a bargain in an automotive stock today, take a look at Tata Motors (TTM) - Get Tata Motors Ltd. Report.
Managing director Karl Slym died suddenly in Thailand, near the site of a Tata Thailand board meeting, either falling or (some reports say) jumping off a hotel balcony. He was 51.
Why Slym died is a mystery that could take two weeks to unravel. But the company should not be a mystery.
You may not know the Tata name but you probably know Jaguar and Land Rover. Both are Tata brands, acquired from Ford (F) - Get Ford Motor Company Report in 2008 for $2.3 billion.
The company recently reported that U.S. sales of Jaguars in December rose 47%, year over year, while Land Rover sales rose 11%, with a total of 7,308 cars sold.  Full-year sales were up 20%.
Sales of Jaguar and Land Rover helped lead to a 71% gain in earnings for Tata Motors during the third quarter from a year before, and some analysts were predicting a doubling of year-over-year earnings in the fourth quarter.
Jaguar is planning a big advertising pitch for the Super Bowl, with a teaser ad already playing on YouTube starring actor Ben Kingsley, pointing to a larger buy on the day of the footbal championship game.
Tata Motors Limited is traded as an ADR on the New York Stock Exchange. Over the last five years the shares have risen in value by nearly 600%, almost as much as Ford. Despite this the Price/Earnings multiple of 10.36 still trails that of Ford, which is at 11.16, while both trail Toyota's (TM) - Get Toyota Motor Corp. Report 13.52 and General Motor's (GM) - Get General Motors Company Report 15.64.
Slym joined Tata in October 2012 with extensive experience working with General Motors subsidiaries and joint ventures in both China and India. His job was to turn around the company's performance in its home market, hit hard by an economic slump.

Slym had been interviewed by India's Economic Times as recently as a week ago, saying he wanted exports to represent 20% of the business over time, and that he had a roadmap of new products extending to 2020. Under Slym the company introduced a supercharged gas engine to drive all its products, reorganized management, and put out a common vision statement for its divisions. 
At the time of his death, however, the promised domestic turnaround had not yet happened. The company's primary domestic vehicle, the egg-shaped Nano, has not been selling well despite getting 25 kilometers per liter of gas, which translates to 58 miles per gallon.
The company said earlier this month it would be reducing its work force to deal with dwindling sales and market share in India. Most of the Indian industry is in similar shape.
Tata Motors is just one piece of the larger Tata Group, founded in 1868, which is said to be worth $96 billion, and with 217 subsidiaries engaged in everything from hotels to insurance to IT consultancy services. The IT group is the chief profit driver, followed by the car company.
What an investor gets from a TTM investment is a company that has set the stage for a turnaround in its home market, and that is supported as part of an immense conglomerate. Ratan Tata, who hired Slym, was replaced at the end of 2012 by Cyrus Pallonji Mistry, whose mother was Irish and who was educated in London, but whose father is the largest holder of Tata with an 18.5% stake.
Slym reportedly left a three-page note, written in English, which will be translated into Thai as part of an investigation that may take up to two weeks.
A successor to Slym is expected to be appointed within the week. Former managing director Ravi Kant is expected to take over on an interim basis. 
At the time of publication the author had no position in any of the stocks mentioned.
This article represents the opinion of a contributor and not necessarily that of TheStreet or its editorial staff.