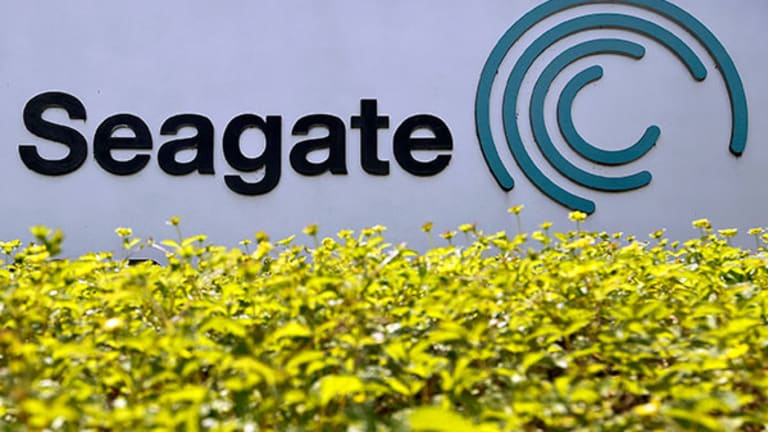 NEW YORK (TheStreet) -- Shares of Seagate (STX) - Get Seagate Technology PLC Report were down nearly 9% shortly after the opening bell Tuesday after the company reported lower revenue and earnings for the quarter that ended in December. 
Sales of $3.53 billion failed to match the $3.67 billion the company logged a year earlier. Earnings were just $428 million, vs. $492 million a year before.
This came just one week after Seagate shares hit an all-time high of $62.76, the price having jumped more than 75% over the previous year.
Both Seagate and its main rival, Western Digital (WDC) - Get Western Digital Corporation Report, had been on the rise through January after one of their main suppliers, Hutchinson Technology (HTCH) , reported preliminary December numbers that soundly beat consensus estimates. 
Seagate was our featured technology winner as recently as Jan. 3. Back in December Seagate also had announced it was acquiring Xyratex, which makes equipment to test hard drives, for $374 million. 
So what happened? And could what happened to Seagate also happen to WDC?
It is no secret that the hard-disk business has consolidated, and that faster memory chips are becoming a serious competitor in storage. Devices such as tablets and phones no longer include hard disks, only chip memory, but Seagate and Western Digital have kept going by selling high-capacity drives for use in cloud storage subsystems, and with consumer products like those from the French company LaCie, which Seagate bought in 2012.
Seagate LaCie impressed reviewers at this year's Consumer Electronics Show with the Sphere, a round terabyte-sized storage unit designed by the silversmiths Christofle, connected to a PC via a USB port. The company also announced Fuel, a battery-powered drive that can create its own wireless network, and Little Big Disk Thunderbolt for use with Apple (AAPL) - Get Apple Inc. (AAPL) Reportdevices. 
Meanwhile, Western Digital managed to beat expectations for December, with earnings per share of $2.19 share topping consensus estimates of $2.08, on $3.97 billion in revenue, which also topped estimates.
For the December quarter Western Digital also got 34% of its revenue from non-PC systems, and its chip-based Enterprise Solid State drive business grew from $106 million in the third quarter to $155 million in the fourth.
The question for investors is whether this is a blip or a trend. Western Digital's consumer products, such as the My Cloud, are not as physically attractive as Seagate's consumer line, but they can deliver 4 terabytes of network-attached storage for just $220 and automated back-up accessible to the whole family via WiFi.
Seagate's products are prettier, but whether they will sell well is speculative. Both companies can continue to extract money from cloud providers, through subsystems, for as long as the cloud build-out continues.
So most analysts will likely see this Seagate quarter as a blip and a buying opportunity. At its present price, Seagate sports a yield of a bit less than 3%, twice what Western Digital offers. And earnings that flow to shareholders, not growth, are the key metric for this group.
There remains one cloud on Seagate's horizon. Backblaze, a cloud storage company, lately has begun publishing its own reliability statistics, which indicate a far higher failure rate for Seagate gear than for its rivals, Western Digital and Japan's Hitachi.
Backblaze writes that the Seagate Barracuda Green 1.5 terabyte drives, in particular, are "dropping like flies." Many were warrantee replacements, with some usage on them when acquired. "The good pricing" along with "consistent, but not great performance is why we have a lot of them," the company concluded.
If Xyratex's testing gear can solve those quality control problems I would stop worrying about Seagate. But I want evidence before putting cash to work with the company
At the time of publication the author owned shares of Apple.
This article represents the opinion of a contributor and not necessarily that of TheStreet or its editorial staff.