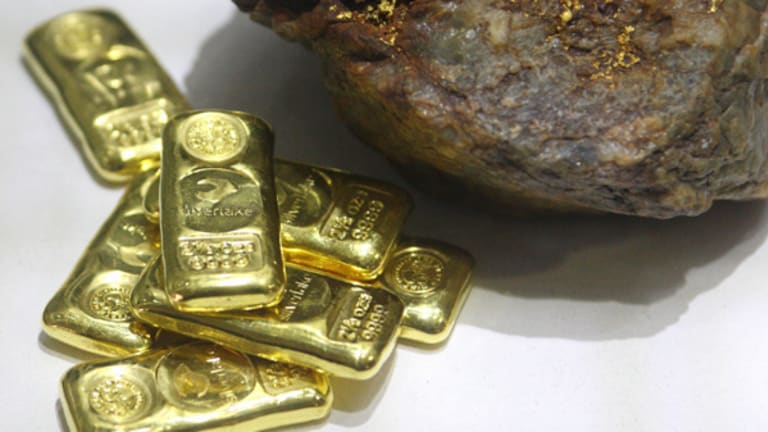 Is Santa Coming Early for Gold Investors?
Technical analysis shows that another big gold rally may be in the works.
Technical analysis shows that another big gold rally may be in the works.
NEW YORK (
) -- If you own physical gold or gold mining stocks or you plan on buying anything related to precious metals before year-end, you will get excited about my analysis.
Gold topped abruptly a year ago (September 2011) with a massive wave of selling that sent the price of gold from $1,920 down to $1,535.
Technical analysts know the chart suffered the kind of damage that can take a year or longer to repair before gold can continue higher.
But a little more than a year since that top, you can see that gold appears to have stabilized and is building a basing pattern (launchpad) for another major rally.
The charts illustrated below show my big-picture analysis, thoughts and investment ideas.
Weekly Spot Gold Chart
The weekly chart can be a very powerful tool for understanding the overall trend. This chart clearly shows the last major correction and basing pattern in gold back in 2008-2009. Right now, gold looks to be forming a very similar pattern.
Keep in mind that this is a weekly chart, and if you compare the 2009 basing pattern to where we are today, it could take three to six months before gold truly breaks out to the upside and kicks into high gear.
RELATED STORIES:
>>Bill Gross: Gold Will Thrive in 'Ring of Fire'
>>Gold Hits Record High in Euros
The point of this chart is to provide a rough guide for what to expect in the coming weeks and months.
Weekly Chart of Junior Gold Miner Stocks
If you follow gold closely then you likely already know junior gold mining stocks can lead the price of gold by up to two weeks.
You can track the gold mining stocks by watching the
Market Vectors Gold Miners
(GDX) - Get Report
and
Market Vectors Junior Gold Miners
(GDXJ) - Get Report
exchange-traded funds.
Typically, the stocks tracked by these ETFs will form strong bullish chart patterns and start rising in price before physical gold does.
The chart below shows the junior gold miner ETF with a
very bullish
chart and volume pattern. Remember that gold stocks are a leveraged play on gold in most cases. For example, if gold moves up 1%, we typically see GDX and GDXJ move 2%-4%. Because they act as a leveraged play on physical gold, smart money and big institutions start accumulating these investments in anticipation of gold rising.
GDXJ has formed a tight bull flag, and the volume levels confirm there is big money moving into these investments. The first price target on GDXJ using technical analysis for a measured move points to the $32 area. Looking forward 12 months with gold trading at more than $2,000, we could see this fund more than double in value.
Bonus
: while most traders focus on GDX gold miner fund, I prefer the GDXJ fund because its almost identical in price performance,
but
it pays you a 5% dividend.
Gold's Seasonality
It's that time of year again where gold tends to move higher. Below you can see where we are and what the price of gold typically does in November.
Gold Investing & Trading Conclusion
Looking forward one month (November) and factoring in the recent pullback in gold to known support levels along with strong buying of junior gold mining stocks, I feel gold will take another run at the $1,800 level and that GDXJ will test its previous high of $25.50. If both those levels get taken out, then a massive bull market for precious metals could be triggered. Only time will tell.
Get my Daily Trading Analysis & Trade Setups at:
www.TheGoldAndOilGuy.com
This article is commentary by an independent contributor, separate from TheStreet's regular news coverage.
This material should not be considered investment advice. Technical Traders Ltd. and its staff are not a registered investment advisers. Under no circumstances should any content from this Web site, articles, videos, seminars or emails from Technical Traders Ltd. or its affiliates be used or interpreted as a recommendation to buy or sell any type of security or commodity contract. Our advice is not tailored to the needs of any subscriber so go talk with your investment adviser before making trading decisions This information is for educational purposes only.
Chris Vermeulen is founder of the popular trading sites www.thegoldandoilguy.com and www.ActiveTradingPartners.com. There he shares his highly successful, low-risk trading method. Since 2001, Chris has been a leader in teaching others to skillfully trade in gold, silver, oil and stocks in both bull and bear markets.