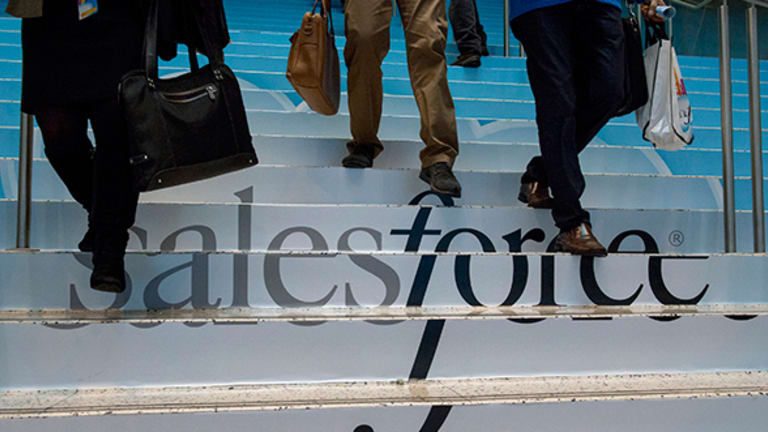 Is Salesforce.com Oracle's Next Target? Buy It Now
Oracle could use Salesforce to battle Microsoft, which just bought LinkedIn.
Salesforce.com's (CRM) - Get Free Report dominance in the cloud may make it the next tech merger target thanks to Microsoft's (MSFT) - Get Free Report$26.2 billion deal for LinkedIn (LNKD) .
Which company would want to spend a lot of money to buy Salesforce and battle Microsoft now? Think Oracle (ORCL) - Get Free Report . If that happens, you should consider buying Salesforce stock, not selling.
As of the most recent quarter, Oracle had about $51 billion in cash, which is good because Salesforce isn't cheap. Its shares trade around $82, up 4% for the year to date compared with a 1.2% rise in the S&P 500. It has a market cap and enterprise value of around $55 billion through Monday's closing price. But buying Salesforce would bring Oracle $2 billion in cash.
Both companies offer enterprise software for sales and other functions, and Oracle is racing to catch Salesforce in with its subscription-based software. At the same time, both companies would complement each other's weakness.
For instance, for all of Salesforce's cloud prowess, the company has run out of ideas. Salesforce has saturated its own market and has had limited success growing further in the enterprise IT space. While Oracle has done a solid job in catching up to Salesforce in the cloud, it will always remain on the hunt, never the hunted.
Microsoft, though it still trails Salesforce in the realm of customer relationship management, is about to widen its lead on Oracle. So Oracle and Salesforce can benefit from a merger. The only question is how much would it take to close a deal.
Microsoft paid a 47% premium for LinkedIn. Oracle wouldn't need to go that high. A 25% premium above Salesforce's 52-week high of $84.48 would get the deal done. This puts the deal price at about $105 per share. So Salesforce stock will likely trade higher on the assumption a deal is right around the corner. 
This article is commentary by an independent contributor. At the time of publication, the author held no positions in the stocks mentioned.