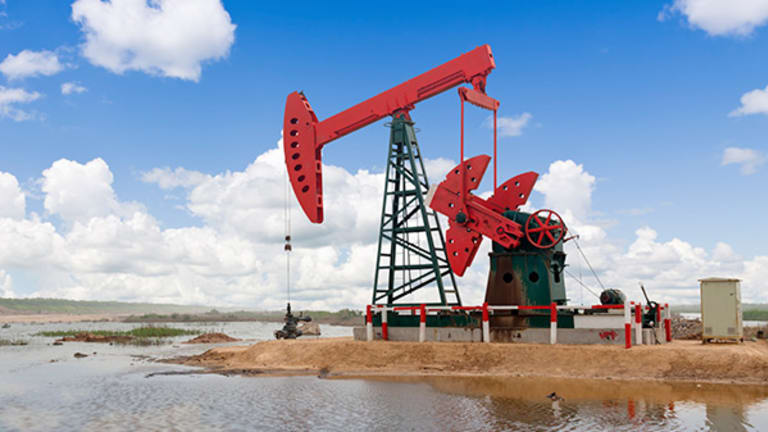 Publish date:
Is Natural Gas Driller Southwestern a Good Buy or Another Chesapeake in the Making?
Some analysts are impressed with this gas driller's gain of nearly 21% this year. Is this the one energy stock to buy, or will it go the way of Chesapeake?
Some analysts are impressed with this gas driller's gain of nearly 21% this year. Is this the one energy stock to buy, or will it go the way of Chesapeake?
Amid a troubled energy sector with few attractive investment choices, is gas driller Southwestern Energy Co. (SWN) - Get Report a prudent alternative at this time? Some analysts think so, following the stock's surprising gain so far this year while the broader markets struggle to break even.
The third-largest natural gas producer in the U.S., the stock has enjoyed a rise of about 21% this year so far. But as we explain below, this stock is among a group of value traps that are inherently weak and poised for a fall.
data by
We believe investors should choose companies for their solid business fundamentals, not ephemeral flashes-in-the-pan.
So what makes Southwestern one of the market's most dangerous stocks? We get you the details:
Debt, Depressed Environments and Disappointments Galore
Southwestern, headquartered in Texas, has been around for over 80 years and it made investors poorer by 75% in 2015. In 2014, investors had lost nearly 31%.
In fact, the downswing is epidemic -- this wealth destruction story for the S&P 500 constituent mirrors the overall picture of oil and gas exploration and production stocks in general, making it one of the worst stocks you can own today.
As of last quarter, Southwestern's numbers were very bleak -- a mere $15 million in cash and over $4.6 billion in debt with an appalling debt/equity ratio of 105.27 times.
The current murmurs about gas being the hottest ticket in the energy space (after the crude oil price decline) is a little hard to digest. Total losses for the last 12 months have crossed $2.2 billion, Even if at EBITDA levels, the figure is similar.
Clearly, the business hasn't been very healthy.
Ironically, the misfortunes of its peer Chesapeake Energy Corp. seem to be shadowing Southwestern. The mistimed acquisition of major energy assets from Chesapeake, for a price tag of $5.4 billion, is at least twice the size of any gas deal seen in recent years.
Current natural gas prices in fact curtail cash flows available for Southwestern's Appalachia development. This is more evident, when you notice that free cash flows for the trailing twelve months is negative $5.7 billion.
Failing Numbers, Ineffective Strategies
The company's recent announcement signaling a broad workforce reduction affecting 1,100 employees, (or nearly 40% of its workforce) is another instance of the bleakness surrounding the company. True, the move will help Southwestern save millions, but in terms of the impact on its reputation, the downsizing strategy indicates the drought in its coffers and future possibilities.
Business remains dull and the company is struggling to manage losses, even as it drowns in a mountain of debt. Drilling activity has slowed down; Southwestern's had no drilling rigs in operation since the start of 2016.
Analysts suggest that the company should report a loss of 5 cents a share for the December 2015 quarter (against 52 cents a year ago). For the next quarter, March 2016, the loss is projected to increase to 17 cents a share.
Annually, the December 2015 year has seen the company reporting a 92% drop in earnings-per-share (EPS). In December 2016, the company may report an annual loss -- the first since 2012.
Cloudy Prospects, Abysmal Scenarios
We also aren't very sure about the impact Bill Way (previously president and chief operating officer) who now dons the hat of president and chief executive officer, can have on the company's fortunes, simply because Way can do little about the gas price situation.
He could possibly cut more jobs, but the hard facts are undeniable -- gas production right now is undergoing a major plummet, not witnessing the kind of profits it's seen historically.
As mentioned before, Southwestern's debt landscape is a massive challenge, and the need of the hour is a drastic game-changing move, something that can shed a chunk of the same, by probably selling off some hard assets. Until these ameliorative steps take place, Southwestern is one of the most vulnerable stocks in the market.
And so we come to our argument: Unless natural gas prices recover in a meaningful way, it will be difficult for Southwestern to really architect a turnaround. Fitch Ratings recently downgraded the company's rating outlook to "negative" (from the earlier "stable").
Southwestern (trading at 4.38 times EV/EBITDA) may appear cheaper than Williams Companies Inc. and Cabot Oil & Gas Corp. that trade at 10-to-12 times EV/EBITDA, or EQT Corp. and Noble Energy Inc., which trade at six-to-seven times EV/EBITDA. However, truth be told, there's little to choose in terms of valuation, between Southwestern and Chesapeake -- bargain propositions both, but with a darker underlying story behind the numbers.
As we've just explained, Southwestern joins a group of dangerous stocks that are terrible places for your money today. For a complete list of these doomed equities, click here. In fact, using a little-known financial "health test," the stocks on this list are a failure in every category. Download our free report to make sure you don't make the mistake of owning one.
This article is commentary by an independent contributor. At the time of publication, the author held no positions in the stocks mentioned.