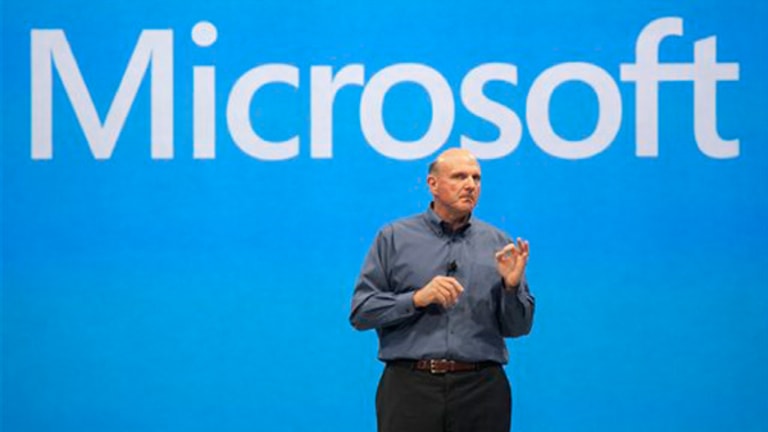 Is Microsoft's CEO Steve Ballmer Crazy?
Should investors have faith in anything he predicts?
NEW YORK (TheStreet) -- Either it's true that nobody cares about Microsoft (MSFT) - Get Microsoft Corporation Report or, for some reason, we're giving the company's CEO Steve Ballmer the benefit of the doubt.
I can't get past comments he made to
during Thursday's Windows 8 launch in New York.
I don't think anyone has done a product that I see customers wanting
.
I don't think it's unprofessional or inaccurate to refer to Ballmer as an "idiot" based on that statement alone.
An Idiot Explosion?
I found
on the political philosopher John Locke's work by a PhD student Stacy Clifford at Vanderbilt.
Locke used the word "idiot" frequently, but not the way we use it today. Locke wouldn't have used the term when trading "your mother is ugly" jokes, but it's certainly not out of place in a discussion of political society.
You can also apply it to tech. And I bet the farm that Steve Jobs would be on board with taking Clifford's description of Locke's idiocy and applying it to Ballmer:
Idiocy ... signifies the complete and permanent absence of thought. Locke's treatment of idiocy, by creating a subhuman population permanently denied entry into the public political sphere ...
That's only slightly different than Jobs's use of the term "bozo."
Bozo explosion
-- look it up.
I wonder if Ballmer remembers saying this:
That wasn't the only time. In 2010, Ballmer contradicted Jobs's prediction that PC use would decline rapidly. He spent about 15 minutes at an
All Things D
conference making no sense about the relationships between devices.
People often lose their jobs for missing so badly, particularly on iPhone's success, Zune's failure and Windows Phone's sorry lack of penetration. But, we're used to CEOs playing by different rules than the rest of us.
At the very least, you might expect Ballmer to learn from his mistakes and refrain from being so cocky and arrogant.
I'm not convinced it qualifies as context, but Ballmer floated some for the aforementioned statement.
Neither Apple (AAPL) - Get Apple Inc. Report, Google (GOOG) - Get Alphabet Inc. Class C Report or Amazon.com (AMZN) - Get Amazon.com, Inc. Report has a product that you can use, that lets you work and play, that can be your tablet and your PC.
To make matters worse, Ballmer not only failed to learn from his own mistakes, he ignored
Research in Motion's
(RIMM)
history.
There's the
you don't need an app for the Web
.
RIMM bulls also spent much of the ride down to the single digits touting Blackberry's security features. There was no way Apple could beat RIM in the enterprise market because IT departments would never allow iOS to replace Blackberry.
We know how that turned out. Bring your own device took off as workers got sick of fumbling with two phones in line at
Starbucks
. CEOs told their IT geeks -- make it happen. And they did. Blackberrys now come in just before the Woodland Caribou on Canada's endangered species list.
Advocates of Microsoft's all-in-one, work/play device argument make a similar mistake to those who pushed the RIM security argument.
In a perfect world, dominated by one PC-based Web browser and IT nerds, Microsoft and RIM supporters might be/might have been correct in their assumptions. But that's not the type of place we live in. That would be like me thinking the entire nation holds the political beliefs of coastal Northern and Southern California.
The whole Windows-dominated, IT-security bubble popped when Apple disrupted the scene. That might not seem fair or logical to the elitists -- yes, the elitists -- who dog Apple products.
Consumers love them. And, by and large, people want to get their hands on them. Don't bet against cool pop culture, particularly when the products are actually superior in practically every way.
Apple does not have to pull stunts and make free offers to get people to line up for its products. That's what Microsoft is doing in its marketing.
Even worse, the company uses slogans such as
Surface: The Wait is Almost Over
.
That's not marketing. That's not a reality distortion field. It's a lame attempt at creating an atmosphere that doesn't exist. Great companies do not have to use that gimmick.
They turn out solid products and, like Apple, market and advertise them in action. Being used. They don't artificially create lines or feign pent-up demand.
And let's not forget
about Surface on Apple's Thursday earnings call. Simply stated, it's attempting to be a jack of all trades, but will turn out barely mediocre at some.
Why should we, all of a sudden, start believing Steve Ballmer's predictions of how consumers will behave? And how could he possibly have the nerve to expect us to? Being a billionaire is not a good enough reason.
At the time of publication the author held no positions in any of the stocks mentioned.
Rocco Pendola is
TheStreet's
Director of Social Media. Pendola's daily contributions to
TheStreet
frequently appear on
CNBC
and at various top online properties, such as
Forbes
.