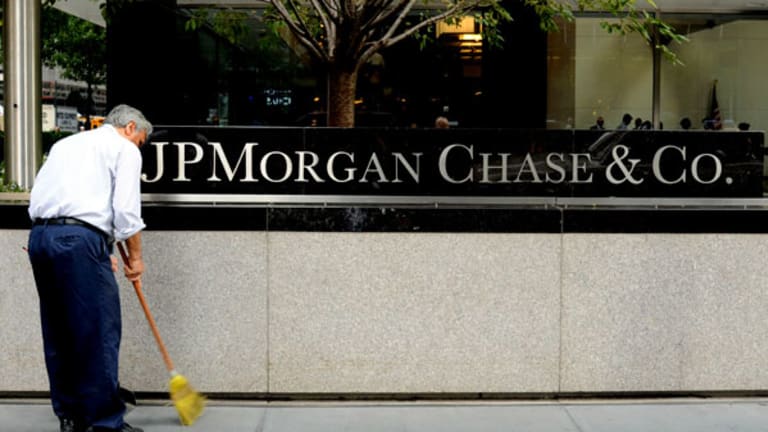 Is JPMorgan Chase Too Big to Succeed?
JPMorgan's investment banking division may be more trouble than it's worth.
JPMorgan's investment banking division may be more trouble than it's worth.
NEW YORK (TheStreet) -- Banks that are doing just banking, such as Prosperity Bank (PB) - Get Report in Texas and U.S. Bank (USB) - Get Report in Minneapolis, are doing awfully well these days.
You could congratulate Prosperity for being located in Texas, with branches sitting along the Eagle Ford shale play. But U.S. Bank is in Minneapolis, and it's selling at a price-to-book ratio of 2.13, nearly twice the 1.13 of JPMorgan Chase (JPM) - Get Report.
[Read: Citi Fortifies Its Foundation]
The problem for the big banks isn't banking. The problem for the big banks is brokerage.
Dick Bove is called a "big bank cheerleader" by American Banker. His new book is called Guardians of Prosperity: Why America Needs Big Banks.
But what Bove is defending in his book is mainly the tie between banks and brokerages. As an analyst, Bove is less sanguine about JPMorgan Chase, which announced its earnings this week. He calls himself "a little more cautious" because of its continuing litigation troubles, most of which relate to its brokerage businesses, not its banking businesses. They may have to sell their commodities business, and get out of proprietary trading, he complains.
Of the big banks, Bove much prefers Wells Fargo (WFC) - Get Report, which is doing well with mortgage loans. You know, banking. As opposed to placing bets on the movements of stocks, bonds and commodities, or doing proprietary trading, which to critics is more like taking the depositors' money to the dog track.
The fact is that commercial banking -- selling money for more than you pay for it -- is a very good business. Loaning money to consumers and businesses through mortgages, credit cards and good collateral actually makes money.
This is as true at JPMorgan Chase as it is at regional banks.
[Read: Analysts Differ on JPMorgan Chase's 2014 Litigation Risk]
Its consumer banking unit, operated as Chase Bank, has been building branches, advertising and taking deposits hand-over-fist. The consumer banking division has average deposits of $461.1 billion and a good reputation. (Chase's consumer bank increased its deposits more than any other bank last year, according to the FDIC survey.) The division is descended from Bank One, the Chicago bank Jamie Dimon ran until JPMorgan Chase acquired it in 2004. It is based in Chicago, not New York.
This kind of banking has created a gusher of earnings as borrowers get better at paying back loans and loan loss reserves are reduced. This is a temporary fix for JPMorgan Chase and the other big banks, since loan loss reserves can be cut only so far. But shouldn't it point the way to a more profitable future, a future of lending money?

If investment banking is the problem, why then is Dimon not jettisoning it? Let it sink or swim on its own. If your job is to maximize return to shareholders, and shareholder returns are maximized by running banks rather than brokerages, why run a brokerage?
There are hints that Dimon is getting the message. The company is looking to sell its "special opportunities group," which trades in Asia. It's getting out of student lending. It's selling the commodities business. Dimon calls it "pruning."
[Read: Net Neutrality Hit With Major Setback]
But there is pruning and then there is pruning. There is the pruning you do on an oak tree, lopping off dead branches and raising the canopy. Then there is the pruning you do on a grape vine, cutting it back nearly to the root stock.
Maybe it's the grape vine kind of pruning Dimon needs to do if he wants to grow a better crop for shareholders.
JPMorgan Chase may no longer be too big to fail. It may be too big to succeed.
At the time of publication the author owned shares of PB and WFC but none of the other stocks mentioned.
This article represents the opinion of a contributor and not necessarily that of TheStreet or its editorial staff.