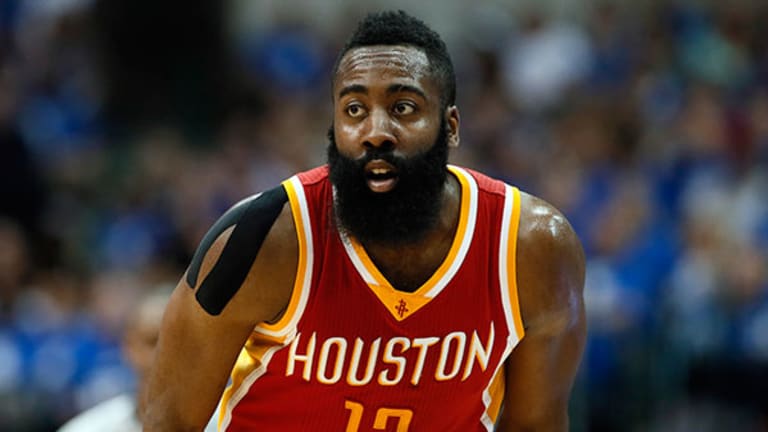 Is James Harden's Massive $200 Million Contract With Adidas a Good Deal?
Houston Rockets James Harden signed a $200M dollar deal with Adidas. Since his signing, the stock has risen over 40%.
In August, 2015, the massive dealAdidas (ADDYY)  signed with basketball star James Harden before the start of the NBA season made headlines as the company shifted its focus to individual endorsements. Since signing Harden, Adidas has surpassed Under Armour as the second largest athletic apparel company behind Nike, retaking the No. 2 position that it held for so long (in regards to market capitalization).  
To regain traction in the basketball shoe marketplace, Adidas signed Harden to a 13-year, $200-million-endorsement contract just before the 2015-16 NBA season. Adidas lured the Houston Rockets star away from Nike with the massive contract, when Nike decided that it would not be matching Adidas' offer. Adidas let its NBA jersey deal lapse in favor of individual player endorsements. Nike then picked up the jersey deal for $1 billion, which will go into effect in the 2017 season, and feature Nike's logo on all new jerseys. Even Steph Curry will be sporting a Nike logo on his jersey, which is sure to cause some confusion (he's with Under Armour).
Adidas' 2015 annual report, released March 3, showed a 15.5% increase in revenue, and, since Harden's signing, the stock has risen 40%.
Let's revisit the Harden deal and see how it's paid off.
Adidas raised its outlook for 2016 twice in the past four months and Credit Suisse upgraded the company in January. In August 2015, the company teamed up again with Manchester United on a jersey deal that has seen great demand worldwide. Also in August, the company acquired Runtastic, a fitness app with over 70 million users that has been incorporated into Adidas product lines. It is widely noted that Under Armour has also made an aggressive push into fitness applications as well. Adidas also replaced its own brand Reebok with a seven-year jersey deal with the NHL that begins in 2017. 
There's certainly a lot to be bullish about.
Adidas has made it clear that basketball is a market that they want to remain competitive in. The company has a strong grassroots presence, but often loses top players to Nike.
Harden could be the signature athlete Adidas needs to reverse its downward trend with endorsement contracts. He is 1.7 points-per-game behind Curry for the season, which is very impressive considering that Curry has increased his scoring per game by over six points and is having one of the greatest seasons of all time. 
Basketball has played a key role in the growth of apparel companies, with flagship athletes LeBron James (Nike) and Steph Curry leading the way. Athlete endorsements have been essential to the success that Under Armour and Nike experienced in 2015. Nike pulled in $3.7 billion in sales in 2015.
Adidas says it is committed to regaining its status as one of the elite athletic apparel brands by focusing on footwear. The basketball shoe industry continues to grow as a whole, and Adidas aims to compete for a substantial market share if Harden can develop a successful signature shoe line. Harden also provides a boost in China, with the Houston Rockets having several connections to the country as former Rocket and Chinese basketball star Yao Ming helped build a massive following for the team.
Interest in Adidas has continued to rise rapidly in recent months. Adidas replacing Under Armour in the No. 2 position is likely because of Kanye West's Adidas signature shoe line, the Yeezy Boosts. Kanye is creating a lot of buzz for Adidas and reinventing the brand's image in the process as a company with a long history in rap culture.
Likely we'll see a Harden signature shoe line soon. A successful shoe line can add hundreds of millions of dollars for Adidas. Harden's former teammate Kevin Durant's shoe line brought in $195 million in revenue for Nike during 2014.
Nike held the top-selling basketball shoe lines with LeBron James, Kobe Bryant, Kevin Durant, and the Jordan brand in 2014. Likely Steph Curry's shoe line for Under Armour will be at the top of the list in 2015, which hasn't yet reported. Currently, 16% of NBA players wear Adidas, compared to 64% that wear Nike. Nike controlled over 95.5% of the basketball shoe market as of 2014, compared to Adidas. The company's basketball share slid from 5.5% in 2014 to 2.6% in in 2013, but with Harden leading the way, these figures should certainly receive a boost over time.
Adidas' basketball portfolio offers several other bright spots; the company signed the Rookie of the Year Andrew Wiggins in 2014. Adidas also has Damian Lillard, who has released his own signature shoe line, and John Wall of the Washington Wizards.
The Harden deal is still a work in progress, but there's much to be positive about. The company's current growth should solidify investor sentiment surrounding the world's No. 2 athletic company.
This article is commentary by an independent contributor. At the time of publication, the author held no positions in the stocks mentioned.